Longevity Secrets From Kane Tanaka, the Second Oldest Person to Ever Live
A Japanese woman who was the world's oldest living person and also the second oldest person on record died on April 19, just nine days after becoming the second oldest person who ever lived.
Kane Tanaka from the southwestern Fukuoka region of Japan was born on January 2, 1903, 11 months before the Wright Brothers perform the first controlled flight in an airplane, and died on Tuesday, April 19, 2022, at 119 years and 107 days old.
Tanaka had previously said that her large family, sleeping well, always being positive and hopeful, eating good food, and practicing mathematics to develop her brain helped her live so long. She was also a fan of waking early, with a daily routine beginning at 6 am every day.
The death of the supercentenarian was announced on Monday by a city official in Fukuoka, southern Japan, who confirmed that Ms. Tanaka died at a hospital as a result of old age, The Wall Street Journal reported.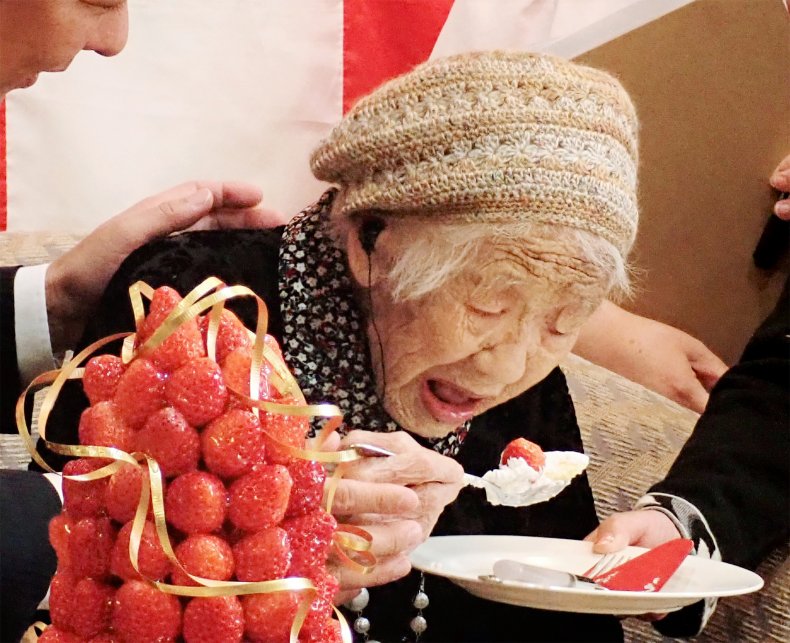 On April 10 Tanaka became the second old person to have ever lived, surpassing U.S. citizen Sarah Knauss's final age of 119 years and 97 days. The oldest verified person to have lived is Jeanne Calment of France, who lived to the age of 122 years and 164 days. Calment died in 1997.
Anoma van der Veere, a researcher within the Leiden Asia Centre at Leiden University, commented on the passing of Tanaka on Twitter: "Kane Tanaka, the oldest living person passed away at 119 years and 107 days old, [it] was just announced," he wrote.
"She passed a few days ago, but just imagine surviving two world wars and two global pandemics to become the oldest person on the planet."
Eiji Tanaka told Japan's NHK news organization that his grandmother's death was "sudden." Tanaka, who was living in a nursing home, was in relatively good health until recently enjoying board games and solving maths problems, indulging in soda and chocolate.
Guinness World Records recognized Tanaka as the world's oldest living person in March 2019, after the death of Chiyo Miyako at 117 on 22 July 2018. Since surpassing the final age of Nabi Tajimain September 2020, Tanaka has held the record as the longest-lived Japanese person of all time whose age has been validated by Guinness World Records.
When Guinness World Records recognized Tanaka as the oldest person alive in 2019, she was asked what moment of her life made her happiest, to which she responded: "Now."
In January 2022, Tanaka became just the third person on record to have survived until they were 119. According to Tanaka's family the supercentenarian aimed to live until she was 120.
In a statement issued on Monday Governor of Fukuoka Prefecture Seitaro Hattori said: "I was looking forward to seeing Kane-san on this year's Respect for the Aged Day [a national holiday in September] and celebrating together with her favorite soda and chocolate.
"I am extremely saddened by the news."
The world's oldest living person is now Lucile Randon of France who was born in February 1904 and is 118 years old.