Kangaroo Punches Man in the Face on Eve of Boxing Day
An Australian father was trying to protect his children from a kangaroo when the animal punched him in the face on the eve of Boxing Day—a holiday celebrated the day after Christmas.
Mitchell Robinson and his children were outside of their home in South West Rocks, New South Wales, when he spotted the large marsupial digging holes in the front yard on Christmas Day.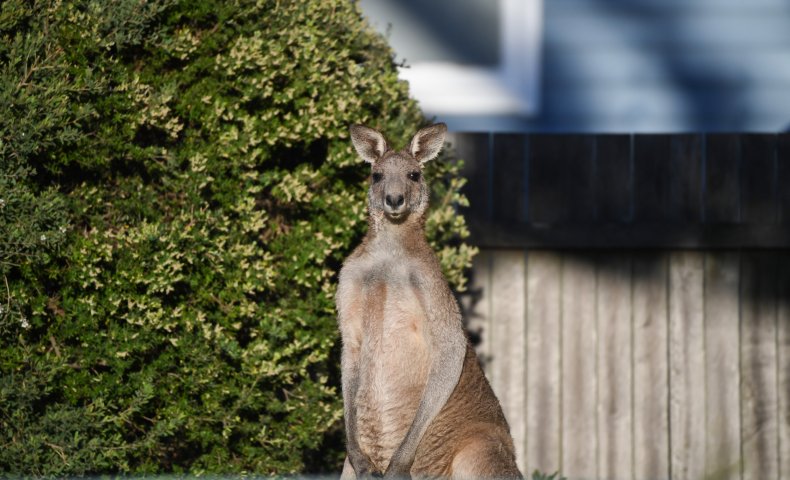 In a video shared by Australian's news.com.au, Robinson, who was already recovering from a broken arm, is seen bending down to grab dirt and rocks from the ground in an attempt to shoo the animal away. However, before Robinson can hurl the rocks at the kangaroo, it lurched near him and punched Robinson smack in the face and then kicked him. Once Robinson was down on the ground, the kangaroo ran off.
Tina Grace Rowe, a friend of Robinson's family who was nearby during the attack, told Australia's 7News that it was pretty clear the kangaroo wasn't leaving the property without a fight.
"It was just staring at him, and he picked up something to try and shoo it away; and as soon as he did that, you could see it was going to go at him," she said, noting that the animal was "massive."
"He was a big male kangaroo—big chest," Rowe said.
Aside from a minor scratch, Robinson did not suffer any injuries from the attack.
The locals of South West Rocks have since called for a kangaroo cull, in which residents with government-approved permits are allowed to shoot and kill specific animals in an effort to prevent them from overpopulating certain areas. In 2019, Victoria and Queensland halted culls after so many animals were wiped out from wildfires and drought. However, more than 4,000 kangaroos were killed in conservation culls across many of Australia's reserves in 2019, according to the Environment, Planning and Sustainable Development Directorate, which oversees culls throughout the country.
According to 7News, kangaroo appearances in the area have become increasingly common since the wildfires of 2019 destroyed much of the animals' natural habitat. Kangaroo sightings have particularly become a problem for members of the South West Rocks Country Club.
"It's just too many. One day someone is going to get attacked," club member Stephen Goldsmith told 7News on December 27.
The kangaroos aren't just an issue for people in South West Rocks either. In Melbourne, a jogger was attacked by a kangaroo in early December.
Tracy Noonan told Australia's 9 News that she thought she was going to be "clawed to death" when she encountered a kangaroo.
Noonan was out for a run when a kangaroo hopped toward her, knocked her down on the ground and began scratching her back. Noonan was able to get away but the animal followed her as she ran to a nearby home for help.
"I was petrified.… I think I was in a state of shock because it knocked me to the ground, and I was like: Did that actually just happen?" she told 9News. "I felt this massive bang in my back, and I thought: I've just been beaten by a kangaroo."