Kansas Bills Attack 'Parody' Same-sex Marriage, LGBTQ Rights, Drag Queen Story Time, Support Gay Conversion Therapy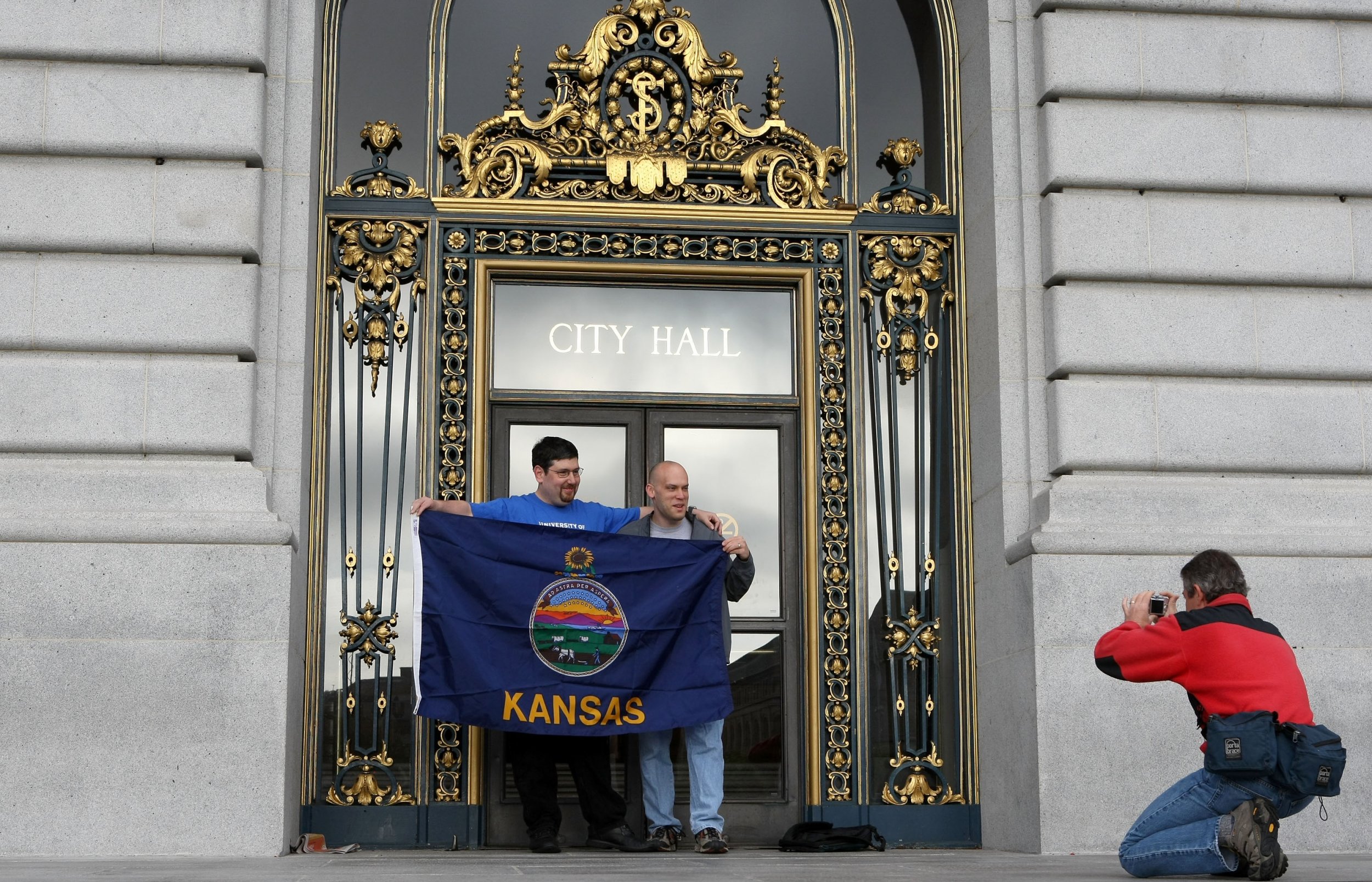 A group of lawmakers in Kansas introduced legislation that called same-sex marriage a "parody" union and sexual orientation a "mythology."
The bill, introduced on Wednesday, states: "The sworn testimonies of ex-gays, medical experts, persecuted Christians and licensed ministers demonstrate that there is no real proof that a gay gene exists."
One of the two bills says LGBTQ people are part of the secular humanism movement, which it calls a religion. This would make same-sex marriage religious in nature, which the state cannot constitutionally condone, it says.
"Parody marriages have never been a part of American tradition and heritage," one of the bill's clauses states, while another states that sexual orientation "is a mythology, dogma, doctrine or orthodoxy."
Although the legislation is not likely to pass, it illustrates the extent to which same-sex marriage has become a hot political topic in the statehouse as Democrats and some Republicans push for nondiscrimination legislation.
The Kansas Constitution prohibits same-sex marriage, but in 2015 the U.S. Supreme Court held that gay couples were allowed to wed, and that all states were required to perform and recognize same-sex marriages.
Representative Randy Garber, a Sabetha Republican and the bill's lead sponsor, said: "Their marriage probably doesn't affect me—their union or whatever you want to call it. But in my opinion, they're trying to force their beliefs on society," the Wichita Eagle reported.
He said that the language of the bill was "kind of harsh" but emphasized that he believed the only true marriage was between a man and a woman.
"So this bill is to say the state should stay out of religious unions. The state has always said that they will not interfere, or that they will not promote one religion over another. Well now, they are promoting secular humanism over all other forms of religion," Garber said.
The bill would also create an "elevated marriage" option for straight couples who seek "higher standards of commitment."
It would also oppose policies banning gay conversion therapy and seek to ban public libraries and public schools from participating in programs such as "drag queen storytime, or other similar, related secular humanist programming." The library events aim to provide children with positive LGBTQ role models but have been met with protests in parts of the U.S.
The bill says LGBTQ rights cannot be equated with the civil rights movement, and that there are "no ex-blacks but there are thousands of ex-gays."
Representative Susan Ruiz, a Shawnee Democrat who is the first lesbian to serve openly in the Kansas Legislature, said: "I am very disappointed. I see who the co-sponsors are, and I sit with a couple of them in committee and I'm certainly going to talk to them about that and say, 'Hey, I don't know if you know about it or not, but I'm not a myth'… Am I a unicorn?"" she asked, referring to the bill's description of sexual orientation as a "mythology."
The bills have 38 cosponsors, far short of the 63 votes needed to pass, which even if they did, would face legal challenges.
Tom Witt, director of the gay rights group Equality Kansas, said the legislation, which also seeks to bar the recognition of transgender individuals and allow gay conversion therapy, was the "most vile, hateful and disrespectful legislation" he had ever seen.
"Every year, we see bills that restrict, remove and limit the rights of LGBT Kansans, but never have we seen this level of extremist vitriol laid out in legislative language. These bills combined are 18 pages of insults and name calling," Witt said.