Kansas City 'Serial Killer' Rumor Is 'Completely Unfounded,' Say Police
Alarming social media posts warning of a Kansas City serial killer are untrue, according to police.
In a video that went viral on TikTok and other platforms, a man claimed that four Black girls were murdered and three others reported missing over the past week in Kansas City, Missouri. The video was posted by The Kansas City Defender, a nonprofit media platform focused on Black representation. Although the group has since removed the video, re-posts continue to circulate on social media.
Another post on Twitter, which amassed over 200,000 likes before it was removed, repeated these alleged crimes and accused the news media of silence.
"There's a serial killer in Kansas City targeting young Black girls and nobody is reporting on it," said the tweet. "[Four] victims in the past week and [three] more girls reported missing. We really gotta protect our own [because] it's evident why this isn't newsworthy."
The Kansas City Police Department told Newsweek that it was aware of the social media posts and debunked their unverifiable claims.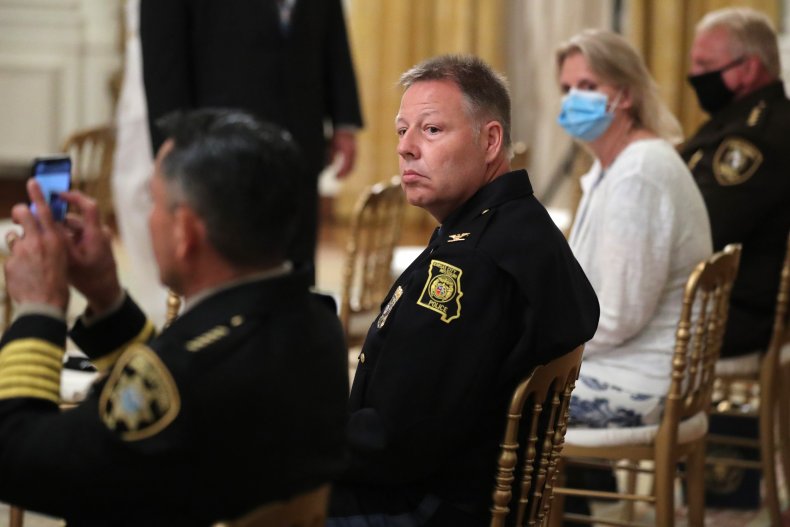 "We want to make the public aware this claim is completely unfounded. There is no basis to support this rumor," said a spokesperson. "Furthermore, we notify the media any time we respond to a homicide. There is a daily homicide analysis which is also posted on our website. There has been 1 female homicide victim in the last six weeks which occurred in the 3600 block of Cypress Avenue."
The woman killed on September 20—identified as 67-year-old Loretta Neal—was not the intended target, according to police. Two girls were reported missing in the past week, but one was located safe, police announced on Monday.
The other girl, 17-year-old Jayonna Brown, was last seen on September 9. On Monday, her family pleaded with the public to stop spreading misinformation after some social media users connected her disappearance to the supposed "serial killer."
"It's not true—please don't call us and send us links with that information, we already can think the worst on our own," mom Lavera Brown told The Kansas City Star. "All we can ask is your prayers are needed and to not send the links. It's not helpful."
A keen public interest in true crime, combined with the rise of internet detectives who circulate theories and attempt to crowdsource evidence on social media, has intertwined ordinary citizens with the dispensing of justice.
Gabby Petito's disappearance and murder in 2021 whipped up a firestorm on social media, with conspiracies and insights spreading wildly as the hashtag #GabbyPetito was viewed over 900 million times on TikTok.
Although most of these posts had no effect on the case, one couple who was in the Grand Teton National Park at the same time as Petito uploaded a viral video that aided the FBI's investigation, helping lead police to the missing woman's body.
However, social media sleuths—even when well-intentioned—have also identified and doxxed the wrong people. After the Charlottesville Unite the Right march in 2017, social media users falsely identified a man thought to be a participant in the white supremacist rally in Virginia, reported The New York Times.
The innocent man suffered a barrage of abuse online, as countless internet users demanded he lose his job, accused him of racism and posted his home address online.