Gabby Petito Hashtag Viewed 268M Times as TikTok Sleuths Join Search
TikTok sleuths have flooded the social media platform with videos about Gabby Petito, a 22-year-old woman who is missing after a cross-country road trip with her fiancé Brian Laundrie.
Police on Saturday searched a Florida wildlife reserve for 23-year-old Laundrie, a person of interest in Petito's disappearance. Across the country, the FBI sought clues about Petito's whereabouts in a Wyoming national park.
Meanwhile, social media detectives are also working to solve the case.
On TikTok, users have been sharing theories and tracking every development in the case in videos that have gone viral.
Videos with the #gabbypetito hashtag have been viewed more than 268 million times as of early Sunday, while dozens of other hashtags—for instance, #findgabbypetito and #gabbypetitoupdate—have attracted millions more.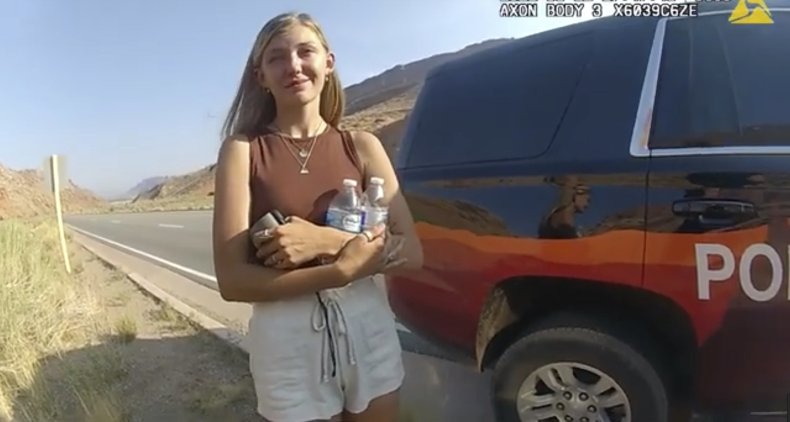 Haley Toumaian's TikTok account is usually filled with videos about her own life. But earlier this week, she began devoting it to share updates about the missing woman with over 500,000 followers.
"It struck a chord with me from the moment I heard about it" she told Newsweek about why she started making the videos. "I am similar in age to her, also a YouTuber, am engaged... we have a lot of similarities."
As of early Sunday, Toumaian has posted 47 TikTok videos about Petito and says she is being inundated with tips about the case.
"People quickly became very invested and I just felt a pull to keep updating. I've seen the power of social media in other true crime cases, so I figured I should keep posting because you never know who you'll reach."
She continued: "The response has been crazy. People from all over the world are invested and constantly checking back to my page for updates. I am trying to provide a space where I can share accurate informational updates from police but also share theories and things being discovered and talked about on other forums.
"The amount of people who have sent me information, tagged me in videos, etc is insane and I am so proud of this community I'm building who cares about Gabby."
Toumaian isn't alone in making TikToks about Petito. So are dozens of other content creators on the platform. On Instagram, several accounts have been created to bring attention to the case.
A woman named Miranda Baker posted a video on TikTok saying she believes she and her boyfriend picked up Laundrie as a hitchhiker at Grand Teton National Park on August 29. In a video that has racked up almost 10 million views so far, Baker said she only reported the encounter to police after seeing TikTok videos about the case.
But while some are convinced the online videos could help provide police with useful tips and leads, others believe some are simply using Petito's case to drive up views and followers.
"There's a lot of people who are capitalizing off of and profiting off of creating content that's designed to dissect the last days that we know of this girl," Abbie Richards, who researches misinformation and disinformation on TikTok, told the Washington Post.
Petito and Laundrie left for a cross-country trip to visit national parks in a converted van in July. But Laundrie was alone when he drove the van back to his parent's home in North Port, Florida, on September 1.
Petito's family filed a missing person report with police in Suffolk County, New York, on September 11 after not hearing from her for a week.
Officials have said Laundrie refused to cooperate with police after the missing person report was filed, and has since gone missing himself.
Earlier in the weekend, the North Port Police Department said in a statement that they understood the community's frustration over the lack of progress in finding Petito.
"We are frustrated too," the statement said. "For six days, the North Port Police Department and the FBI have been pleading with the family to contact investigators regarding Brian's Fiancé, Gabby Petito. Friday is the first time they have spoken to investigators in detail."
The statement added: "It is important to note that while Brian is a person of interest in Gabby's disappearance, he is not wanted for a crime."
North Port police added that the investigation is now a "multiple missing person" case.
However, attorneys for the Petito family released a statement saying Laundrie was not missing, but "hiding."
"All of Gabby's family want the world to know that Brian is not missing, he is hiding. Gabby is missing," the statement from the law office of Richard B. Stafford said.
Update 9/19/21, 9.40 a.m. ET: This article has been updated with comments from Haley Toumaian.