Kansas Faces Another Heat Wave After Thousands of Cows Die
After an unexpected heat wave killed thousands of cattle in southwest Kansas, the National Weather Service says "the ring of fire" has settled into the state, bringing more potentially dangerous temperatures in the coming days.
The National Weather Service's Wichita office on Thursday forecast temperatures between 95 and 100 degrees through Sunday, with the service warning pockets of the state of hazardous weather. The forecast comes on the heels of reports of mass cattle deaths as temperatures suddenly climbed in the beef-producing state.
Matthew Lara, spokesman for the Kansas Department of Health and Environment, told Newsweek that there were about 2,000 cattle deaths in feed lots in the southwest part of the state. He said the figure comes from his department's role in assisting facilities dispose of dead animals.
"We had high heat, high humidity and there just wasn't a lot of wind moving through the area, and it's really hard for the cows to cool themselves off," Lara said.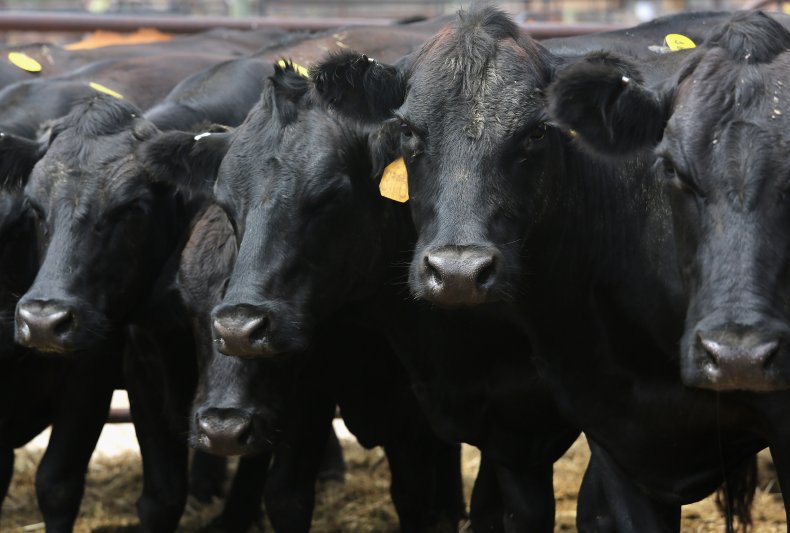 Following the heat wave, a now-viral video showing thousands of dead cows began circulating the internet.
Scarlett Hagins, vice president of communications for the Kansas Livestock Association, said in a video posted to Facebook Thursday that she could not confirm the number of cattle lost in the state's southwest area. Describing the heat wave as "unusual," she said it was a "significant change in weather in a short amount of time."
"This is not normal for that region," Hagins added. "Normally, this region is very ideal for raising fed cattle. They typically have low humidity and plenty of wind."
Beef cattle is the largest sector in Kansas' agriculture industry, according to the state Department of Agriculture, with cattle and calves generating $8.27 billion in cash receipts in 2017. Kansas also has the third-largest number of cattle on ranches and feed-yards at 6.35 million as of 2019. The state has a population of just under 3 million people, according to a 2021 estimate from the U.S. Census Bureau.
Currently, much of Kansas is experiencing drought conditions and a large portion of the southwest part of the state is in "extreme drought," according to the U.S. Drought Monitor website. Now, the state is bracing for more hot weather.
"The ring of fire has settled into Kansas with little reprieve from the heat expected through the weekend," the National Weather Service's Wichita office said in a tweet Thursday. "Be sure to take heat safety seriously and limit time outdoors during peak heating."
The service's office for Kansas City and Pleasant Hill, Missouri, is forecasting dangerous heat through Friday with temperatures reaching as high as 107 in some areas.
The service's Dodge City office has forecast triple-digit heat for Thursday, but humidity is expected to be low enough to preclude a heat advisory. While there will be hot afternoons Friday through Tuesday, south winds will be gusty.