Kansas Man Faces Hate Charges After Threatening Black Teen With Knife for Being In 'White Town,' Police Say
A 25-year-old white man named Colton Donner has been indicted by a federal grand jury on hate crime and illegal weapon charges after allegedly threatening a Black teenager with a knife.
On September 11, 2019, Donner allegedly yelled racial slurs at a Black teen walking through Paola, a small town about 44 miles south of Kansas City, Kansas. Donner allegedly brandished his knife towards the teen, informing him that Paola is a "white town."
The illegal weapon charge stemmed from an unrelated incident that violated Donner's parole as a former felon. If convicted, Donner could face up to 10 years in prison and a $250,000 fine for both charges.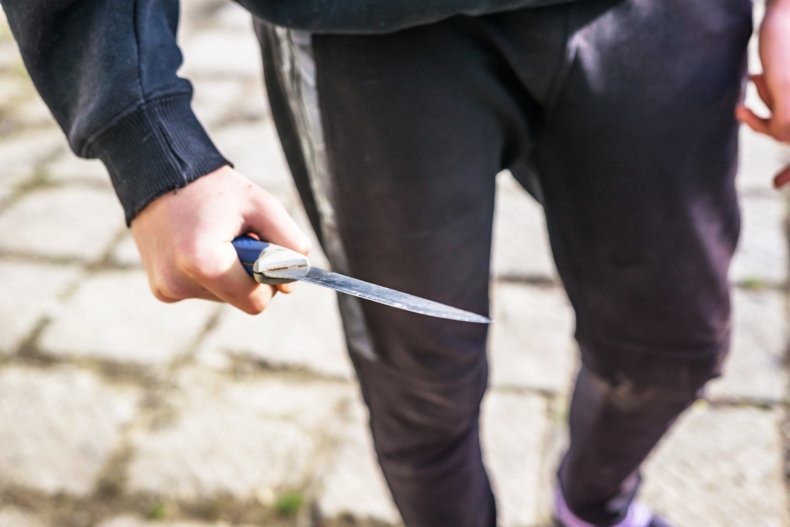 While Paola's population of 5,026 people is 93.5 percent white, it also has Black, Native American and Asian residents, according to the 2010 Census. The town was founded by Native American tribes forced onto the land between 1827 and 1832, partly by the anti-Native American policies of the 7th U.S. President Andrew Jackson, according to a 2009 town visitor's guide.
Kansas also has its own complicated history with race. While Kansas was admitted as a "free" or anti-slavery state upon entering the Union on January 29, 1861, years of bloody conflicts over slavery followed. The "Bleeding Kansas" period, as its known, resulted in 200 deaths and foreshadowed the national Civil War over slavery to come, according to historian and author James N. Leiker.
In the 1860s, Kansas journalists also openly called for the extermination of Native American tribes who had lived in the states since before white and European settlers arrived, Leiker adds.
Discrimination persisted at local and state levels, compelling the Supreme Court to intervene against the racist doctrine of "separate but equal" in the well-known 1954 case of Brown v. Board of Education of Topeka. The case resulted in a ruling that all schools had to be desegregated "with reasonable haste."
Paola is also within proximity to numerous "sundown towns" in Kansas, areas that used terrorist intimidation and racist housing policies to maintain white supremacy until the 1960s, according to James Loewen, historian, sociologist and author of Sundown Towns: A Hidden Dimension of American Racism. The term "sundown towns" came from public signs warning non-white people not to stay in the town past sundown.
A September 2020 study of diversity amongst the nation's 50 states conducted by the personal finance site WalletHub ranked Kansas 26th for its cultural, racial and ethnic diversity. Only 6.1 percent of the state's population is Black; 86.3 percent is white, according to the U.S. Census Bureau.
Newsweek contacted the Paola city government for comment.
Correction on 09/23/2022 at 12:37 p.m. ET. Corrects name to Colton Donner.