Kansas Senate Bans Trans Athletes From Women's Teams, But Not Men's
The Kansas Senate has approved a bill that would forbid transgender females from playing in girls' and women's sports. The bill would still allow transgender men to play on boys' and mens' teams.
The state Senate passed the bill, SB 208, on Wednesday in a 24-10 vote. The bill now heads to the Republican-controlled state House where it is expected to pass. The state's Democratic Governor Laura Kelly hasn't said if she will veto it. Even if she does, her veto may be overridden by the legislature's Republican majorities.
The bill proclaims to focus on "fairness in women's sports" and "restricting participation on women's teams to female students." It says that physical differences between males and females, such as muscle mass and testosterone production, "result in men being able to generate higher speed and power" in sports.
As such, the bill says that sports teams must either be explicitly mixed/co-ed or segregated by "biological sex."
"Athletic teams or sports designated for females, women or girls shall not be open to students of the male sex," the bill states.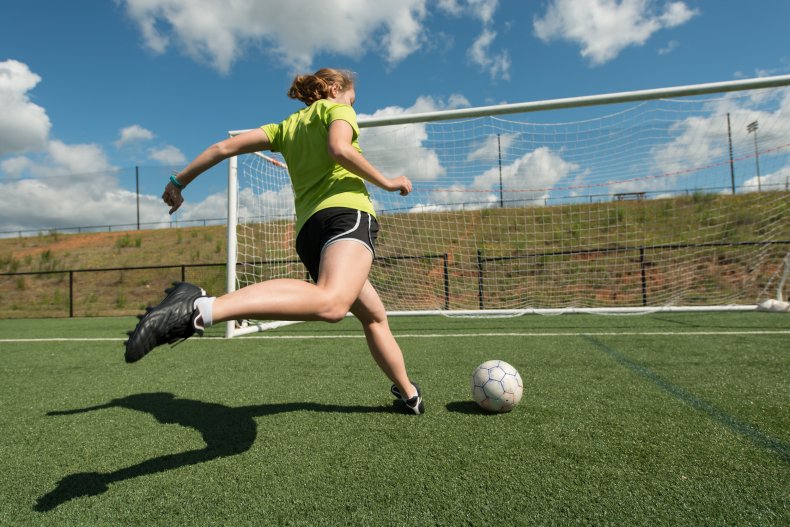 The bill's supporters say it is necessary to stop transgender female athletes from dominating girls' and women's sports. However, the bill overlooks the existence of transgender male athletes and the possibility of their participation and excellence in boys' and mens' sports.
The state association overseeing Kansas' public school activities has said that only five known transgender students are currently participating in activities, The Mooresville Tribune reported. It's unclear if the activities involve sports. The association also said there have been no instances of transgender school sports champions in the state.
Kelly, who signed an executive order banning LGBTQ discrimination in state hiring, has expressed concern that the bill will discourage businesses from investing in Kansas.
"We know from lots of experience in other states that when you implement these kinds of regressive social policies that you significantly decrease the ability to attract businesses here," Kelly said. "Businesses want us to be inclusive."
Democratic State Representative Stephanie Byers, Kansas' first out transgender elected lawmaker, called the bill an "intentional attack on a small group of people that are part of a marginalized community," the Tribune reported.
Opponents of the bill worry that it will create gender-based bullying from students and faculty who will try to decide who is feminine or masculine enough to participate.
Idaho, Tennessee and Mississippi are among the states that have passed similar laws banning transgender athletes in girls' and women's sports. Roughly 20 other states are considering similar laws.
Newsweek contacted Kelly's office for comment.