Kanye West Accidentally Reveals Password to His Phone Is '000000' Live on Camera During Trump Visit at White House
Among a series of jaw-dropping and bizarre moments during his meeting with President Donald Trump at the White House, rapper Kanye West also inadvertently revealed his iPhone passcode is just 000000.
The rapper accidentally revealed to the cameras in the Oval Office his simplistic password just as he was about to show the president a hydrogen-powered plane made by Apple that he suggested should replace Air Force One.
"This right here is the iPlane 1," West said. "This is what our president should be flying."
"If he don't look good, we don't look good. This is our president. He has to be the freshest, the flyest." West added it is important the U.S. president has "the flyest planes," reports the Associated Press.
Following his appearance at the White House, West was later spotted at an Apple store in Georgetown, Washington, where he made a "keynote" address while standing on tables, according to Religious News Service reporter Jack Jenkins, who was live-tweeting the appearance.
During his impromptu speech at the Apple store, West repeated a suggestion he made to Trump in the Oval Office that he replaces his MAGA hat with one which just reads "Make America Great" — dropping the "again."
West said the "again" part of Trump's campaign slogan "hurts black people," according to Jenkins.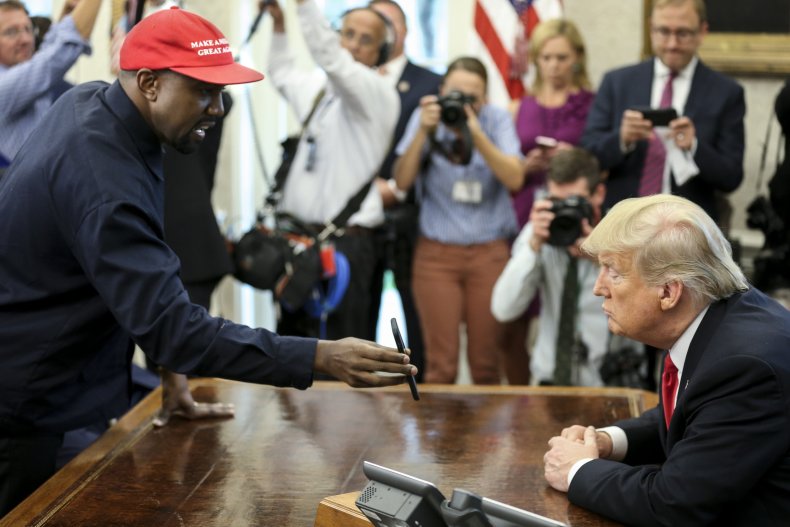 "He just left, saying he's going to Africa," Jenkins added in a tweet. It is unclear if West decided to go to the Apple store for tech support or for help changing his passcode.
The reveal of West's iPhone passcode was just one of a number of memorable moments during a 10-minute rambling monologue he gave during his meeting with Trump.
As well as suggesting a new slogan, West told the president wearing the red MAGA hat gives him "power in a way."
Discussing the 2016 presidential campaign, West said: "I love Hillary [Clinton]. I love everyone, but the campaign 'I'm with her' just didn't make me feel—as a guy…it was something about this hat that made me feel like Superman."
West also talked about his recent mental health struggles, claiming he was misdiagnosed with bipolar disorder by a doctor.
"So he [a neuropsychologist ] said that I actually wasn't bipolar; I had sleep deprivation, which could cause dementia 10 to 20 years from now, where I wouldn't even remember my son's name," he said.
Elsewhere, West also dropped what is beloved to be the first ever public F-bomb in the Oval office while addressing Trump's future.
"Let's stop worrying about the future all we have is today," West said. "Trump is on his hero's journey right now. He might not have thought he'd have a crazy mother-f****r like [me]."
"I tell you what: That was pretty impressive," Trump eventually said at the end of West's rant.