What We Know About Kanye West's Donda Doves School Basketball Team
Kanye West's private school, which opened in 2021, boasts the Donda Doves basketball team, backed by Adidas, according to an article published by Rolling Stone.
Based in Simi Valley, California, Christian prep school Donda Academy—which is named after West's late mother, Professor Donda West—says on its website that its mission is to "prepare students to become the next generation of leaders."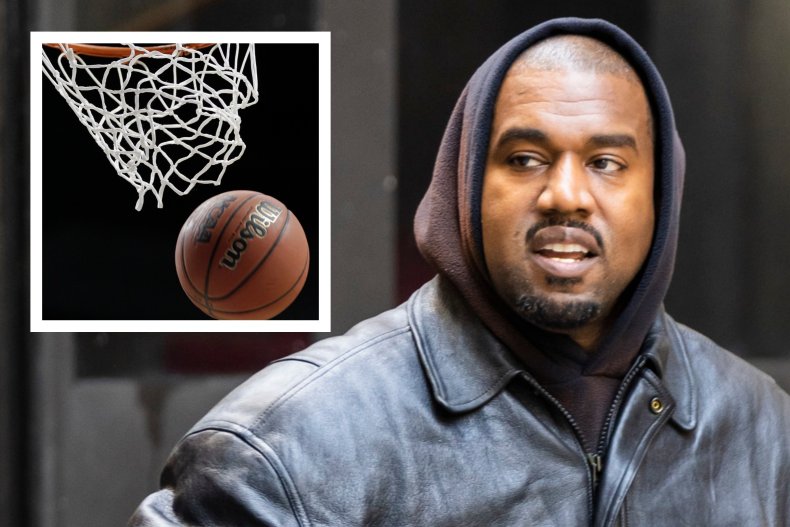 In the 2018-19 school year, according to data from the National Federation of State High School Associations, the sport with the most participants for boys in the U.S. was 11-a-side football with just over 1 million participants. Basketball was third, with 540,769, just behind track and field in popularity.
According to Tamar Andrews, a consultant for Donda, there are just under 100 students enrolled at the $15,000-per-year school, which employs 16 full-time teachers.
Andrews told Rolling Stone that the school is not yet accredited, though it has applied with the Western Association of Schools and Colleges.
The institution's Donda Doves basketball team was launched in the 2021-2022 school year, according to the California Department of Education.
West, 45, who has legally changed his name to Ye, wants the team to rival the top players at the prestigious Sierra Canyon school, attended by NBA star LeBron James' 17-year-old son, Bronny.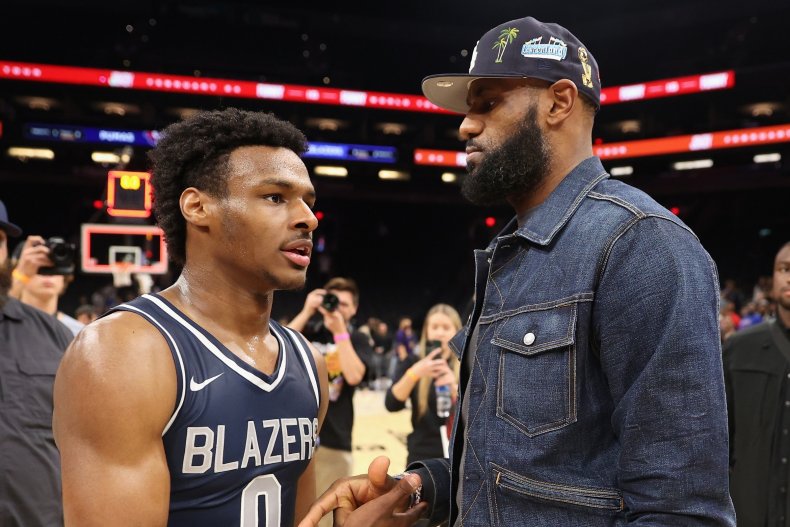 West's children with ex-wife Kim Kardashian also attend Sierra Canyon, but in text messages shared on West's Instagram account that he purportedly sent to her, the musician wrote that he wants their children to attend Donda Academy.
Given the celebrity status of the school's founder, it is reported that NBA stars such as Boston Celtics player Jaylen Brown and Utah Jazz's Jordan Clarkson will be on hand to help out Donda Academy students.
According to Rolling Stone, some of the top high-school basketball players in the U.S. have been recruited at Donda Academy, including ESPN's No. 8 pick Robert Dillingham and No. 25 selection A.J. Johnson.
The team appeared on the cover of Slam Magazine in January, posing alongside one-time presidential candidate West in gray Balenciaga uniforms.
With the players coming from all across the U.S., the sports students have been put up in a luxury apartment building with chaperones, according to the report.
Another draw to the school is the choir, with up to seven children from that program having successfully auditioned to sing as part of West's invite-only Sunday Services.
Few other details are known about Donda Academy, which reportedly requires that parents of prospective students sign nondisclosure agreements. Consultant Andrews said in the report that parents had been asked to sign an "informal agreement."
The school's listed principal and executive director, Brianne Campbell—who also heads up Donda Academy's choir program—is 28 years old, has never held a formal position as an educator and is enrolled in a master's degree program in education at California's Pepperdine University.
Producer and West collaborator Malik Yusef, who told Rolling Stone he helped shape the school's concept, said that the rapper and fashion designer is serious about Donda Academy.
West's five-year plan, according to Yusef, is to open several campuses across the U.S., copying Donda Academy's tuition of students from kindergarten to 12th grade.
"I want to be emphatic that there's never been a time that Kanye West did not want to do this," Yusef said. "I think people don't understand the gravity of that.
"This man always wanted to create a school in his mama's name... Look at what we're doing with the choir and the fashion in school—I don't think there's a venture capitalist or anybody that's had a vision this clear on what education can look like for you."
Yusef and Andrews also spoke of the programs the school offers, including fashion courses, Japanese language classes, lessons on restorative justice instruction, and STEM classes.
"With Donda Academy, the curriculum has been built his whole life," said Yusef. "Education is kind of a group effort. It takes a village to raise the child, these conceptualizations.
"At length, we spoke about how we want to have people educated and how the education system fails the majority of people, not just some people."
Newsweek has reached out to representatives of West and Donda Academy for comment.