Kanye West and Jay-Z have reunited for the first time in years as the rappers and former collaborators appeared on West's highly anticipated new album Donda.
West premiered his 10th studio album at a sold-out listening party in Atlanta, Georgia, on Thursday, with a surprise feature from Hova—and fans are emotional and ecstatic.
This is the first time the duo have worked together since they appeared on Drake's "Pop Style" in 2016. In 2011, they released a joint album Watch The Throne and went on tour together.
On Donda, Jay-Z's verse on the final song includes a reference to a West's support of Donald Trump.
"I told him to stop all that red cap, we going home," raps Jay-Z.
However, he then indicates that the pair may have repaired their relationship after years of rumors of a rift between them.
"This might be the return of the Throne. Hova and Yeezus, like Moses and Jesus."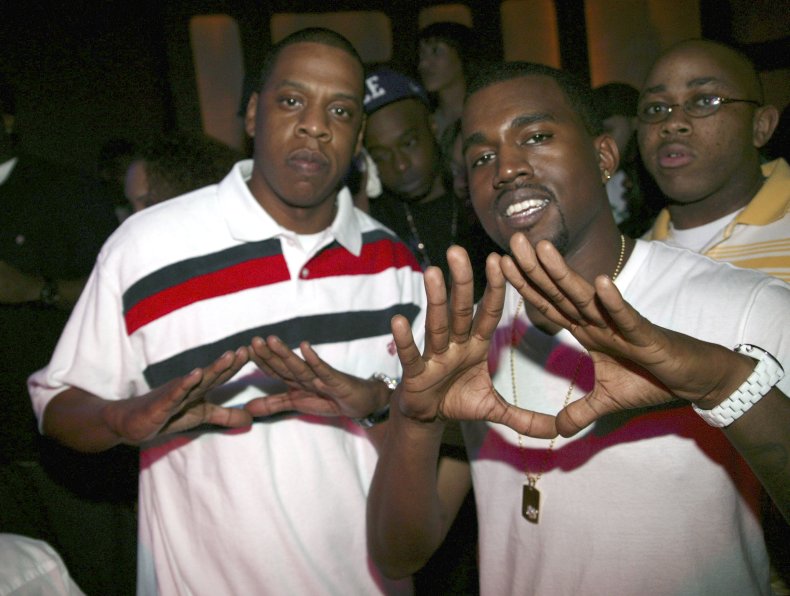 The reunion has delighted fans of the duo who are taking to social media to celebrate the latest collaboration.
"a whole jay z and kanye west track in 2021. peace has been restored. the pandemic is over," read one tweet.
While another delighted fan labeled the reunion as "history."
Another emotional reaction reads: "KANYE WEST X JAY Z WENT OFF ON THIS."
"Kanye and Jay Z collab in 2021.....this can't be," said another.
While another fan added: "JAY Z AND KANYE ARE FRIENDS AGAIN."
"Bro hearing Kanye & Jay Z on a song together in 2021 is f****** incredible. I couldn't ask for legit anything more," said another.
Producer and DJ Young Guru said on Twitter that Jay-Z recorded his verse at 4 p.m. on Thursday, just hours before the launch.
Donda, named after West's late mother, features guest appearances from a host of performers, including Lil Baby, Pusha T, Playboi Carti, Roddy Ricch and Travis Scott.
West hosted a launch party at the Mercedes Benz Arena in Atlanta for the album on Thursday night.
The rapper performed at the center of the stadium without a microphone as the album played.
The album has not dropped on streaming services yet, but some reports have suggested that it is set to drop on July 23 at midnight ET.
Donda is West's tenth studio album, after 2019's Jesus is King.
A track titled "No Child Left Behind" was previewed earlier this week, with an ad featuring track-and-field sprinter Sha'Carri Richardson, who was recently banned from the Olympics for testing positive for cannabis.