Kanye West and Lil Pump Premiere 'I Love It' at Pornhub Awards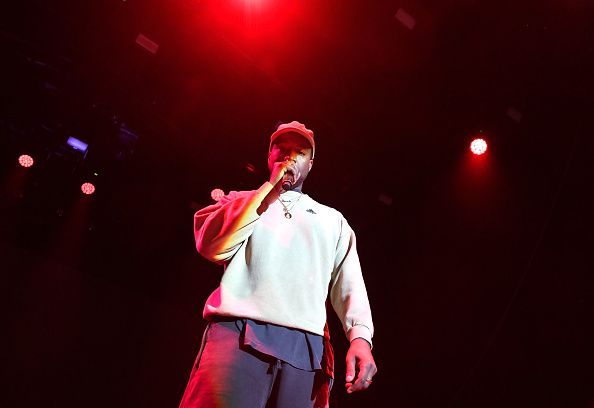 Kanye West has a new song. The track, titled "I Love It" and featuring Lil Pump, was accompanied by a music video at the first Pornhub Awards Thursday night.
The video is just over 2-minutes long and features comedian Adele Givens towering over West and Lil Pump clad in giant, box-like outfits reminiscent of West's YEEZY fashion line. The video embodies the surreal as West and Pump cartoonishly follow Givens down a hallway rapping the song's sexually explicit lyrics. "You're such a f***ing hoe, I love it," Lil Pump raps in the hook.
"I Love It" was directed by West and Amanda Adelson and produced by Spike Jonze. Lil Pump is best known for his song "Gucci Gang." The show also included a performance by Teyana Taylor. Other musical guests included Young M.A., Blackbear and Dana Dentata.
Representatives of West confirmed him as the creative director of the Pornhub Awards to Vanity Fair on Thursday. The show aired Thursday night and took place at the Belasco Theater in Los Angeles. West also provided the wardrobe and styling for the show with his design house YEEZY and individually styled each presented. West also designed the trophies themselves, with each statuette custom made to match the show's futuristic theme. West did not to all of this alone, however, and worked with his long-time collaborator Willo Perron as co-creators to bring their vision for the Pornhub Awards to life.
Rumors of West's involvement in the awards show have been circulating since Monday and were first reported by PageSix. West professed himself as a fan of the site when he appeared on Jimmy Kimmel Live in August. When Kimmel asked the rapper if having daughters had changed his views towards women, West replied, "Nah, I still look at Pornhub."
The show was set in the year 6918, reminiscent of an art installation that went up in July called "Pornhub Nation" designed by Maggie West and Ryder Ripps, that featured a multi-room exhibit depicting a futuristic, utopian society formed by Pornhub. The artists worked with the adult website to create "an interactive fantasy world" and a "neon-drenched utopia" Maggie West said in a press release. The installation featured multiple exhibits playing on government branches and bureaucratic organizations.
Merch for the Pornhub Awards, designed by West, is now available on the YEEZY website.