Kanye West Shares Putin Image in Cryptic Message Against Music Industry
Kanye West returned to Twitter Tuesday night to share a scathing critique of the music industry.
The rapper's tweetstorm culminated with him sharing a photo of Russian President Vladimir Putin.
The image, which looks like a mock up album cover, shows the president overpowering another person while practicing judo. The words: "Rule number one, listen to Ye," surround the picture.
West, 43, captioned the tweet: "Ok this my final tweet of the day ... unless I feel like tweeting again."
It is unclear why West chose this image.
Earlier he launched into a tirade against the music industry, seemingly criticizing his record company, Universal Music Group, and his publisher, Sony/ATV Music Publishing.
"When you sign a music deal you sign away your rights," the "Jesus Is King" rapper tweeted Tuesday night. "Without the masters you can't do anything with your own music. Someone else controls where it's played and when it's played. Artists have nothing accept the fame, touring and merch."
He also shared a clip of people slipping down a staircase on a foreign game show due to liquid being poured down the steps in an analogy he conflated with struggling to keep creative control.
"This is how it be when artist try to get our masters ... the stairs are covered with lotion," he wrote.
West, who has bipolar disorder, was due to launch a new album Donda: With Child—named after his mother—in July, but the launch never happened.
Monday night saw the artist and 2020 presidential hopeful share his thoughts on his music career in a flurry of tweets.
"I'm not putting no more music out till I'm done with my contract with Sony and Universal," he tweeted. "On God ... in Jesus name ... come and get me."
West has publicly announced that he wants to get out of his label and publishing deals in the past, and even sued the companies in January of last year.
Tuesday night also saw him tweet: "The artist deserve to own our masters ... artist are starving without tours ... Ima go get our masters ... for all artist ... pray for me."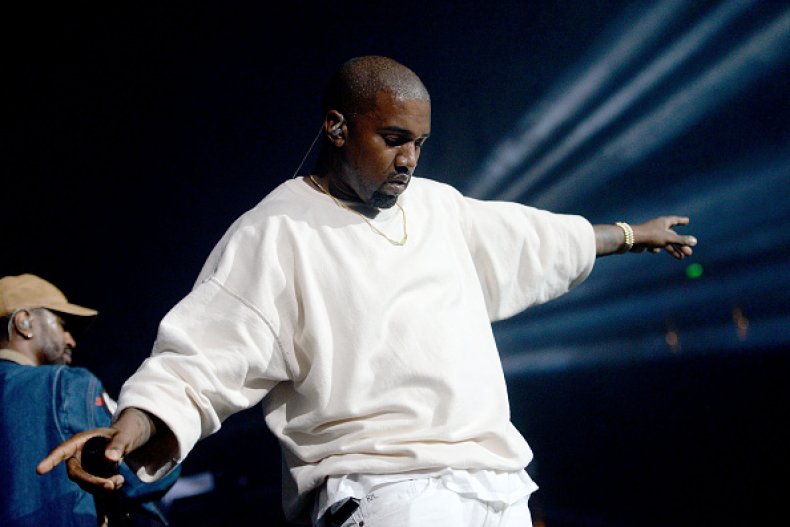 This week, West told his fans to buy land and property with their $1,200 stimulus package checks.
West's troubled presidential bid has now seen him miss the deadline to register in key states, in what many believe to be a spoiler campaign against the Democrats.
However, the rapper has managed to make the ballot in around a dozen states, including Colorado, Kentucky, Louisiana, Minnesota and Mississippi.
This week he also tweeted to say he found a "fake employee" on his payroll.