Kanye West and Kim Kardashian Online Feud Explained
Remember the days when Kanye West would rapidly fire out random tweets on Twitter ahead of an album launch or the presidential election? Those days are over.
For his latest outburst, Kanye, now officially known as Ye, has moved to Instagram, where for the past week, he has been airing his views and opinions on how Kim Kardashian is raising their daughter North, his deep love for his wife, and his dislike for her new partner, Pete Davidson.
Not to mention he has also taken aim at his former collaborator, Kid Cudi, and has had a few things to say about Billie Eilish, accusing her of "shading" his friend, Travis Scott, all of which Eilish has denied.
If you are struggling to keep up like the rest of us or have absolutely no clue why Kanye West is fighting with Kim (and others). Newsweek has a full explanation of what happened between Kanye West and Kim Kardashian.
The Kanye West and Kim Kardashian Online Feud Explained
The Divorce and Dating
It's been almost a year since Kim Kardashian officially filed for divorce from Kanye West. After six years of marriage and four children together, the news broke on February 21, 2021, after months of speculation.
Since their split, Kardashian and West had kept a relatively low profile, working on their own projects and co-parenting. However, in recent months, their relationship has hit the headlines and been the hot topic on social media, particularly after Kardashian began dating Saturday Night Live star, Pete Davidson.
West also appeared to move on, dating model and actress Julia Fox but on Monday, February 14, their month-long relationship officially ended.
Despite their relationship, West has been taking aim at Kardashian via Instagram, starting at the beginning of February 2022 in several now-deleted posts.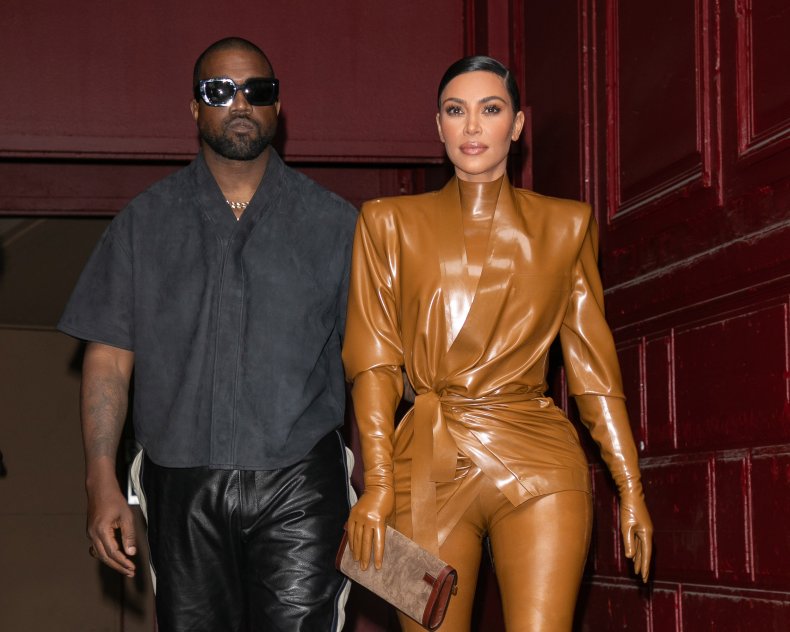 North West
In early February, West took issue with Kardashian allowing their 8-year-old daughter North to post on TikTok via an account she shares with her mom, reported The Hollywood Reporter.
In an interview with Hollywood Unlocked, West said: "My children ain't going to be on TikTok without my permission" and later took to Instagram to ask for "help" to get North West's videos removed. West's posts were later deleted.
Ultimately, Kardashian released a statement addressing West's remarks, adding his comments were "hurtful."
Writing via her Instagram Story, Kardashian said: "Kanye's constant attacks on me in interviews and on social media is actually more hurtful than any TikTok North might create. As the parent who is the main provider and caregiver for our children. I am doing my best to protect our daughter while also allowing her to express her creativity in the medium that she wishes with adult supervision — because it brings her happiness. Divorce is difficult enough on our children and Kanye's obsession with trying to control and manipulate our situation so negatively and publicly is only causing further pain for all.
"I wish to handle all matters regarding our children privately and hopefully he can finally respond to the third attorney he has had in the last year to resolve any issues amicably."
Pete Davidson
SNL star Davidson and Kardashian were first linked in October 2021, just weeks after Kardashian hosted SNL and the pair shared a kiss in a hilarious Aladdin skit.
Kanye went so far as to end his partnership with Kid Cudi due to his friendship with Davidson, saying he would not be on his new album. On a lined piece of paper that he uploaded to Instagram, West wrote: "Just so everyone knows Cudi will not be on Donda because he's friends with you know who ... We all speak in Billie [Eilish] language now."
Cudi replied: "Too bad I don't wanna be on ur album u f****** in dinosaur hahaha. Everyone knows I've been the best thing about ur albums since I met u. Ima pray for u brother."
A day later, West began posting alleged text messages between him and Davidson about meeting West and Kardashian's four children, North, Saint, Chicago, and Psalm.
He wrote: " YOU WILL NEVER MEET MY CHILDREN" in response to a text from Davidson which read: "As a man, I'd never get [in the] way of your children. That's a promise. How you guys [go about] raising your kids is your [business] and not mine. I do hope [one] day I can meet them and we [can] all be friends."
West has also sung about Davidson in one of his new tracks which is set to appear on Donda 2. In the song "My Life Was Never Eazy" ft. The Game, West raps: "God saved me from the crash just so I can beat Pete Davidson's a**." The song was released in January 2022.
In a now-deleted Instagram post, West shared an image of him, Kid Cudi, Pete Davison, and Oscar-nominated actor Timothée Chalamet, with a huge red cross across Davidson's face.
West didn't stop there. He then photoshopped the Venom movie poster with his and Davidson's faces. On West's side were Drake, Travis Scott, and then-girlfriend Julia Fox and on Davidson's side Cudi, Taylor Swift, Billie Eilish, and Kardashian. The post has now disappeared from his Instagram feed.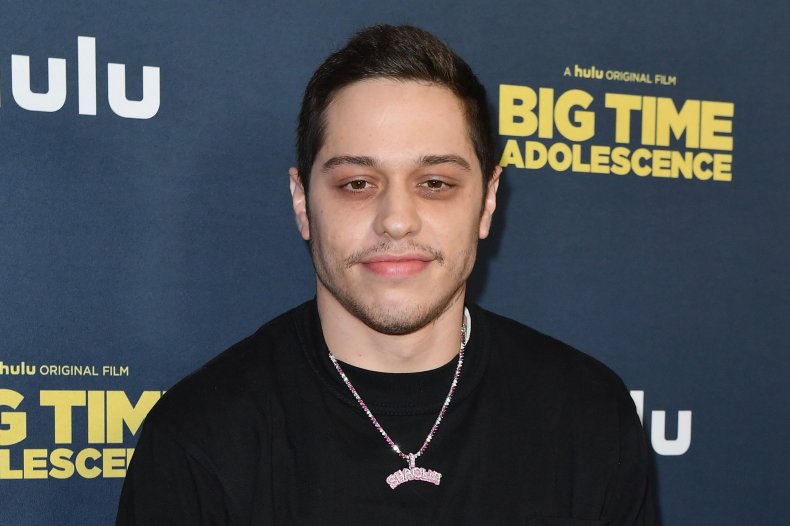 His Love For Kim Kardashian
Despite slamming Kardashian for her parenting choices and dissing her new man online, West has always stood by his desire to get back together with Kardashian and raise their family together.
On Super Bowl Sunday (February 13), West in a now-deleted post wrote: "HOLD YOUR SPOUSE CLOSE MAKE SURE THEY KNOW HOW MUCH YOU LOVE AND APPRECIATE THEM BECAUSE THERES A SKETE LURKING IN EVERY DIRTY A** ALLEY WAITING TO HELP DESTROY YOUR FAMILY AND WALK AROUND IN CALVIN KLEINS AROUND YOUR CHILDREN. WISH MY WIFE WAS WITH ME AND OUR CHILDREN SITTING AT THE 50 YARD LINE @kimkardashian ALWAYS REMEMBER WEST WAS YOUR BIGGEST W."
Earlier this month, West even shared old photos of his family, writing "GOD PLEASE BRING OUR FAMILY BACK TOGETHER."
Newsweek has contacted West, Kardashian and Davidson's representatives for comment.