Kanye West's Yeezy Season 4 Show Was a Mess, but It Wasn't as Horrible as Everyone Is Saying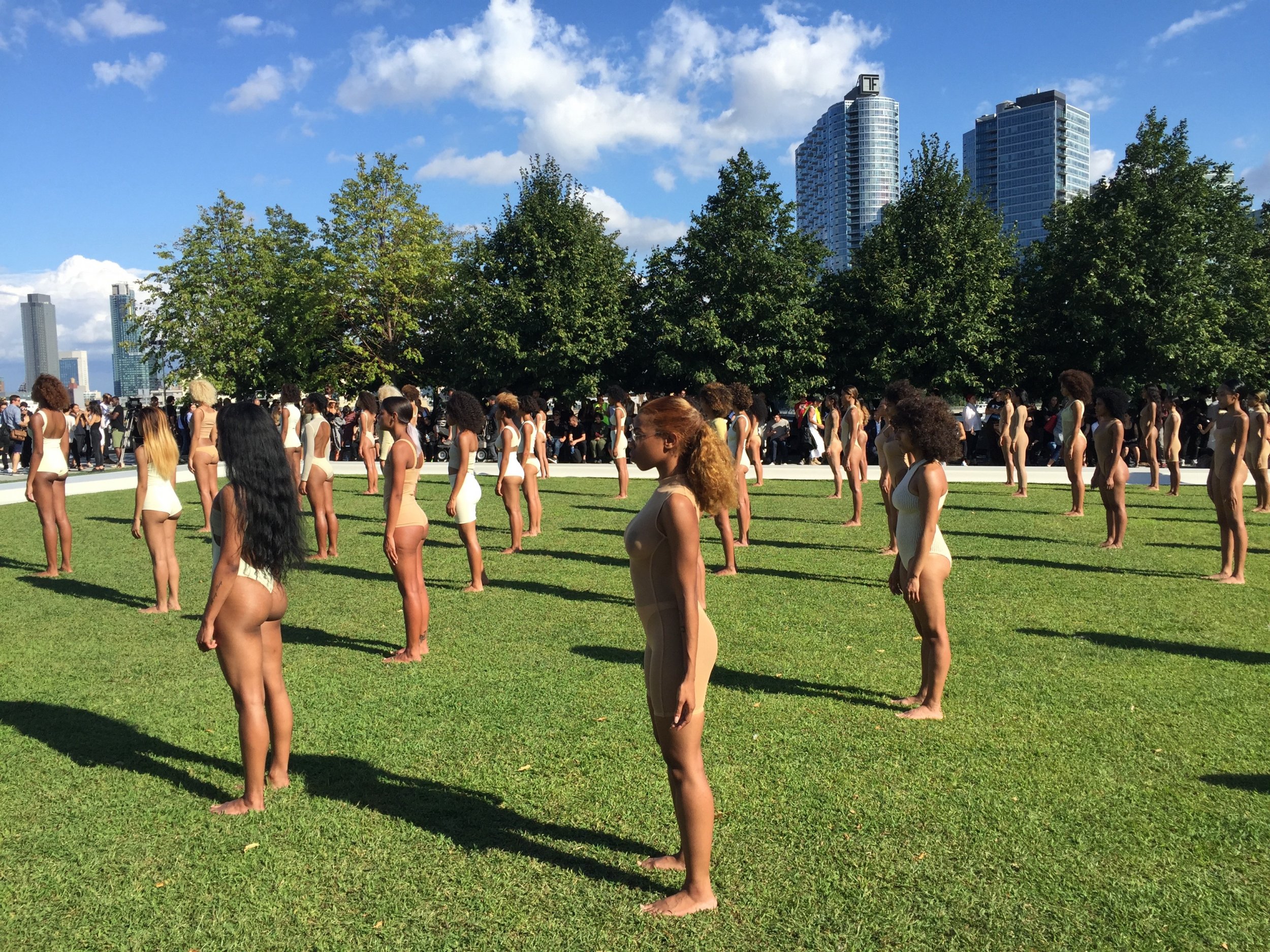 The fashion industry was none too pleased with Kanye West's surprise Yeezy Season 4 show Wednesday afternoon. The event, held at Four Freedoms Park on New York City's Roosevelt Island, has been called everything from a "disaster," to a "hot mess," to a "hellscape." Getting to the park was a logistical nightmare, it was hot outside, and, God forbid, fashion editors were forced not only to take a bus (gross) but also to wait in line upon arrival at Roosevelt Island. The horror.
Holding the show on the tip of Roosevelt Island, which sits in the middle of the East River, was indeed an enormous pain in the ass. It took over an hour by bus to get there, and those invited had to wade through checkpoint after checkpoint while watching VIPs like Russell Westbrook, Scooter Braun and Desiigner walk right on by and into the park. The wait was long, but it wasn't that egregious. It was no different than getting to a concert a little early, having to sit through the opening act and then having to sit a little longer because the headliner was late. It might have been atypical for a fashion show, but a Kanye West fashion show is always going to be more than just a fashion show.
Which is part of the problem. His shows probably shouldn't be judged by fashion industry standards because he is so much more culturally significant than anyone else in the fashion industry. Yet at the same time he wants desperately to be accepted by this industry and considered on the same plane as its most respected designers, which means he is going to be held to the standards of the industry. When he dares to step outside the lines, he is inevitably going to be scrutinized for it. How much of this scrutiny, then, is warranted, and how much is the result of the industry's predisposition to discount everything he, this braggadocious outsider, does?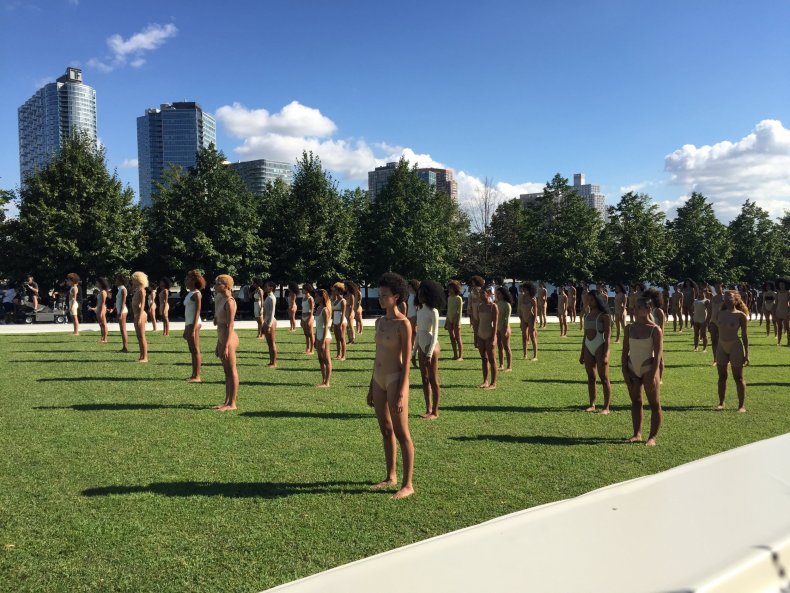 One of the ways West stepped outside of the lines for the Season 4 show was its location. Four Freedoms park makes up the southern tip of Roosevelt Island, resting just past a dilapidated former smallpox hospital. The plaza is gorgeous and modern and—logistics aside—a brilliant place to hold such an event. After arriving, guests were held at the base of the long, broad staircase up to the park. Yeezy Season 4 merch was sold and probably pretty successfully. At West's show at Madison Square Garden on Monday, he sold $780,000 worth of merchandise, besting the pope's 2015 visit by over $200,000.
When guests were allowed to ascend the stairs, they found a tableau of beige-clad models spaced across a long, perfectly manicured triangle of grass, with trees lining either side. The sky was blue. The skyline glimmered. It was a stunning scene. Deep, ominous tones emanated from speakers tucked beneath the trees. Celebrities sat in benches along the staging area. The Kardashians huddled together in cream-colored outfits, surrounded by a half-moon phalanx of guards. Anna Wintour was there. Iman Shumpert was there. Most of the rappers who surrounded Kanye during the Yeezy Season 3 show in Madison Square Garden were there. It was grandiose. It was ambitious. It was quintessential Kanye.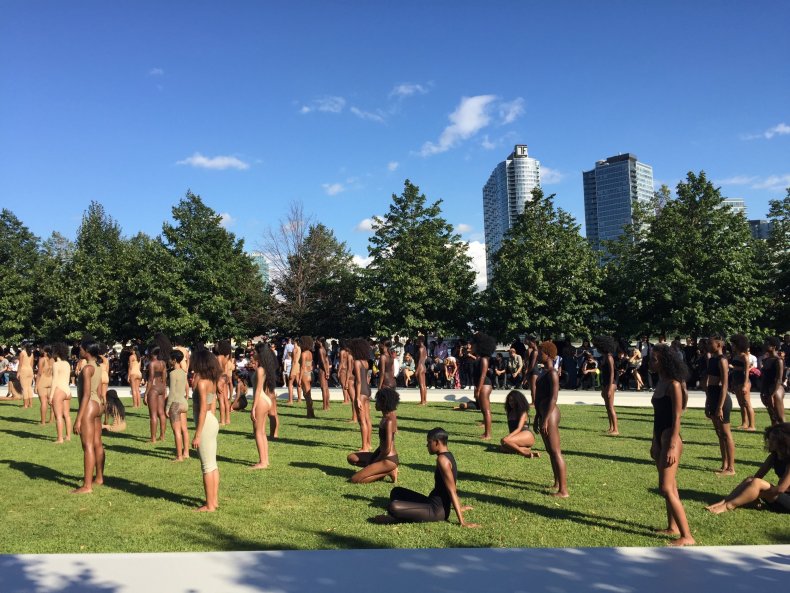 But the sun did more than glint off the East River. The source of most of the ire surrounding the event was its effect on the models. It was hot outside, and they were just standing there. After a while, they began to sit, one by one. It's unclear whether this was anticipated. At the Yeezy Season 3 show in Madison Square Garden, models were given a list of instructions, one of which was, "If you are tired, sit or lye [sic] down." It's not unreasonable to assume the Yeezy Season 4 models were given a similar list of instructions, but the heat certainly took its toll. A few models were brought water, although it didn't appear anyone "fainted," as has been widely reported. Once additional models started to parade around the large, triangular catwalk, at least a few stumbled, but this was due to broken heels. So, yes, the event's presentation was sloppy, but it wasn't any sort of human rights violation either.
Eventually, Kanye appeared, dressed in all black, walked up one leg of the triangle waving to guests and then for some reason sprinted back down to its tip and out of sight. The event dispersed shortly after, probably four to five hours after guests first arrived to get on the buses on the west side of Manhattan. It was a full afternoon, but I'm not sure what else people expected out of a trip to Roosevelt Island.
So how much of the criticism of Yeezy Season 4 was warranted and how much was inevitable? Probably a little bit of both. Forcing fashion editors to ride a bus with cloth seats to your event isn't a great way to curry favor for something they probably weren't going to think very highly of to begin with. Neither was making them stand in line like normal people who would actually have paid to see a Kanye West fashion show on an island off the east side of Manhattan. Aesthetically, the event was truly spectacular, until it kind of wasn't, but there is no taking the good with the bad when it comes to West. The consensus on Yeezy Season 4 was clear: It was bad. Score one for the establishment.