Twitter Roasts NFL for Allowing Kareem Hunt Back into Football Before Colin Kaepernick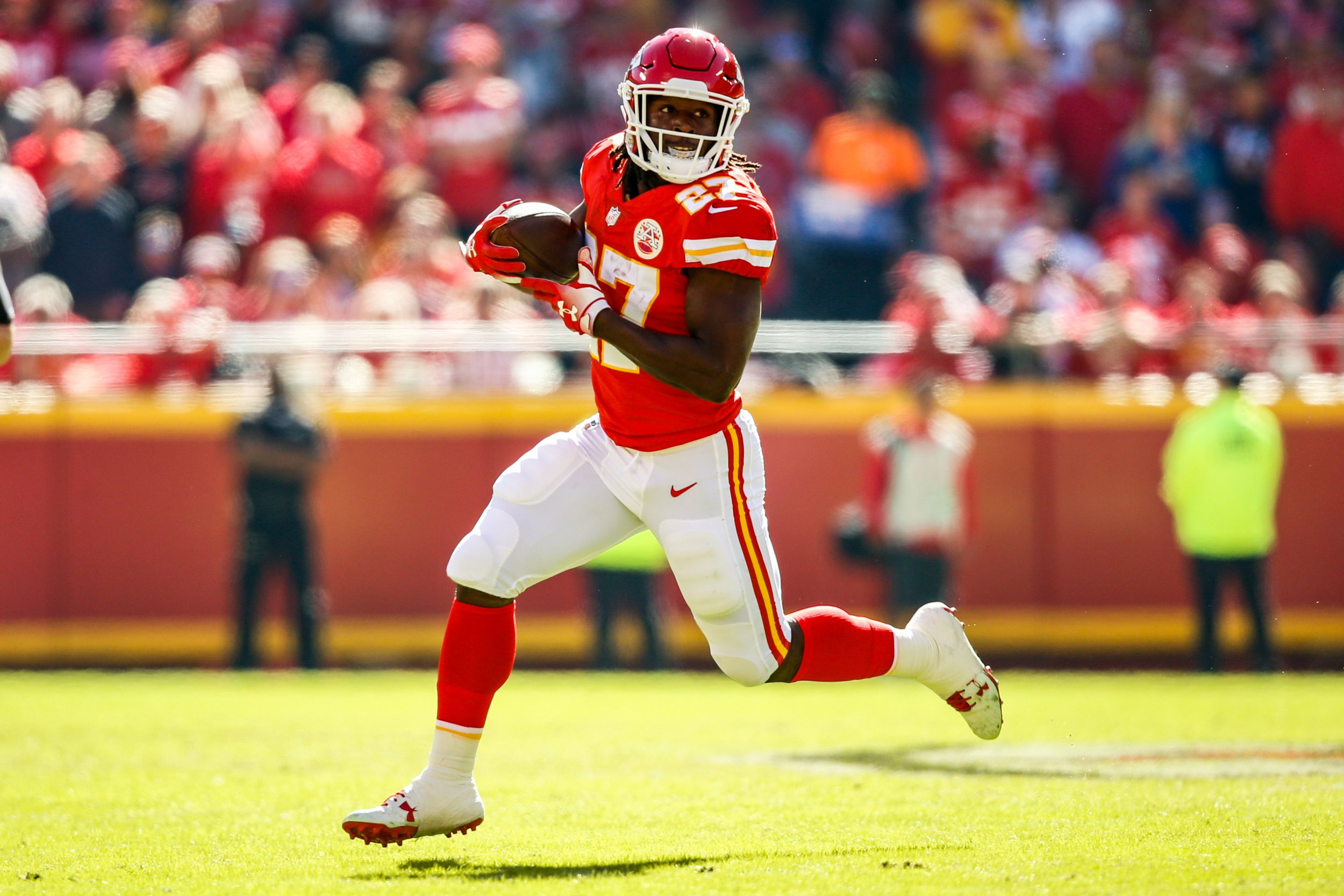 Women's rights activists and Colin Kaepernick supporters have both criticized the Cleveland Browns for signing Kareem Hunt.
On Monday, Browns general manager John Dorsey confirmed the running back had joined the organization on a one-year deal. Hunt was released by the Kansas City Chiefs in November, after footage emerged of him shoving and kicking a woman.
While the third-round pick from the 2017 draft was neither arrested nor faced charged over the assault, he remains under investigation by the NFL. Shortly before he was released, the league placed him on the commissioner's exempt list. He won't be able to play for the Browns until the investigation is completed.
Toni Van Pelt, the president of the National Organization for Women, argued the Browns' decision to sign Hunt proved the NFL continues to disregard women.
"Women don't matter to the NFL, which is rather surprising because they're a big part of the viewer audience," she was quoted as saying by NBC.
Meanwhile, U.S. Congressman Hank Johnson said it was an "injustice" that Hunt was allowed back in the league, while Kaepernick's hiatus continued.
"When I think about Colin Kaepernick and him being blackballed from the NFL for taking a knee for protesting social injustice but yet people who are accused of crimes get cut and then resigned quickly, something is wrong with that," he was quoted as saying by TMZ.
A number of reporters and commentators on Twitter also compared the treatment of Hunt to the one of Kaepernick, who remains without a team after becoming a free agent prior to the 2017 season.
The former San Francisco 49ers quarterback rose to prominence when he knelt during the national anthem to protest against racial and social injustice.
While his gesture won him a lot of praise and support, it also saw him being fiercely criticized by President Donald Trump and a number of conservative commentators.
Kaepernick has not been offered a tryout since becoming a free agent. Last year he filed a grievance against the 32 NFL owners, accusing them of colluding to keep him out of the league.
The former Wisconsin student's last professional appearance came on New Year's Day 2017, Week 17 of the 2016 NFL season.
Hunt last played in the NFL on November 19, 2018, and Dorsey said he was hopeful the running back would be available to join the preseason training in April.
The NFL season is pencilled to begin on September 5, by which time Kaepernick will have been out of the league for two years. By comparison, Hunt could be eligible to play less than 10 months after being suspended.
After his release from the Chiefs, the Illinois native apologized to the woman, his former team and his family. He reiterated his stance on Monday.
"What I did was wrong and inexcusable," he said, as per a Browns' official statement.
"That is not the man I was raised to be, and I've learned a great deal from that experience and certainly should have been more truthful about it after the fact."
Meanwhile, Dorsey insisted that while the franchise will adopt a zero tolerance policy towards the player, Hunt deserved a second chance.