Karen Bass Says Ahmaud Arbery Trial Off to a 'Bad Start' Because the Jury Is Nearly All White
California Democratic Congresswoman Karen Bass said Sunday that the trial against three white men accused of killing Ahmaud Arbery is "off to a bad start," after a judge approved the selection of a nearly all-white jury last week.
Bass, the former chair of the Congressional Black Caucus, expressed concern about the ongoing trial during an appearance on CNN's State of the Union.
"When they were selecting the jury, remember they selected pretty much an all-white jury, and then the judge acknowledged that that was a problem and allowed the jury to be seated anyway. So I think that particular trial is off to a bad start," Bass said.
Bass' comments come after a jury composed of 11 white members and just one Black person was chosen last week in Glynn County, Georgia. The jury will oversee the trial against white defendants Gregory McMichael, Travis McMichael and William "Roddie" Bryan, who are accused of murdering Arbery—a 25-year-old Black unarmed jogger—after they allegedly chased him down in a residential neighborhood in February 2020.
The suspects each pleaded not guilty and claimed they pursued Arbery believing he was involved in several break-ins in the local area, and that Travis McMichael fired a shotgun in self-defense following an altercation when they caught up with Arbery.
During the jury selection process, the pool of possible candidates was initially composed of 36 white people and 12 Black people. However, the defense team used 11 of its strikes to remove all but one of the Black jurors – a move that even Superior Court Judge Timothy Walmsley said appeared to show "intentional discrimination."
Nonetheless, Walmsley said that he would allow the jury to continue because the defense team was able to provide "legitimate, nondiscriminatory, clear, reasonably specific and related reason," for why it struck each candidate. The decision has since sparked outrage from the prosecution team and civil rights attorneys.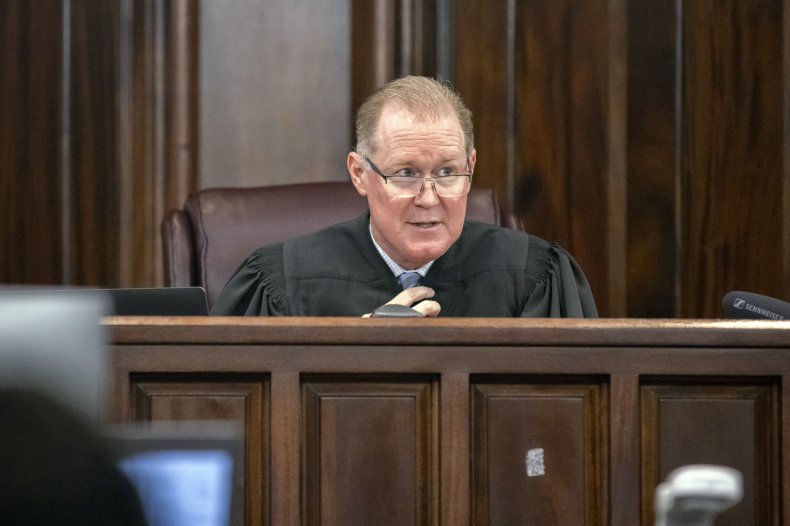 In a statement to Newsweek, Ben Crump, an attorney for Arbery's family, said a jury in any trial should "reflect the wider community," and "Brunswick is 55 percent Black, so it's outrageous that Black jurors were intentionally excluded to create such an imbalanced jury in a cynical effort to help these cold-blooded killers escape justice."
On Sunday, Bass echoed that sentiment and added that she is now "very concerned" about the outcome of the trial, which began on November 5, and is expected to last several weeks.
"A year ago we were talking about racial reckoning and it seemed to be an enlightened period, and now we've had major setbacks. And I think that people understand that you can use race politically. It charges people up, it's a highly emotional issue and I think it's just really sad," she told CNN.
"The Arbery trial is a trial of a lynching. That is exactly what happened in that case," she added.