Video of Woman Crying About How a Face Mask Stops Her From Holding Babies Goes Viral
Video footage of a woman crying about having to wear a face mask and not being able to hold people's babies has gone viral on social media.
The video was originally shared by a user who said she found it on Facebook Live, and it has since been shared widely on Twitter, with 1.5 million views at the time of writing.
Political commentator Brian Tyler Cohen reposted the video, saying: "Karen wore a mask for 45 minutes and now she's crying because she can't see strangers' faces or hold their babies."
In the video, the woman says that she had been wearing a face mask for the first time for around 45 minutes. She claims it affected her physically and didn't allow her to get enough oxygen, making her feel "dizzy," her hands feel "tingly," and her heart beat faster.
As a disclaimer, she tells her viewers: "I understand the virus is real, 'kay? I understand the virus is real."
She then says she doesn't understand why people are wearings masks: "Friends, look at the numbers and tell me why everybody is living in fear. Tell me why we're putting these things on, and not being able to breathe."
The Centers for Disease Control and Prevention (CDC) recommends everyone wear masks when out in public if social distancing measures are difficult to maintain. However, some states and cities have made wearing masks mandatory for certain professionals and their customers.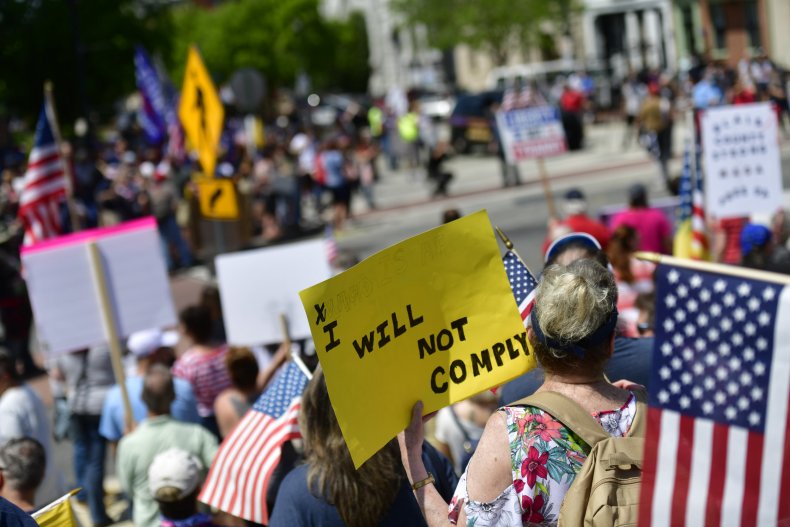 But as the woman starts tearing up, it appears that not being able to see people's faces or hug their babies is what has really upset her. She says: "I just want to cry, like that's all I want to do is cry because you can't see people's faces, you can't make human connection, we can't hug people, we can't hold their babies."
She then says: "I'm at the end of it. I'm just simply at the end of it, it doesn't make sense. This doesn't make sense, I'm no okay with it. Nothing about what we're doing is supported by the numbers that are out there."
It is unclear which numbers the woman is referring to, but according to Johns Hopkins University there are 1,551,853 confirmed cases and 93,439 deaths from the coronavirus in the U.S.
She then says: "Those of you that know me, like I am one of the most compassionate, caring people you will ever meet. And I do care about you, but I also care about me, and my children, and my family, and I do care about my rights." She also says she won't wear a mask again as it made her feel "terrible."
The woman was immediately dubbed a "Karen" by some on social media. The slang term usually denotes an entitled suburban white woman who blows small incidents out of proportion and is generally characterized by a request to "speak to the manager." The term started in memes, but as it is being used more widely, some people see the word as a derogatory, sexist slur for white women.
However, "Karen behavior" can be attributed to anyone, regardless of race or gender, and is often just a way of mocking somebody for taking something too seriously and being rude to employees.
For example, a video of a man acting like a Karen at a Costco was shared on social media this week, after was rude to an employee and refused to wear a mask because he lives in a "free country."