Kari Lake Claims Discovery of 200k Failed Votes in Arizona: 'This is Huge'
Republican Kari Lake, who is refusing to accept she lost Arizona's 2022 gubernatorial election, has claimed "nearly 1/4 of a million voting attempts" failed in the state on election day.
Lake lost to Democratic candidate Katie Hobbs, who was inaugurated as Governor of Arizona earlier this month, by a margin of 17,000 votes.
However, the fervent Trump supporter is continuing to insist the election was rigged against her, despite her allegations having been thrown out by a Maricopa County judge.
On Monday Lake tweeted: "Officials sabotaged Election Day. On November 8th (when 75% of votes were for @KariLake) nearly 1/4 of a MILLION voting attempts FAILED, according to the system log files that were obtained via FOIA. This is huge, folks. Huge."
Despite no solid evidence being provided to support this claim, Lake's tweet was retweeted more than 6,700 times.
Newsweek has contacted Lake asking her to provide details about her allegation, along with documentary evidence. The Arizona Secretary of State Adrian Fontes, who is responsible for the state's elections, has also been contacted for comment.
In December a civil case, filed against Hobbs and a number of Maricopa County officials, appeared before Maricopa County Superior Court Judge Peter Thompson.
The judge ruled against Lake, commenting: "Every single witness before the Court disclaimed any personal knowledge of such misconduct. The Court cannot accept speculation or conjecture in place of clear and convincing evidence."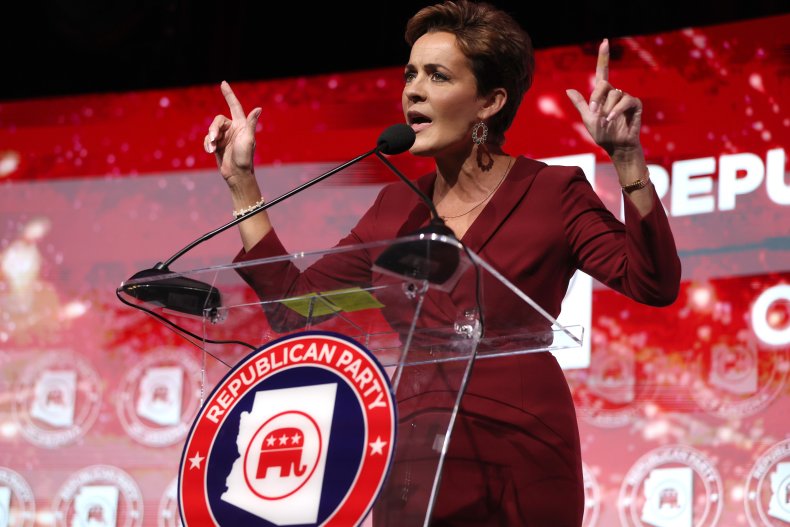 Lake was also ordered to pay $33,040 to Hobbs for witness fees.
The Arizona Republican immediately announced she would appeal, though a bid to have this fast tracked to the Arizona Supreme Court was subsequently rejected.
In a statement posted online, Nicole DeMont, Hobbs' campaign manager, welcomed the court's decision.
She said: "Last month, Arizonans made their voices heard at the ballot box. They chose sanity over chaos, and commonsense, bipartisan results over division. The voters of Arizona—not the conspiracy-riddled, dark corners of the internet—are the ones who choose our leaders.
"We're please that the courts have upheld the will of the voters, and Governor-Elect Hobbs is continuing the work of preparing to take office as Arizona's next governor."
Speaking to FactCheck.org, which investigates online misinformation, Maricopa County Elections Department spokesman Matthew Roberts insisted the 2022 election had been conducted as planned.
He said: "There are robust tracking and security procedures in place to document and ensure proper chain-of-custody of early ballots on Election Day. These policies and procedures were followed on Election Day, as well as throughout the early voting period.
"At no point during the process were chain of custody policies broken or procedures not followed and documented."
During a December appearance on Epoch TV's 'The Larry Elder Show,' Lake insisted she would have been "graceful" if she genuinely believed she'd lost the election.