Karl Rove Rips Sidney Powell and Michael Flynn Over 'Idiotic' Election Claims
Republican strategist and Fox News contributor Karl Rove said Tuesday that former National Security Adviser Michael Flynn and attorney Sidney Powell were giving President Donald Trump poor advice about potentially overturning the results of the presidential election.
Trump has refused to concede the election to President-elect Joe Biden, who won both the popular and electoral vote. With many of his legal pathways to victory blocked and Biden's inauguration expected in January, Trump has reportedly been seeking the counsel of others.
Flynn, who was recently pardoned by Trump after lying to the FBI during an investigation into election meddling, suggested in December that martial law could be imposed in order to hold the elections again. Powell has claimed to be in possession of evidence of election fraud, but many lawsuits she has filed on behalf of Trump's re-election campaign have been dismissed for lack of tangible proof.
"[Trump] could order within the swing states, if he wanted to," Flynn said during an interview Thursday on the conservative outlet Newsmax, "he could take military capabilities and he could place them in those states and basically rerun an election in each of those states."
During a Tuesday Fox News appearance, Rove said Flynn's suggestion was an "idiotic idea."
"There's no ability for any president to invoke the Insurrection Act of 1803, claiming that the issue has got to do with the hubbub around the election," Rove said. "No president would have the authority to do that."
Rove said Flynn was "sure as heck" not a scholar in constitutional law.
"When it comes to giving good advice to the president about politics," Rove added, "he's at the bottom of the list in my opinion."
On Sunday, Trump denied any possibility that martial law would be enforced. "Martial law = Fake News," Trump tweeted. "Just more knowingly bad reporting!"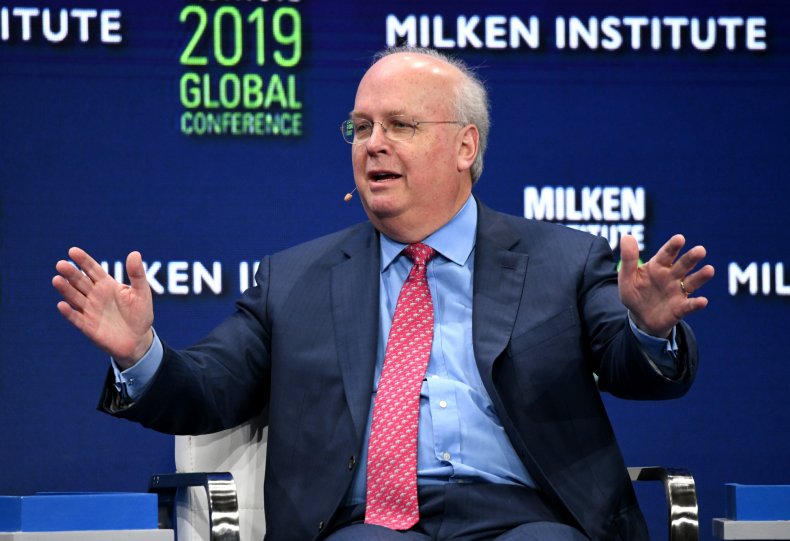 Rove also criticized Powell, who was removed from Trump's legal defense team for her continued espousal of unproven conspiracy theories. Powell repeated claims that some equipment used to tabulate votes during the presidential election was originally created in Venezuela under the direction of former president Hugo Chavez. Chavez died in 2013. The creators of the voting machine and software mentioned by Powell have denied her allegations.
"Ms. Powell has peddled theories that have little basis in fact," Rove said. "The idea that Hugo Chavez from the grave was somehow involved in stealing this year's election."
Rove also criticized some individuals who purported to back up Powell's claims of election fraud including "another expert who couldn't tell the difference between election precincts and townships in Minnesota and Michigan."
"I mean, what she has done to sort of throw mud on the president through her antics is unbelievable," Rove said of Powell. "The president's been so ill-served by this crowd, and she's chief among them."
According to the Associated Press, Trump considered making Powell special counsel over investigating election improprieties during a meeting at the White House on Friday. However, Trump's claims of voter fraud have been described as unsubstantiated.
Outgoing U.S. Attorney Bill Barr said in an interview that claims made by Powell that voting machines had been programmed to flip votes from Trump to Biden were unfounded.
"There's been one assertion that would be systemic fraud," Barr told the Associated Press on Monday, "and that would be the claim that machines were programmed essentially to skew the election results. And the [Department of Homeland Security] and [Department of Justice] have looked into that and, so far, we haven't seen anything to substantiate that."
Newsweek reached out to Trump's re-election campaign for comment.