Karrion Kross Says NXT and Its Fans Haven't Seen Anything Yet
Fall and pray.
Those are the words repeated in Karrion Kross' entrance song. It's more than just a menacing tagline, it's a credo for Kross and his partner Scarlett. Kross and Scarlett are NXT's newest act and are quickly rising up the depth charts, and they're willing--and hoping--to go through anyone and everyone who stands in their way.
Each time they appear, another brutal and violent performance is left in their wake. None more so than the beat down Kross gave Tommaso Ciampa at NXT Takeover: In Your House.
The shortest match of the night, Ciampa a former NXT Champion couldn't muster any semblance of offense before Kross caused him to pass out with the dangerous Kross Jacket submission.
"I wanted this to be violent and [Ciampa] did as well," Kross told Newsweek. "We wanted it to be completely different from anything else that was going to be on the show. And I personally believed we achieved that."
Ciampa is one of the most respected and revered competitors in the NXT locker room, so it was a shock to see him fall so easily to Kross. But with Ciampa out of the way, Kross and Scarlett have their eyes set on decimating NXT in a way the brand has never seen before.
Newsweek caught up with Karrion Kross ahead of this week's episode of NXT to talk about his journey to WWE, changes and working with Scarlett.
Note: This interview has been lightly edited for clarity and length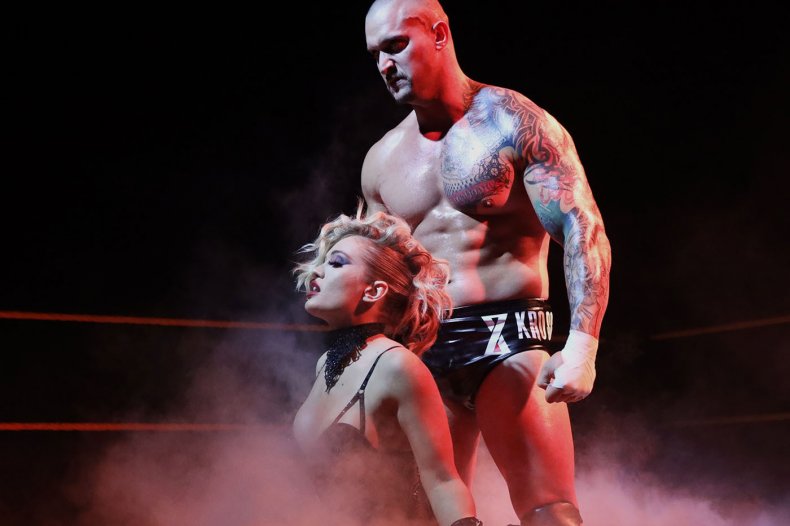 Congratulations on your win on Sunday. How are you feeling after the win?
Feeling very good. The reason for that is the people feel very good about what they watched and that's always the endgame.
What's the reaction you're getting online?
The reaction I gauged is people saw something violent, very visceral, very carnal, very physical. And that's what I wanted to give to them. On the side of Ciampa fans, they were shocked. They were expecting a longer fight. On the side of my fans, this is exactly what they were expecting. They were expecting it to go this way. I think the overall feeling in general was that there was a feeling about it. And in our business that's exactly what we're trying to create, a feeling and an emotional response.
Takeovers are a huge deal for NXT competitors. How are you now that you experienced it and got your first one under your belt?
I feel great. This was an honorary privilege to have an opportunity to contribute to the legacy of Takeovers. These shows are the best shows on the planet. And having an ability to take part in it. I've always wanted to be a part of it.
Were you a fan of NXT before coming here? What's your relationship to wrestling as a viewer?
Always. I don't deny that I study everything. Stuff from the 70s, 80s, 90s, current I watch it all. I enjoy the process of assessing, analyzing it and even as a professional I still think it's very wise to allow the fan in you to continue to remain alive. The professional always has to come first, but the fan in you allows you to relate to what people are watching. If the fan in you dies, as a professional, you'll never understand what [the fans] want or what they're seeing.
As a free agent you were highly touted and there were rumblings that you could have easily debuted on RAW or SmackDown like AJ Styles. Was going to NXT your idea or was it out of your hands?
I heard all that. That sort of situation was....I don't really know how to answer it. I submitted myself to the process of whatever WWE wants to do with me. I'm going to trust this process. So whatever direction they were going to point me in I was going to go full speed. And, respectfully, I had no specific desire to go in one direction or another because I was going to trust the process.
Signing with the WWE were you prepared to change your name from "Killer Kross"?
I anticipate anything and everything changing on a daily basis. Which may be why I'm crazy. Maybe that's why? It could be all the black coffee, who knows, but in all seriousness I was ready for that to happen. I'm not blind to the reality of sponsorships and endorsements and stuff. And I don't mind the challenge of change. I enjoy that. That's life. You can't grow without change.
I was ready in the event that "killer" had to go out of the window to adapt and expand on the character. There was another guy before "killer" and his name was Kevin, and I expanded on that as well. The way I feel about the character presentation is that this is the same guy that everyone's gotten except we expanded on it. I really kind of lean on that word very much because this is still the same thing, character wise. With the exception that it's bigger than ever and more mythological than ever. This is a better version.
Did you say mythological? What do you mean by that?
Yea, I would say so. There's a greater gravity to this presentation on the character than anything I've done previously.
Is that why you landed on the name Karrion?
That would be one reason. There's a multitude of reasons, but I would definitely say that's fair.
Now that you're on a bigger stage. Is there more to the presentation of Karrion Kross?
I think everything is bigger. The music is bigger, the entrance is bigger, the character presentation is bigger, louder, better.
Your debut entrance had a lot of people talking. Was that a collaborative effort?
That definitely was a collaborative effort. And I would definitely want to take the time to acknowledge the people and departments that never get mentioned in these conversations. That is the family itself creating that from A-Z. From the lights, all of the production technicians, all the cameramen, agents everyone involved was really on that. This was a massive collaborative effort that I and Scarlett were a part of for the people at home.
Is there a bittersweet feeling that your debut wasn't in front of a crowd?
Yes and no. Of course when the time is right I can't wait to get back to being able to work in front of people again. However, there is a level of gratitude that won't ever be able to verbalize to make it here. And no one realizes how many of us [wrestlers] there are in the world. There are thousands and thousands of people just alone in the US that want to be here doing this and I'm among them. And I'm here doing it. I will take any opportunity, that was my state of mind. I will take any opportunity to be on that stage, be seen and to contribute. That's where I come from in terms of exercising the perspective on that subject.
I'm happy with the whole process and I'm really comfortable in these shoes and there's challenges that need to be met every single day.
Your match with Ciampa. He's such a beloved wrestler on the roster. How was it for you to have him as your first feud?
Outstanding. He's one of the best in the world. Always has been. He's a staple on the NXT brand and one of the greatest champions they've ever had. And he's a total pro.
There have been parallels drawn to you and Brock Lesnar and to his match with John Cena in 2014. Do you see it that way or is it something different?
In a situation like that, my own perspective on what we did, I think they are less important than what the fans' have. It's important to listen to them and listen to what they are saying because they are who we are catering to and all the comparisons I found very flattering and complimentary. I was personally flattered especially if you're going to be compared to the greatest people in the business. It's not a bad thing.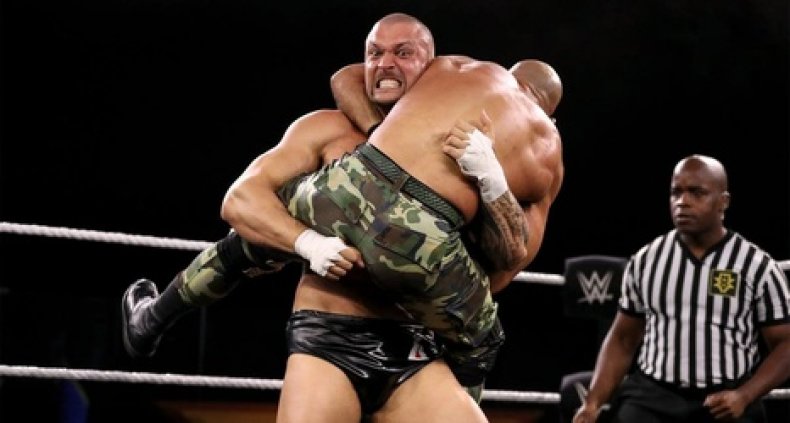 Scarlett was signed to the Performance Center before you, but now that you've arrived we see both of you working together again. How is it working with her here on NXT?
It's the best. Her and I have our own identities in terms of character presentation, but professionally we both know where we need to land. And in terms of how we work together there's a natural chemistry.
There have been times where real life couples work together and the stories and characters lean on that aspect. From what we've seen you and Scarlett are different, would you agree?
Her and I are in a relationship together, but more importantly than the novelty of working together we both believe that we have something totally different to offer as a presentation.
To be entirely honest with you, that's the reason we wanted to work together. We are both completely confident in being able to have potentially separate careers and being able to carry on our own. But we genuinely felt that we were able to showcase something different to the WWE universe that hasn't been done before. Of course there's been valets and managers, tag team duos where one goes single and the other is supporting in the corner.
This idea that we've been camping on, we've been working on for a very long time. Sort out how it could work, come up with different scenarios, visualize different things, visualize different areas of growth, what it can be, where it can go and we both committed to it.
We can definitely pull off this operation and figure out the right way to explain this in a business format how and why it could work. This can be a great idea and different and we were met with enthusiasm and now you guys got it. And we're happy we're able to do it.
So now that both of you are here what can we expect?
You haven't seen anything yet.
NXT airs every Wednesday on USA Network at 8 p.m. EDT.