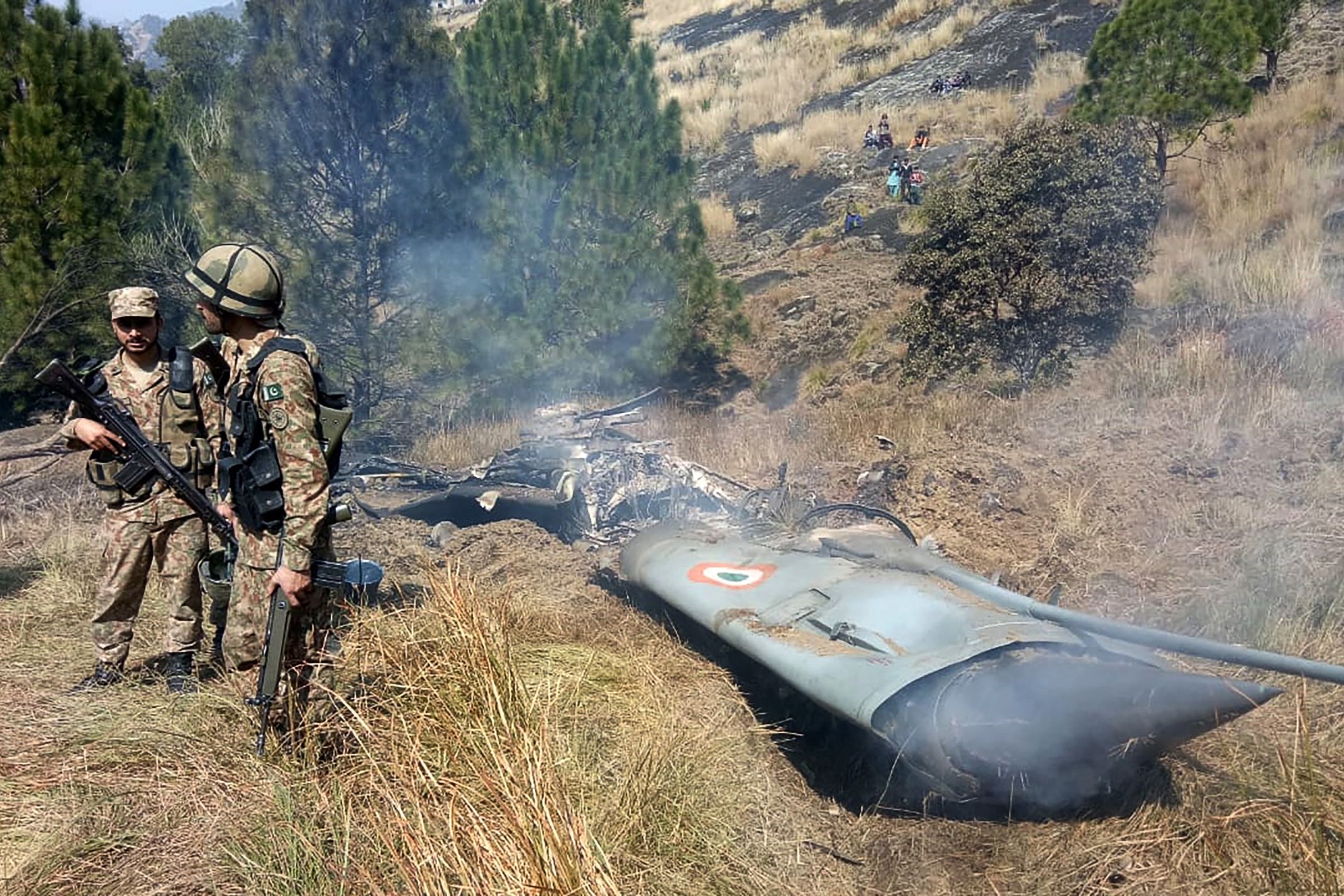 If the first casualty of war is truth, it does not bode well for the state of India and Pakistan relations. Hours after Pakistan claimed it had shot down two Indian air force jets, capturing their pilots in a major escalation between the two countries, India responded that only one plane was lost, and it was responsible for shooting down a Pakistani fighter jet—a claim which Pakistan, in turn, denied.
Both sides, at least, agree that two planes have been shot down in a further unraveling of the delicate truce between the two countries, following a terrorist attack in Kashmir on February 14. The attack, which killed 40 Indian soldiers, is the deadliest in several decades.
Kashmir, a contested territory since the Partition in 1947, and majority Muslim, is claimed by both countries, but they, along with China, each control only parts of it. India claims the largest portion with 43 percent of the territory and 70 percent of the population. Polls, meanwhile, suggest Kashmiris want independence rather than annexation by either India or Pakistan.
The Jaish-e-Mohammad (JeM) jihadi group claimed responsibility for the February 14 attack, but India has accused Pakistan of being complicit, and tensions have been escalating ever since.
On Tuesday morning, India launched airstrikes on Pakistan for the first time since 1971, when the two countries were last at all-out war. Two of the three wars that the countries have fought have been over Kashmir, and now there are worries that this skirmish could mark a new one. But as in the past, the military clash between the two countries has been riddled with competing claims.
While India hailed its airstrikes earlier this week, targeting a training camp of the JeM within Pakistan, as hugely effective, Pakistan said they hit little more than trees and barren land, and posted images on social media as proof. A senior Indian government source told Reuters that 300 militants had been killed; Pakistan said the bombs caused neither casualties nor damage to infrastructure. Someone who visited the site told Reuters that they saw "one damaged house."
But whatever really happened, Pakistan said it would retaliate to the military incursion. "Pakistan has the right to an appropriate response, it has the right to self-defense," Pakistan's new prime minister, Imran Khan, declared on Tuesday. "Get ready for our surprise," the military warned.
On Wednesday morning, the response ostensibly arrived. Pakistan launched its own airstrikes into India-controlled Kashmir, claiming to have shot down two jets and capture both pilots. Pakistan's information ministry tweeted a video purportedly showing an arrested Indian army pilot. Then the video was deleted, but not before it was picked up by local outlets. In the footage, reposted by Radio Pakistan, a man is blindfolded, seemingly bloody and wearing a flight suit. He identified himself as a wing commander in the Indian army.
India confirmed that one of their planes was shot down and a pilot was missing in action but also said that it shot down one of Pakistan's planes as it retreated back across the border. Pakistan stated that none of its jets was hit.
India and Pakistan have a history of colliding accounts. In another recent example, from September 2016, India claimed that "surgical strikes" destroyed militant facilities over "the line of control" that separates India-held and Pakistan-held areas of Kashmir from each other. According to Pakistan, this never happened, with Islamabad calling the strikes "an illusion." The BBC concluded that: "There is no conclusive evidence to prove either side's claims—the truth probably lies somewhere in the middle."
After Pakistan's latest airstrikes, Khan called for calm. "Our action is just to let them know that just like they intruded into our territory, we are also capable of going into their territory," he said, according to the BBC. In remarks quoted by Reuters, taken from a televised address, he asked for talks with India's Prime Minister and Hindu nationalist Narendra Modi: "History tells us that wars are full of miscalculation. My question is that given the weapons we have, Can we afford miscalculation? We should sit down and talk."
At time of writing, Modi, who is facing an election this spring, had not yet commented.