On Abortion, John Kasich's Record Much Tougher Than His Rhetoric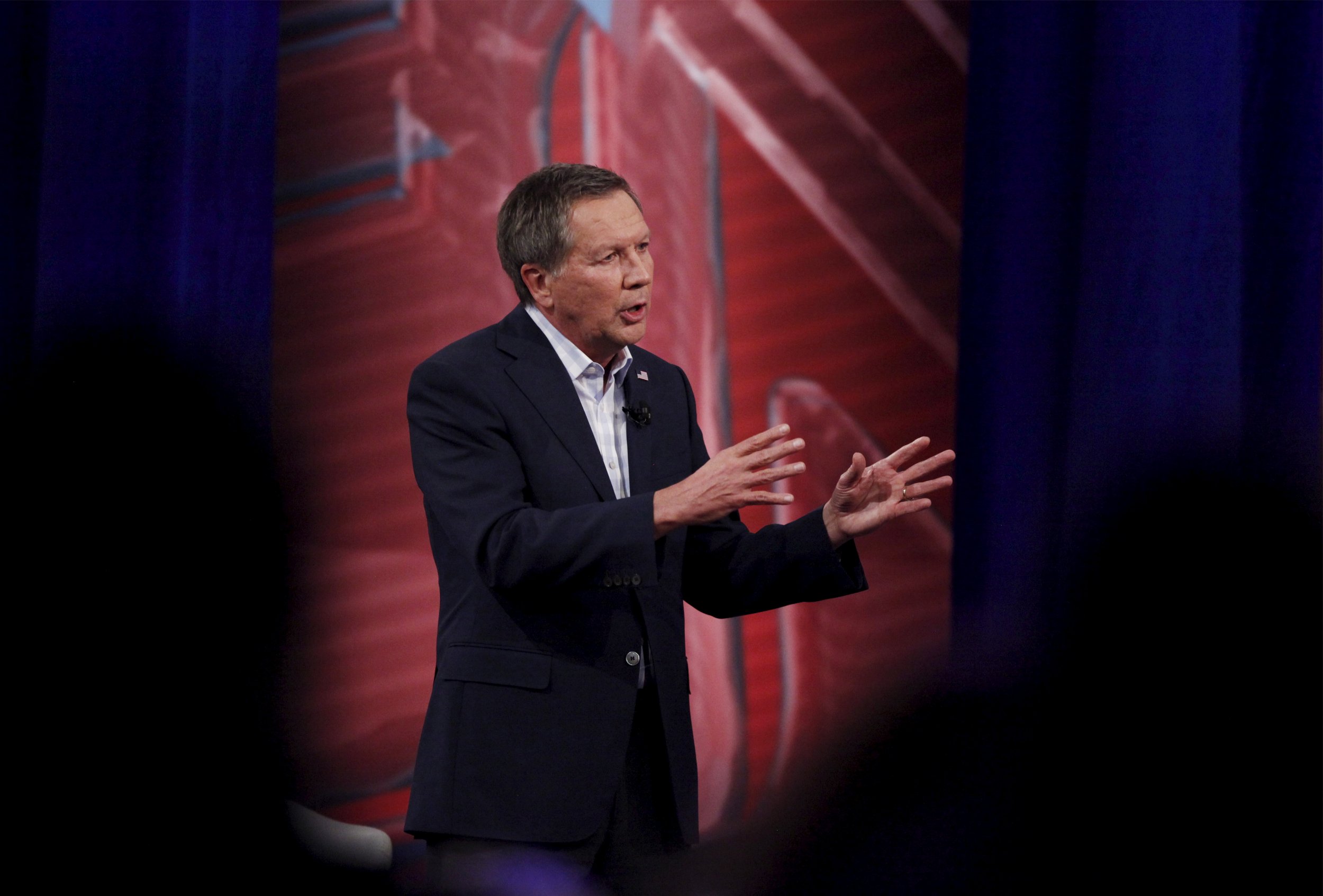 When it comes to curbing abortion access and funding for Planned Parenthood, John Kasich has been one of the most effective leaders in the country. The Ohio governor, however, does not like to play up divisive social issues, particularly on the 2016 campaign trail, where he's preferred to paint a warm and fuzzy vision of the future of America.
That helps Kasich make his pitch as a mainstream unifier, which worked in New Hampshire, where he finished second in the primary, and could also play well in pivotal Midwestern states that vote in March. But it stands to hurt him in a string of Southern states preparing to vote in the coming days and weeks, where social conservatives have a strong presence. They want to hear not only that their candidate agrees with them but that he does so vehemently.
Since being elected governor in 2010, Kasich has signed every measure restricting abortion that has come across his desk. The latest bill to pass the Republican-controlled Legislature is a measure blocking abortion providers like Planned Parenthood, or those that contract with them, from receiving federal grants for other unrelated services, including HIV/AIDS and cervical cancer screenings and programs to prevent infant mortality. It would mean Planned Parenthood of Greater Ohio losing $1.3 million in grants it's been awarded in a competitive bidding process. And other health providers worry they too could be victims if they work with the group at all.
Those grants were targeted, says Ohio Right to Life Executive Director Stephanie Krider, because they were the last public funding streams administered by the state that still went to the organization. "We've been working on this for years, and the fact that we now can say in Ohio [that] none of our tax dollars are funding this abortion giant" is "momentous," Krider says.
Kasich has promised to sign the law, and given the importance of social conservatives and evangelical voters in South Carolina, which holds its Republican primary on Saturday, there was speculation that he would try to rush it to his desk so he could make a public show of doing so this week. But that hasn't happened—the bill just arrived on Kasich's desk on Thursday—and he has a packed campaign schedule leading up to Saturday's vote.
His decision not to play up the new law ahead of South Carolina is in keeping, however, with how he's operated in Ohio all along. The longtime congressman and popular second-term governor has never been known as a firebrand. "I'm not into the whole red-meat deal," he told this reporter in an interview in Columbus, Ohio, last summer. Abortion, in particular, is "an issue that is very difficult, and because people don't happen to agree with me on it, I'm not going to demonize them," he said.
However, with the Legislature and anti-abortion advocates' help, the governor has methodically—if relatively quietly—imposed layer after layer of restriction on groups that provide abortion in the state. In 2011, he signed a law banning abortion after 20 weeks unless the fetus is not viable. His 2013 budget included a long list of anti-abortion measures, including effectively barring state funds for family planning from going to Planned Parenthood and instituting several requirements a woman must meet before having an abortion (like having an ultrasound). However, by putting Planned Parenthood at the back of the line for funds, instead of blocking them more explicitly, Ohio has avoided some of the legal challenges that have felled other anti-abortion state laws. The same goes for the latest measure, which never mentions Planned Parenthood.
According to an Associated Press report, at least seven abortion providers in Ohio have closed or curtailed their abortion services since Kasich came to office. The Guttmacher Institute, a research group that supports abortion access, tallied 26 abortion providers in the state in 2011, which means that more than a quarter have closed or limited services during Kasich's administration.
"For sure, he doesn't grandstand the way some of the other governors have," says Stephanie Kight, president and CEO of Planned Parenthood of Greater Ohio. That was true even after last year's release of incendiary (though edited) undercover videos about the organization's practice of preserving fetal tissue for research, just as he was launching his presidential run. "He's really found a way to be inclusive in his language and still take a strong pro-life stance," Krider says. But she says he won't avoid the issue when it comes up.
Kasich hasn't always been so forthcoming on the campaign trail, however. He initially tried to duck a question from a New Hampshire voter earlier this month about his position on defunding on Planned Parenthood. "I was really disappointed when I looked on your website and I saw you said you would defund Planned Parenthood," Rockingham County prosecutor Sarah Warecki told Kasich on February 7 in a packed cafeteria at Concord High School. Not everyone in the audience wants to talk about yeast infections, she joked, but that and services like mammograms and ovarian cancer screenings are also things women go to Planned Parenthood for. "What is the alternative that you're offering to women who need services?" the self-described independent voter asked. "My second question, yes or no: If you were offered a balanced budget, everybody was happy with it, it was perfect and it totally funded Planned Parenthood, would you agree to that?"
Kasich promptly launched into a series of talking points on women's health and his record in Ohio of providing funding for health care for women and children. He did not, however, mention that the 2015 state budget he signed included a tough new requirement that abortion clinics have transfer agreements with private hospitals no more than 30 miles away (in many areas, this is physically impossible). He didn't mention Planned Parenthood at all.
"You didn't give me an answer," Warecki interrupted. The exchange grew more tense from there, as the two briefly went back and forth and the crowd began to murmur. "We're not going to fund it, it's not going to pass, OK," the governor finally burst out, the cheery demeanor he's become known for on the campaign trail giving way to exasperation. "The simple fact of the matter is a Republican House and a Republican Senate ain't going to fund Planned Parenthood."
Needless to say, Kasich did not win Warecki's vote that day—she said afterward that his evasive response had pushed her toward voting in the Democratic primary. But the self-styled pragmatist won enough of New Hampshire's moderate and mainstream Republicans to come in a strong second in the Granite State, giving life to a campaign that had been a footnote for most of 2015. Now he needs to stay alive through a series of conservative Southern and Western state primaries until the calendar reaches the Midwest, his home turf, in mid-March.
Voters in states like South Carolina, Mississippi and Texas are likely to be more receptive to his conservative record on abortion than those in New Hampshire, or even at home in Ohio, one of the country's few genuine swing states. That's drawn attention to the governor's role pushing the latest anti–Planned Parenthood legislation, and whether it's something he would talk up on the presidential campaign trail.
Kight and other reproductive rights advocates suggest Kasich had "a quiet hand" in shepherding the law through the Legislature. An aide to a leading backer of the bill denies that. And the governor's spokesman, Joe Andrews, says only that Kasich was "aware of the bill as it progressed through the legislative process." Either way, Kasich has opted not to make it an issue in the South Carolina race, choosing to continue his focus on the uplifting.
On Thursday night at a CNN town hall in Columbia, South Carolina, the governor talked of building bridges, not walls, promised to wage a war on violence against women from the White House and declared that single mothers raising children "are the real heroes in America." Abortion never came up, and that's probably just as he preferred.