Kate Middleton Unlikely To 'Allow' Children Role in Royal Blood Ritual—Book
Kate Middleton is unlikely to allow her three children, Prince George, 9, Princess Charlotte, 7 and Prince Louis, 4, to take part in a "blooding" ritual that Prince Harry dramatically recounted in his recent memoir Spare, despite her respect for royal traditions, a new book has claimed.
Kate, though embracing of many of the traditions and customs observed by members of the royal family, has a more complex relationship with "field sports" or "blood sports" enjoyed by various members, such as deer stalking and hunting.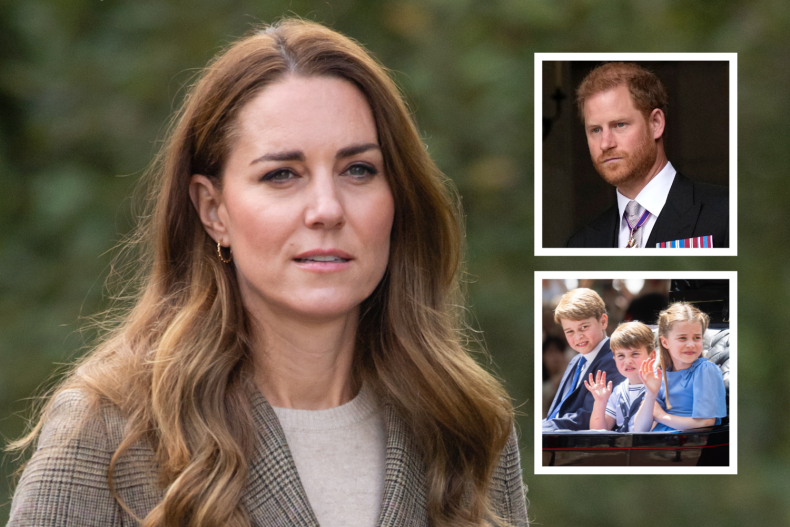 Tom Quinn, author of Gilded Youth, a new book examining the ways in which members of the royal family raise their children, writes that it is Prince William who faces public hurdles as he introduces his children to the country sports enjoyed by generations of his family at their estates such as Sandringham and Balmoral.
"William is struggling with the traditional pastimes of the royal family as they become ever more unpopular with the public," Quinn explains.
"William loves shooting—a love he shares with his father—but he is also conscious that the tide is now moving against what many people now refer to as blood sports (the royals prefer to refer to them as field sports). But are they suitable for George, Charlotte and Louis?"
Though the prince is "keen" that his sons should learn to shoot, Quinn writes that "few expect" Kate will "allow" her children to be initiated with the "blooding" ritual which, in the tradition of the royal family, sees young princes smeared with the blood of their first kills.
This custom only recently became a talking point with Prince Harry recounting, in some detail, his "blooding" after his first kill of a red deer in Scotland as a teenager.
"Blooding," the prince explained was "a tradition from the ages. A show of respect for the slain, an act of communion by the slayer. Also, a way to mark the crossing from boyhood into...not manhood. No, not that. But something close."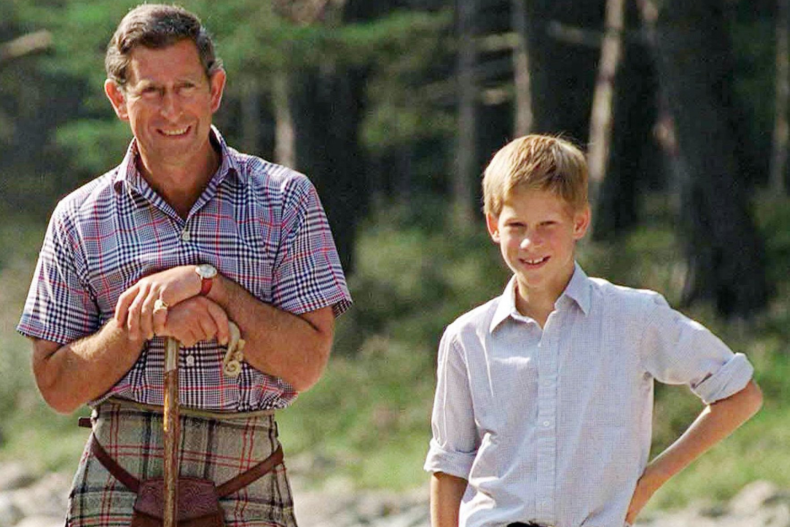 After shooting his first deer on the Balmoral estate, Harry recounted how a gamekeeper cut into the animal and then "pushed my head inside the carcass."
"I tried to pull away, but Sandy [the gamekeeper] pushed me deeper," he continued. "I was shocked by his insane strength. And by the infernal smell. My breakfast jumped up from my stomach. Oh please oh please do not let me vomit inside a stag carcass. After a minute I couldn't smell anything, because I couldn't breathe. My nose and mouth were full of blood, guts, and a deep, upsetting warmth."
After resurfacing, Harry was told to let the blood "dry" as he focused on what he considered the positive aspects of the kill: that he'd been "good" to the stag by killing it with one clean shot; that he'd done his part in managing the deer population; and that he had provided meat for the estate.
The royal's graphic account of the kill and its justifications earned him a rebuke from PETA (People for the Ethical Treatment of Animals).
A spokesperson previously told Newsweek after Spare's publication that: "Prince Harry meant well, but killing the stag was the epitome of privilege—according supremacy to one living, feeling being over another—as the stag's life was considered expendable for a hunter's amusement.
"The animal whose life he casually took was not solitary—the stag, too, had a family and wished to remain part of it.
"All animals have a desire to live, love, and be left in peace," they concluded. "And we hope Harry will now use his influence to help save wildlife who simply try to eke out an existence in a world in which humans are ever encroaching."
Newsweek approached Kensington Palace for comment.
Gilded Youth: An Intimate History of Growing Up in the Royal Family by Tom Quinn is published in Britain by Backbite Publishing from February 28.
James Crawford-Smith is Newsweek's royal reporter based in London. You can find him on Twitter at @jrcrawfordsmith and read his stories on Newsweek's The Royals Facebook page.
Do you have a question about King Charles III, William and Kate, Meghan and Harry or their family that you would like our experienced royal correspondents to answer? Email royals@newsweek.com. We'd love to hear from you.