Kate's Antenatal Teacher—Who Helped Prepare Her for Motherhood—Dies Aged 74
Kate Middleton is reportedly mourning the death of her antenatal teacher who helped her prepare to become a mother for the first time.
Christine Hill, 74, was the Duchess of Cambridge's obstetric physiotherapist in the lead up to Prince George's birth on July 22, 2013.
Kate had one-on-one classes at her West London home and Prince William also attended at least one class, the Daily Mail reported.
The tragic news comes as the couple prepare to mark George's ninth birthday later in July, 2022.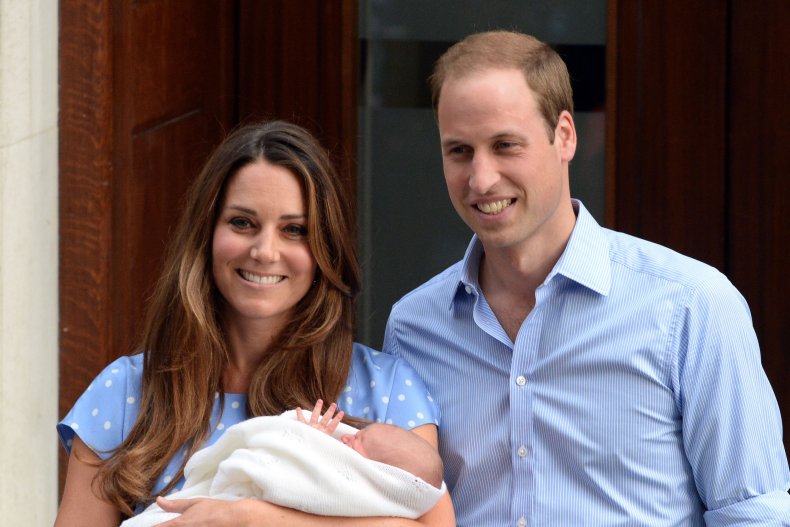 A spokesman for Hill's family told the Daily Mail: "She will be achingly missed. Her feisty, amusing, straight forward demeanour won her many friends."
Kate was one of Hill's final clients before her retirement, and asked about the sessions at the time replied: "I can't comment but it was a privilege to see them antenatally," local news site Chiswick W4 reported.
The duchess had difficult pregnancies, including with George, after experiencing extreme morning sickness.
Kate's hyperemesis gravidarum left her telling the Happy Mum Happy Baby podcast in February 2020 how she was "not the happiest of pregnant people."
She said: "I got very bad morning sickness. I'm not the happiest of pregnant people. Lots of people have it far, far worse. It was definitely a challenge.
"Not just for me, but also for your loved ones around you and I think that's the thing—being pregnant and having a newborn baby and things like that, impacts everybody in the family.
"William didn't feel he could do much to help and it's hard to see you're suffering without actually being able to do anything about it."
However, she also said the birth itself was significantly better as she knew it would have an ending.
The duchess said: "Because it had been so bad during pregnancy, I actually really quite liked labour. Because actually it was an event that I knew there was going to be an ending to! But I know some people have really, really difficult times, so it's not for everybody. No pregnancy is the same, no birth is the same."
George was born on the Lindo Wing of St Mary's Hospital as royal fans around the world awaited the first birth of a direct heir to the British throne since William's 31 years earlier in June, 1982.
Scores of photographers camped out for days waiting for the birth and were there to photograph George publicly for the first time.
However difficult her pregnancy was, it did not put her off having Princess Charlotte and Prince Louis.
For more royal news and commentary check out Newsweek's The Royal Report podcast: