Kate Middleton's Fashion Nod to Two Queens at Jamaican Ceremony
Kate Middleton paid homage to two Queens and their famous royal tour wardrobes during a visit to the inaugural commissioning parade for service personnel at the Jamaica Defence Force base on Thursday.
The visit formed part of Prince William and Kate's Caribbean tour of Belize, Jamaica and the Bahamas this month.
Kate wore a delicate white mid-length dress with white lace overlay and short puffed sleeves for the occasion.
The dress was made by the designers of Kate's wedding dress, Alexander McQueen, and she paired the outfit with a hat in her favorite style by milliner Philip Treacy and clutch bag from Anya Hindmarch.
The duchess's shoes were from British designer Emmy London and the whole outfit was enhanced by Princess Diana's pearl and diamond bracelet and earrings loaned by Queen Elizabeth II.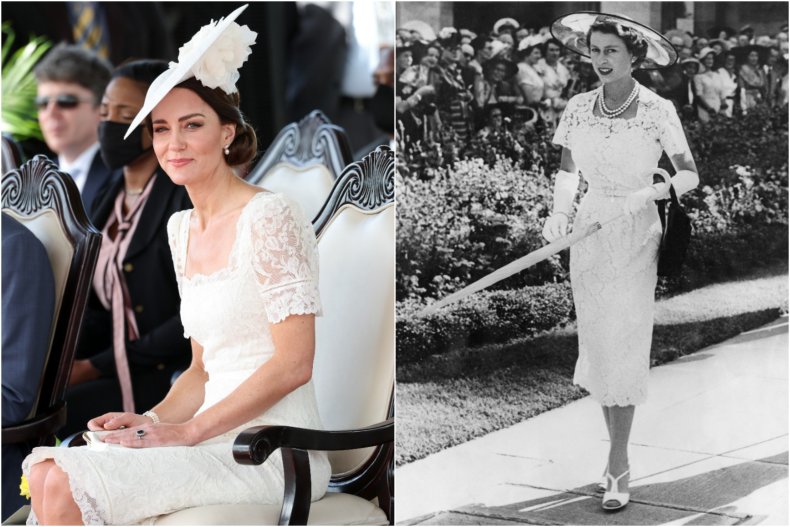 The Queen's earrings formed part of a wider tribute paid by Kate to the monarch with her outfit for the commissioning parade. The overall look which Kate put together is reminiscent of one worn by the Queen in Australia during her commonwealth tour in 1953-4.
The Queen's ensemble was designed by one of her favorite British couturiers, Sir Hardy Amies.
As a new Queen, the six-month tour of the commonwealth which she undertook following her coronation was important in establishing her reign and maintaining the monarchy's presence in the countries of which she was head of state.
Prince William and Kate's Caribbean tour has had similar pressures applied to it as protests over the British monarchy's role in the islands' history of enslavement and increasing calls for independence on the island of Jamaica arose.
Kate has often relied on her official wardrobe to convey messages and to pay tributes. On arriving in each country of her Caribbean tour she wore an outfit consisting of a color featured on the national flag of her host nation.
The commissioning parade engagement was a touching occasion to pay a tribute to her grandmother-in-law as it included a moment closely mirroring one of the Queen's past visits to Jamaica.
William and Kate inspected the parade ground from the back of an open top Land Rover which was used by both the Queen and Prince Philip during their visits to Jamaica in 1968 and 2002.
Philip's death in 2021 was marked on the island with a series of official messages of condolence sent to the Queen lead by Prime Minister Andrew Holness, who wrote: "We are deeply saddened by the news of the passing of His Royal Highness Prince Phillip, Duke of Edinburgh. ​Prince Phillip was indeed a friend to Jamaica who supported local efforts aimed at development, especially in education and had great admiration for our sporting prowess."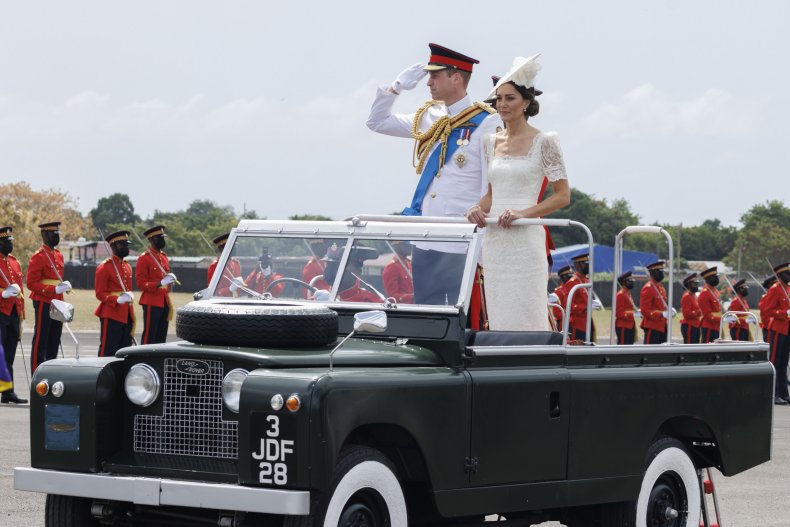 Though Kate's choice of dress echoes that previously worn by Elizabeth II, it is also closely aligned to another Elizabeth and another Queen.
In 1938, as the storm clouds of World War II began to gather, King George VI and Queen Elizabeth (the present Queen's parents), paid an official visit to France.
Queen Elizabeth (who would later become better known as the Queen Mother) had an entire tour wardrobe made by her favorite designer, Sir Norman Hartnell, which aimed to wow the fashion centric Parisian fashion world.
Unfortunately, immediately before the tour started the then-Queen's mother died, meaning that the tour had to be delayed by some weeks and the royal would have to be in mourning dress for the visit.
Unwilling to see his creations put into storage and remade in black, the canny Hartnell discussed with the royals remaking the entire wardrobe in white. The color white is a traditional mourning color for royalty and Queen Victoria, though she dressed for many decades solely in black, requested an all white funeral.
The resulting dresses won the hearts of the fashion press and French people alike.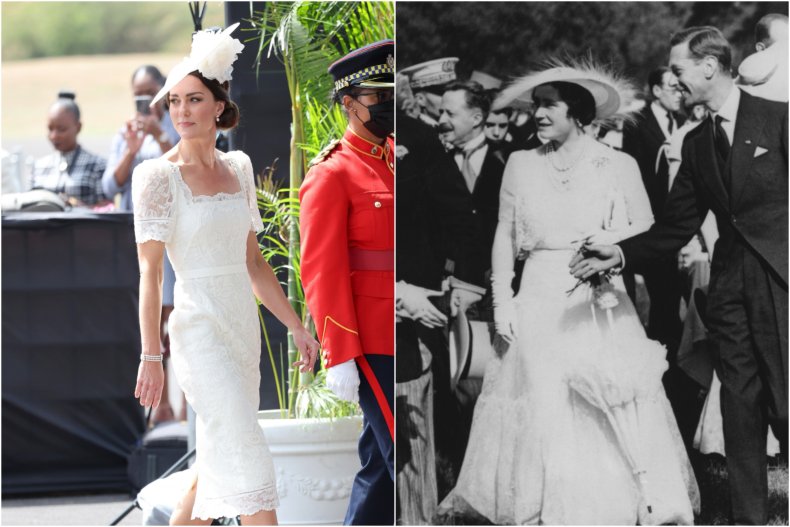 The outfits worn by the Queen Mother on her 1938 Paris tour have become known as "The White Wardrobe" and include some of the most famous dresses in royal fashion history. They are still kept by Elizabeth II in her private collection and very rarely displayed in exhibitions.
Kate's white lace dress and picture hat worn to the Jamaican commissioning parade have close aesthetic links to this most famous royal tour wardrobe. And, this is not the first time that links have been made between both Kate and Hartnell's designs.
In an image released to mark her 40th birthday Kate wore a white tulle crinoline evening dress with bare shoulders shot in the style of a Cecil Beaton photograph.
One of the references for this photograph is thought to have been from a famous sitting undertaken by Beaton with the Queen Mother when she returned from her 1938 Paris tour. The royal requested that Beaton photograph her wearing the dresses from her "white wardrobe," as it had been such a universal success.
The images were released to magazines and newspapers just before Britain declared war on Germany in September 1939.
Kate's sartorial tributes made during her Caribbean tour have been plenty, but none have been so touching as the subtle nod paid by a future queen to one past and one present.