Harry and Meghan Interview a 'Fresh Wound' for Jamaicans During Royal Visit
Emotions in Jamaica are still running high a year on from Prince Harry and Meghan Markle's interview with Oprah Winfrey, in which the couple made allegations of racism against an unnamed member of the royal family, a prominent lawyer has told Newsweek.
As British heir-to-the-throne Prince William and his wife Kate Middleton begin a visit to Jamaica on Tuesday, local people plan a protest to demand that former colonial ruler Britain pay reparations for the hundreds of thousands of Africans brought to the islands as slaves before the practice was abolished in the 19th century.
For some Jamaicans, the allegations of racism within the royal family made in last year's Oprah interview—when Meghan said an unnamed royal had commented on how dark her unborn child's skin might be—add another irritant.
Jamaican attorney and reparations advocate Bert Samuels has told Newsweek that the accusations struck a serious chord with people on the island.
He said: "Jamaicans were very torn up to hear about Harry and Meghan's issue, and Harry and Meghan's interview with Oprah Winfrey, and that has torn us. That's William's brother, that's his nephew, and for Harry to have been treated the way he was, and worse yet Meghan.
"The Jamaicans are very hurt by the treatment of an African American woman in that family. William needs to speak to that when he comes and as it were, he should come here with an apology, not only for slavery but for the treatment of a black woman who had to run out of the palace with her husband. That's a strong issue and that's a fresh wound."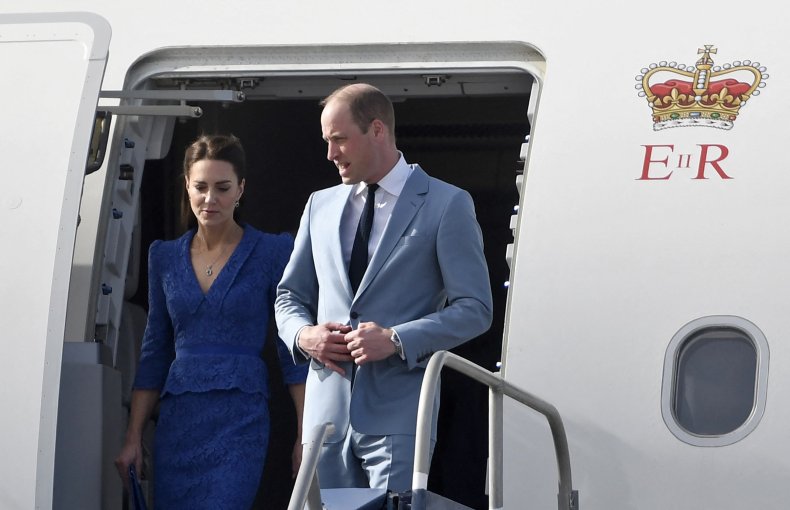 Amid the storm created by the Oprah interview, Buckingham Palace released a rare statement saying: "The issues raised, particularly that of race, are concerning. While some recollections may vary, they are taken very seriously and will be addressed by the family privately."
Samuels noted that displeasure with William and Kate's visit is symbolic of the legacy left by the British monarchy in Jamaica in not acknowledging or compensating Jamaicans for the role it played in the enslavement of its people:
"We see no reason to celebrate 70 years of ascension of William's grandmother to the British throne because her leadership, and that of her predecessors, have perpetuated the greatest human tragedy in the history of human kind - that is chattled slavery for 300 years."
A protest to demand reparations for slavery is due to be held near the British High Commission in the capital Kingston on Tuesday, as William and Kate begin their three-day visit marking Queen Elizabeth II's platinum jubilee year.
Hundreds of thousands of Africans were shipped to Jamaica to work on sugar cane plantations under British rule. The British parliament passed a law abolishing slavery in 1833 which included compensation for slave owners but not for slaves. Jamaica gained independence from Britain after 300 years in 1962.
The protest comes as increasing republican sentiment on the island is moving towards removing Queen Elizabeth II as its head of state.
Queen's Counsel Hugh Small, a distinguished legal voice in Jamaica, has told Newsweek that "overall there is absolutely no enthusiasm for this visit. And I think that the majority of Jamaicans feel that it is not relevant at this time.
"A lot of this has come into focus and we recognize as Queen Elizabeth is in her 90s, that her health has been uncertain as is the case with most people who get to their 90s, and the prospects of any of her heirs or successors being head of state of Jamaica is not something that the Jamaican people would regard with any enthusiasm at all."
The case for removing the Queen as head of state has been brought into sharp focus by the Caribbean island of Barbados' decision to became a republic last year. Jamaica celebrates 60 years of independence in 2022, an anniversary that Small believes should have been marked not by a royal visit but with a bill in parliament to remove the monarch from Jamaica's constitution.
"It is not going to be achieved this year—the 60th anniversary—and that is because the government did not treat it as a priority... But I think that recent sentiments that have been expressed by different people make them realize that they've got to get moving now."
On a 2015 visit to Jamaica, then-British Prime Minister David Cameron ruled out paying reparations stating, "I do hope that, as friends who have gone through so much together since those darkest of times, we can move on from this painful legacy and continue to build for the future."
Samuels told Newsweek "the grandson of the Queen of England's visit to Jamaica brings back to us the sad memory of the failure [of Cameron's] government to compensate us for our enslavement. The message to him is 'go back to your grandmother and tell her that the people in Jamaica have been impoverished, that this poverty started during enslavement and that still continues even on to today.'"
Small, too, sees an increased urgency to engage in a serious dialogue with Britain about reparations as Jamaica moves towards being a republic. He said "there are many groups throughout the country and many prominent people on both sides of the political divide that have been advocating that we must take steps to approach the question of reparations with far more urgency.
"That is reparations for the injustices that were done to the ancestors of our people during slavery and particularly at the abolishment of slavery where the owners of slaves were compensated but the slaves got nothing."
Given this powerful discourse in Jamaica over its past and future with the British monarchy, support for keeping the royals is low. A 2020 poll conducted by the Jamaican Observer saw 55 percent of respondents say that the Queen should no longer be Jamaica's head of state.
With revelations made in Harry and Meghan's interview with Oprah adding yet another cause for concern among Jamaicans, William and Kate's visit to the island as part of a wider tour also taking in Belize and the Bahamas, comes at a time when the future relationship between Jamaica and Britain is at a crucial stage.