How Kate Middleton Paid Hidden Tribute to Women With Infertility
Kate Middleton honored women with infertility on a recent visit to maternal healthcare organizations accompanied by Princess Anne. The royal wore a dress embellished with lace panels in shapes reminiscent of pineapples, the symbol adopted by infertility groups and identifiers.
Kate has developed her personal style since becoming a member of the royal family in 2011, and has demonstrated over time a keen awareness of the symbolism and emphasis placed on what members of the royal family wear.
Since the engagement which saw Kate and Anne appear for a rare joint visit to the headquarters of the Royal College of Midwives and Royal College of Obstetricians and Gynecologists, Kate has announced her patronage of the Maternal Mental Health Alliance, which aims to help new and expectant mothers.
For the visit Kate wore a tailored crepe midi dress from the designers at Self Portrait. The brand has been a proven favorite of Kate's as well as sister-in-law Meghan Markle, who wore a Self Portrait design for her official visit to Tonga in 2018.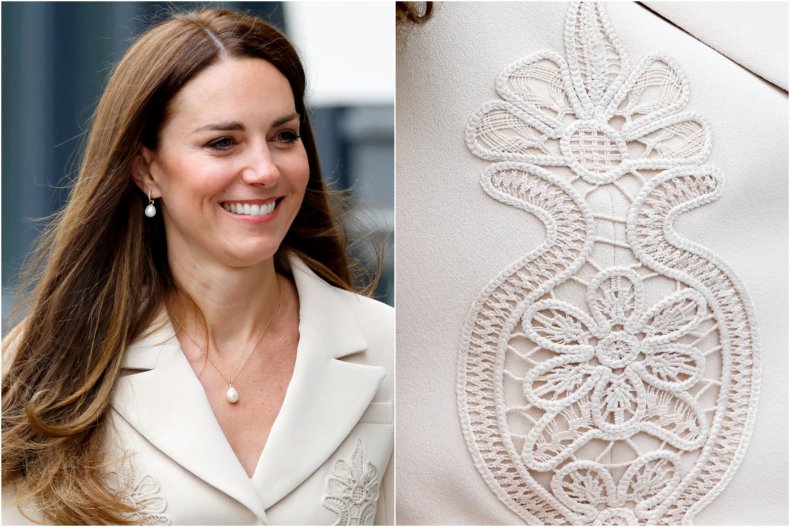 The symbol of the pineapple has been slowly adopted by those in the infertility communities, especially online, and in particularly those women who are going through a course of in vitro fertilization. The hashtag #PineappleTribe has become a way for women undertaking IVF to post updates on their journeys and visually mark their process.
In a 2019 interview for The New York Times, San Francisco-based fertility specialist Dr. Aimee Eyvazzadeh said that "probably 75 percent" of her patients wear some form of pineapple on their clothing or jewelry when they arrive for their appointments.
Why specifically the pineapple was chosen is not clear. The New York Times attributes part of the association to an unfounded claim that consuming pineapple before an embryo transfer can increase success rates owing to the mix of bromelain enzymes the fruit is rich in.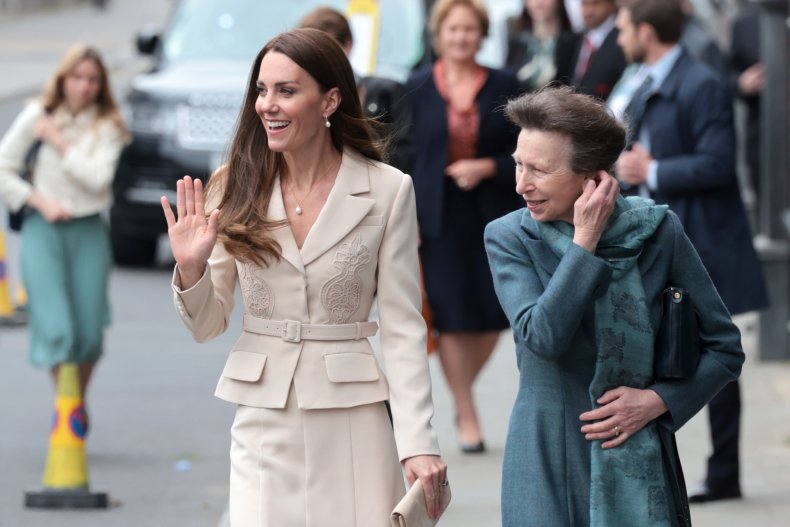 Kate is a stalwart advocate for mental health and how it also relates to early child development and parental mental health as well.
In a speech marking her patronage of the Maternal Mental Health Alliance, Kate said:
"Around 20 percent of women in the U.K. are reported to experience perinatal mental illness. Sadly, we also know that many more are suffering in silence. No one is immune to experiencing anxiety and depression during this time.
"It is crucial, therefore, that all those who might be struggling are given the right support at the right time, so that they're able to share these feelings without fear of judgement and can access the information, care and support they need to recover."
This is not the only touching tribute made by Kate through her dress in recent months. When attending the official opening of the Glade of Light memorial garden, dedicated to the victims of the 2017 Manchester Arena bombing that took place during an Ariana Grande concert, Kate wore a pair of earrings with a special meaning.
The earrings were made in the form of a honeycomb surmounted by two golden bees. The bee is a symbol of the city of Manchester, and in the days following the tragic terror attack the bee became associated with the bravery and solidarity of those involved.
With 2022 marking Queen Elizabeth II's Platinum Jubilee, it signifies an important year for members of the royal family. Kate, along with other working royals, face an increased number of public appearances, with the demands placed on their wardrobes even greater than before.