Kate Debuts New Dress From Brand Meghan Loved During Royal Stint
Kate Middleton debuted a sharply tailored new look from trusted brand Self-Portrait during a rare joint engagement with Queen Elizabeth II's only daughter, Princess Anne, on Wednesday.
Kate has been a long-term fan of the brand with sister-in-law Meghan Markle also gaining an appreciation for their classic silhouettes and ethos of empowering women during her time as a working member of the royal family.
The royals came together for a rare joint engagement to visit the new London headquarters of the Royal College of Midwives (RCM) of which Anne is patron and the Royal College of Obstetricians and Gynecologists (RCOG) of which Kate is patron.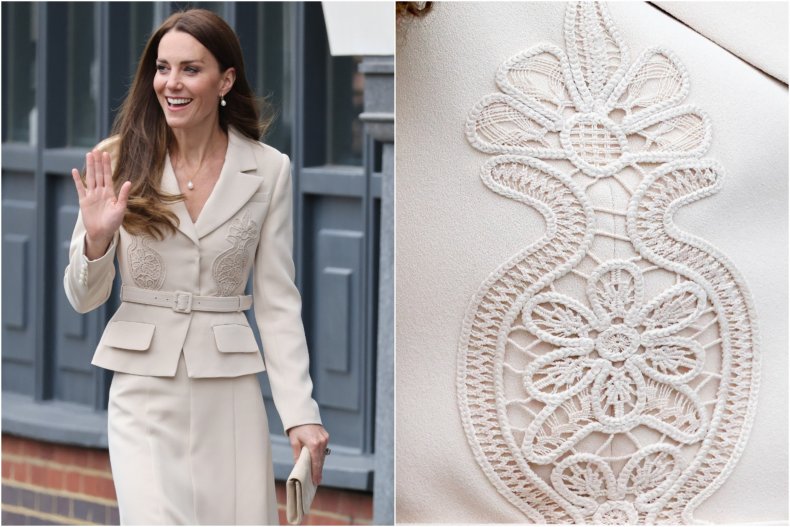 Kate arrived at the official opening of the headquarters in a variation on Self-Portrait's tailored crepe midi dress which features a box shouldered jacket with wide lapels and embroidered element applied onto the bodice.
Kate's version of the dress has a paneled skirt and matching covered belt worn over the bodice in a style the duchess has worn in previous years.
This is not the first outfit from Self-Portrait that Kate has in her closet. To a 2016 royal movie premiere, the duchess wore a statement white evening dress from the brand's resort collection which has since become a favorite with other world royals including Princess Ingrid Alexandra of Norway who wore the style for an official birthday portrait in 2019.
In 2021 Kate debuted another classically tailored Self-Portrait ensemble to a reception launching her pandemic photography book Hold Still. The cream tailored boucle and chiffon midi dress forms part of the brand's event dressing and icons collection which they describe as having "reimagined contemporary femininity" for women across the world.
Most recently Kate wore Self-Portrait's faux pearl-embellished midi dress in mint green chiffon during her polarizing tour of the Caribbean with Prince William in March.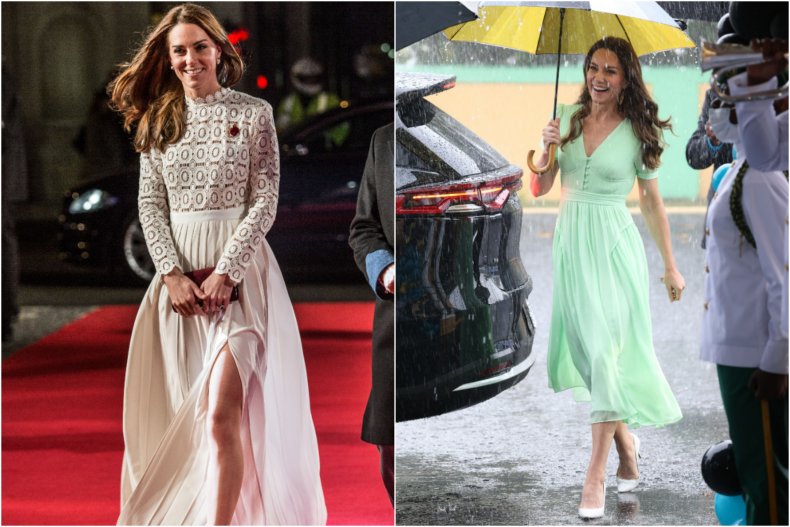 The duchess wore her dress to a school engagement in the Bahamas where she gave a speech thanking teachers for continuing with the educational development of young children throughout the coronavirus pandemic.
The "designed in London, made for the world" brand ethos that "believes in celebrating and empowering the women in the clothes. Femininity ensured by elegant functionality, reflecting a sincere engagement and appreciation for a contemporary way of life," is perhaps what attracted Kate's sister-in-law, Meghan Markle, to Self-Portrait.
In 2017, the recently engaged Meghan wore a Self-Portrait Nightshade midi dress to her first annual royal family Christmas lunch at Buckingham Palace. This lunch was Meghan's first public meeting with the extended royal family all in one place and was remembered most for a brooch, considered racist, worn by one of the queen's cousins, Princess Michael of Kent.
After her marriage, Meghan continued to wear Self-Portrait, incorporating pieces into her wardrobe alongside fashion heavy hitters, her favorite brand Givenchy and the equally upscale Christian Dior.
A second Self-Portrait dress was worn by Meghan when she accompanied Prince Harry to a 2018 pre-Invictus Games reception at Australia House in London. The green floral printed off-the-shoulder design was styled by the duchess with a chic black blazer and accessories.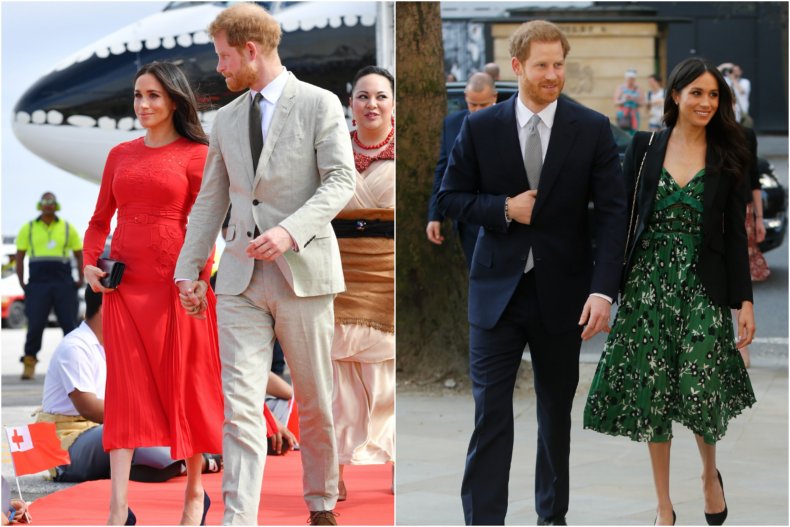 On her first major royal tour in 2018 of the South Pacific islands, Meghan wore a Self-Portrait dress on her arrival in Tonga. Taking her cue from other royal women including the queen and the Duchess of Cambridge, Meghan paid tribute to the national flag of Tonga in her choice of a red midi style dress with embroidered elements and paneled pleated skirt. The dress drew attention for the wrong reasons in some quarters, a label having been left attached to the skirt and photographed by the press.
Kate's outfit for the RCM/RCOG event with Princess Anne saw her break her pattern of rewearing outfits from her wardrobe which she has done for public events since Easter. The duchess is known to be environmentally minded in her fashion choices and Self-Portrait's drive to use responsibly sourced fibers and reduce their environmental impact align with this.
Princess Anne is known to be one of the most environmental royals in terms of her wardrobe. Whether out of concern for the disposable nature of fast fashion or simply out of thriftiness, the princess wears and rewears pieces from her wardrobe sometimes decades apart. To the joint engagement with Kate, the princess wore a longline blue coat dress which was featured in an official portrait released in 2020 to celebrate her 70th birthday.