Kate Middleton to Princess Diana—Ten Times the Royals Dazzled at the Movies
Royal glamor rarely comes face to face with its Hollywood counterpart, but there are occasions where they stand side by side—with neither party wishing to be outshone.
On a small number of occasions a movie is given a royal film premiere in London, usually in aid of a charity headed by whichever royal family member is present. Queen Elizabeth II has attended a number of these, as did Princess Diana. Now it is Kate Middleton who is taking her turn to dazzle on the red carpet.
Here Newsweek rounds up ten of the royals' most glamorous and dazzling trips to the movies:
Princess Diana, For Your Eyes Only, June 24, 1981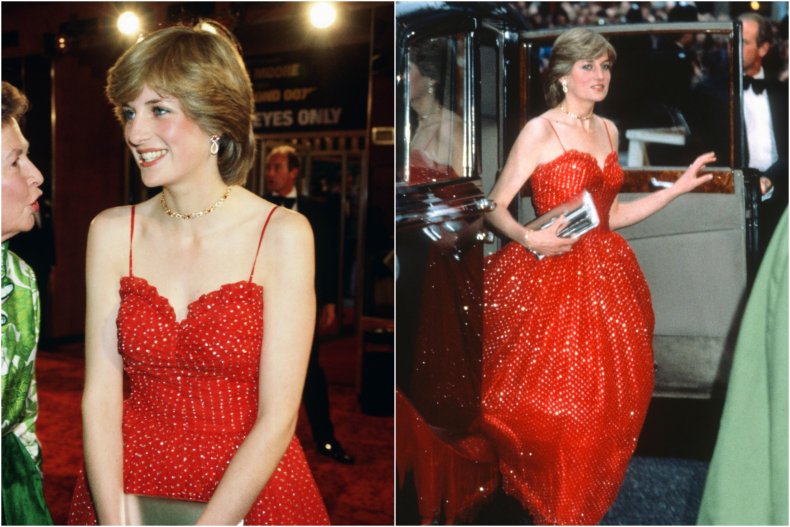 Just five days before her wedding to Prince Charles, Diana attended a royal premiere for the first time to watch the James Bond movie For Your Eyes Only starring Roger Moore. Diana wowed crowds in a glittering red and gold evening gown from designers Belleville Sassoon and was accompanied by Charles and his aunt, Princess Margaret.
Princess Diana, Burke and Wills, November 1, 1985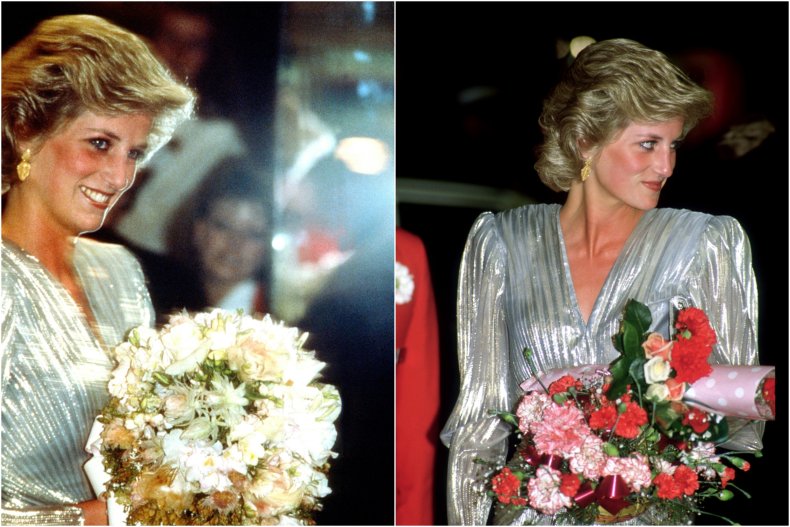 During a 1985 royal tour in Melbourne, Australia, Diana wore a metallic silver evening gown by Bruce Oldfield to a movie premiere of the history drama Burke and Wills. Diana attended the event on November 1, 1985, with Prince Charles and was introduced to the stars of the movie after the performance.
Princess Diana, The Living Daylights, June 29, 1987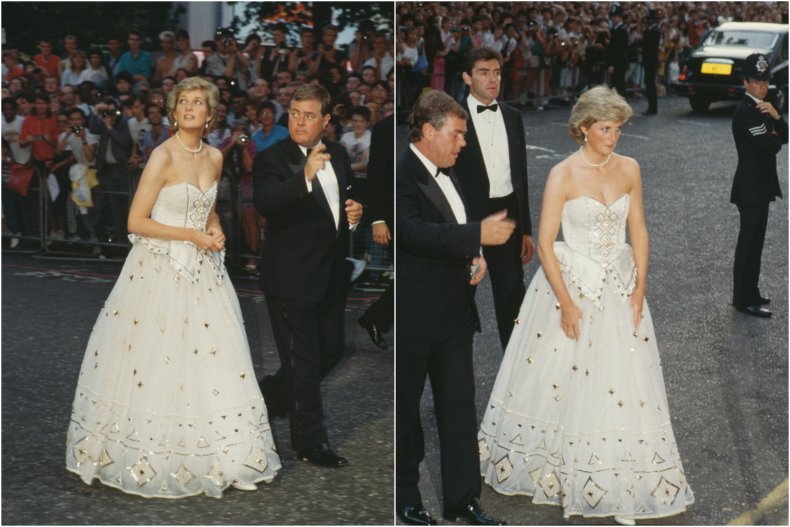 On June 29, 1987 Diana and Charles attended the premiere of the James Bond movie The Living Daylights. Diana wore a typically 1980s princess dress, designed by the maker of her wedding dress, David Emanuel. Diana included the dress in the charity auction she staged at Christie's before her death in 1997.
Princess Diana, Stepping Out, September 19, 1991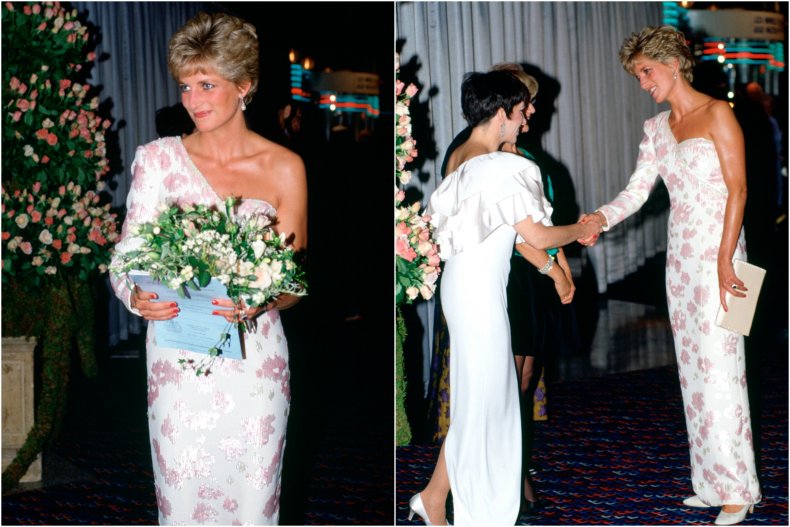 On September 19, 1981, Diana attended the premier for Stepping Out specially arranged to benefit children's charities she patronized. The princess wore an elegant one-shouldered evening dress commissioned to wear on a state visit to Brazil from designer Catherine Walker. Diana met the movie's star, Liza Minelli, and the pair struck up a engaged conversation in front of the assembled press.
Princess Diana, In Love and War, February 12, 1997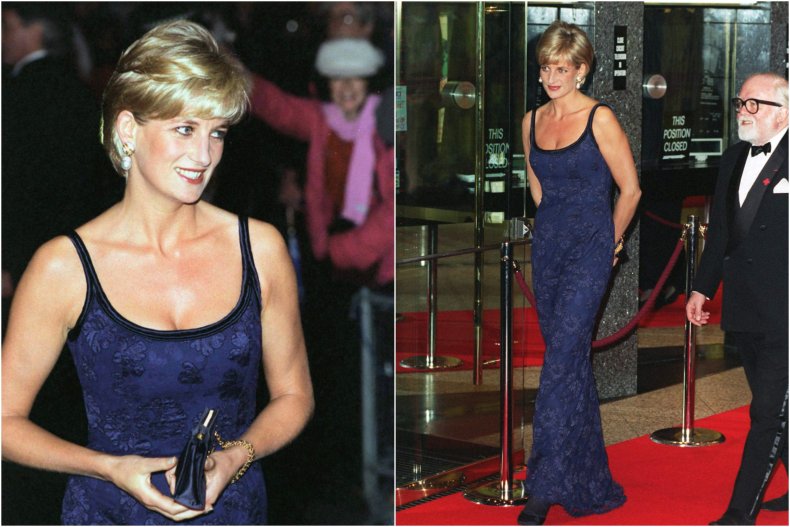 In the last year of her life, Diana attended the movie premiere of Sir Richard Attenborough's In Love and War. Attenborough was a close personal friend of the princess and the evening had been arranged to benefit the British Red Cross Anti-personnel Mines Campaign—a cause that Diana had dedicated herself to in her final months. She wore a blue evening gown with lace detailing by Catherine Walker.
Queen Elizabeth II, The Chronicles of Narnia, November 30, 2010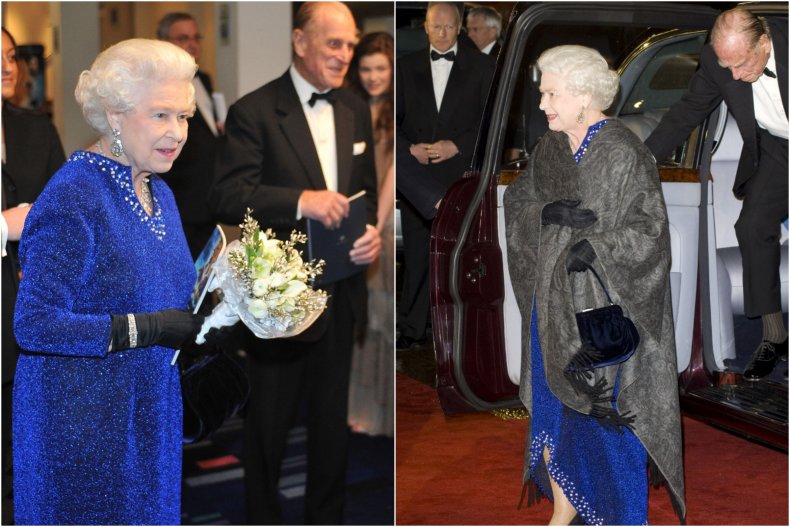 Seen less often in recent years at royal premieres, Queen Elizabeth II still knows how to create a glamorous stir in the face of Hollywood royalty. At a special showing of Disney's The Chronicles of Narnia: The Voyage of the Dawn Trader on November 30, 2010, the Queen wore a dazzling blue kaftan style dress with crystal embellishments.
Kate Middleton, War Horse, January 8, 2012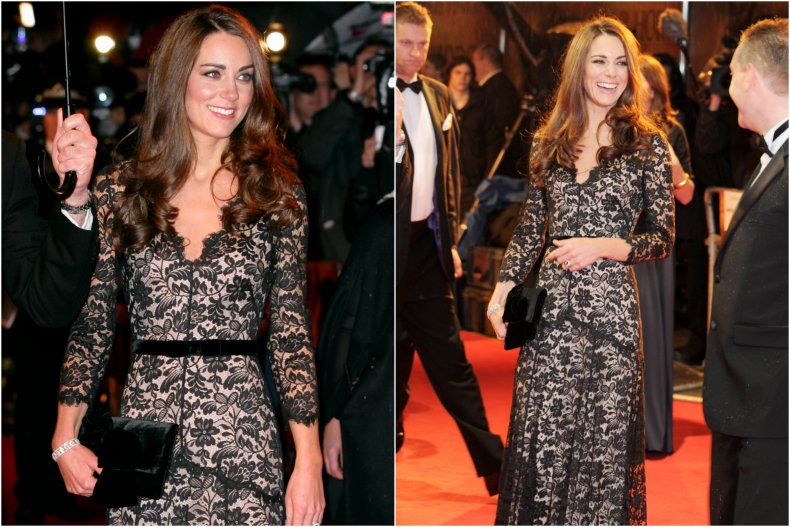 Kate Middleton attended her first royal movie premiere in 2012 with Prince William. The new Duchess of Cambridge wore a stunning black lace dress by designers Temperley London and carried a James Mascaro clutch bag. Kate showcased some royal sparkle for the evening by wearing a set of diamonds reported to have been given to her as a wedding present by Prince Charles.
Kate Middleton, A Street Cat Named Bob, November 3, 2016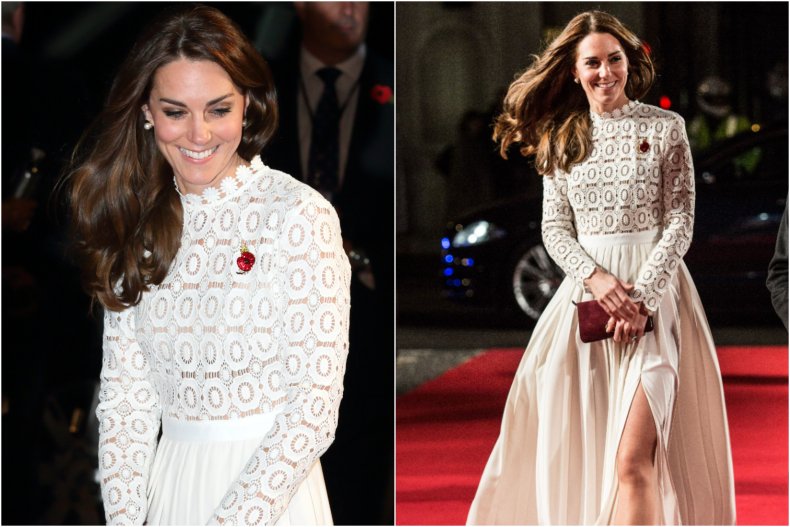 On November 3, 2016 Kate attended the premiere of a movie titled A Street Cat Named Bob. The event supported the Action On Addiction initiative and for the occasion Kate wore a white Self Portrait dress from their 2016 collection which has become a favorite piece among other royals such as Princess Ingrid of Norway, who wore it for an official photograph in 2019.
Meghan Markle, The Lion King, July 14, 2019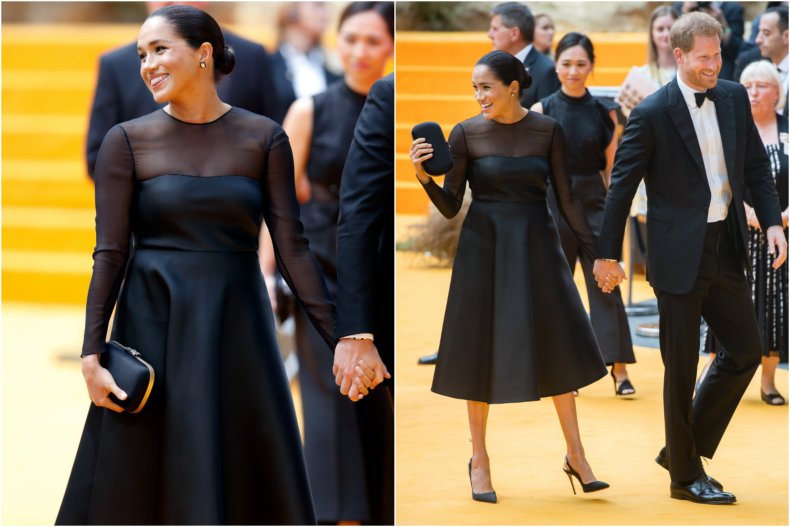 When it comes to movie star glamor surely no one understands better what this means than the first movie star to marry into the British royal family? At the 2019 premiere of Disney's live action remake of The Lion King, Meghan wowed in a chic and elegant black cocktail dress by designer Jason Wu. The dress's sheer neckline and sleeve detailing were complimented by Meghan's pared-back styling.
Kate Middleton, No Time To Die, September 28, 2021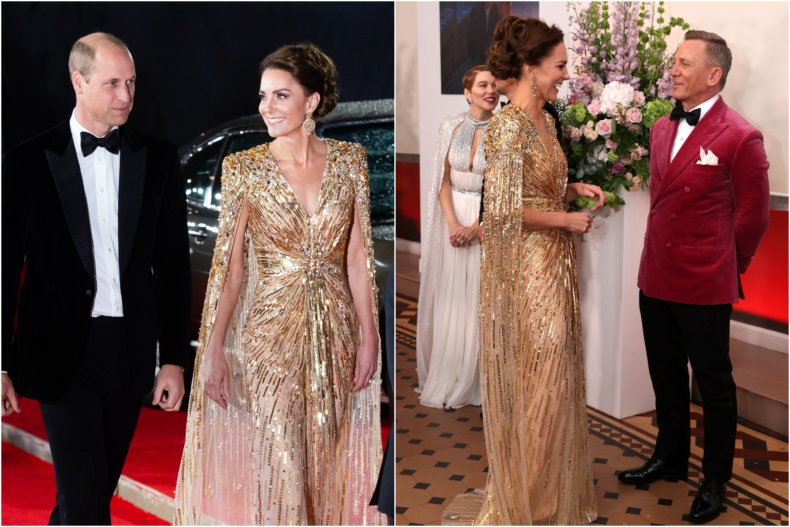 Kate's show-stopping appearance at the James Bond No Time to Die premiere in September 2021 was deemed by Vogue "worthy of the most glamorous of Bond girls." The glittering gold embellished evening gown by Jenny Packham outshone those worn by the other stars of the show—the actors on the red carpet. Prince William and Prince Charles were also at the premiere with Camilla, The Duchess of Cornwall wearing an ice blue dress by Bruce Oldfield.