Prince Harry Recreates Princess Diana's Walk Through Minefield in Angola
Prince Harry has followed in his mother Princess Diana's footsteps, walking through a partially cleared minefield in Angola to raise awareness about the dangers of landmines.
Harry, 35, walked through a de-mining site in Dirico, Angola, on Friday morning, wearing a protective vest and headgear.
Pictures of the moment show Harry walking a straight path that has been successfully de-mined. However, red hazard signs can be seen on either side of him, indicating danger.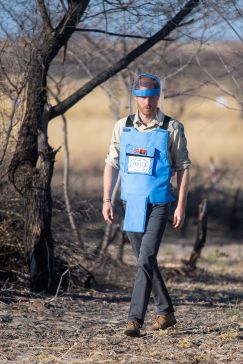 The scene echoes the infamous pictures of Princess Diana walking through a minefield in Huambo, Angola, in January 1997, to raise awareness of the tragic consequences of landmines on innocent people. During her visit, Diana met with young Angolan children who had lost limbs because of landmines.
Harry's minefield walk Friday was arranged by de-mining charity Halo Trust, the same group that arranged Diana's visit 22 years ago.
According to the BBC, Halo Trust staff have been working since August on clearing the site in Dirico and hope to complete the work by the end of October. It was first mined in 2000 by people who opposed the government.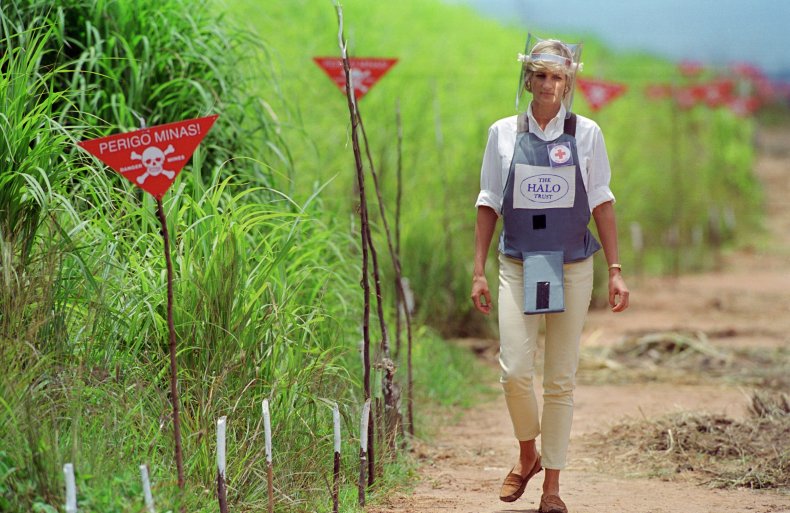 Prince Harry continues Diana's legacy
Prince Harry and wife Meghan Markle's official Instagram account shared photos of Harry's trip and said: "The Duke is humbled to be visiting a place and a community that was so special to his mother, and to recognize her tireless mission as an advocate for all those she felt needed her voice the most, even if the issue was not universally popular."
It was also noted that Harry will visit the former minefield in Huambo, Angola, that his mother was pictured walking through in 1997. The area is now a functioning street that has transformed from "desolate and unhabitable to lively and vibrant, with colleges, schools and small businesses."
Princess Diana's attention to deadly landmines was credited with helping pass the Convention on the Prohibition of the Use, Stockpiling, Production and Transfer of Anti-Personnel Mines and on Their Destruction, also known as the Ottawa Treaty, which banned the use of anti-personnel landmines. Today, 164 countries around the world are in accordance with the treaty.
The treaty was signed in December 1997 in Ottawa, Ontario, Canada, just three months after Diana's tragic death in a car crash in Paris.
Prince Harry and Meghan Markle are currently on a 10-day royal tour of Africa with their four-month-old son Archie.
Earlier this week, the royal family met with Archbishop Desmond Tutu, a famed anti-apartheid activist, in Cape Town, South Africa. Pictures of baby Archie prompted a huge reaction on Twitter.