Meghan Markle and Kate Middleton's Most Dazzling Evening Dresses
The image of a fantasy princess is ingrained in the fabric of our society. Images of beautiful royal women in even more beautiful dresses have been circulated and coveted for more than five centuries. For an empowered modern princess though, dressing up is not all that the job requires. As Meghan Markle and Kate Middleton have learned, it is possible to harness the power of a dress to draw attention to the humanitarian causes they support and the social statements they make.
When Kate joined the royal family on her marriage to Prince William the fashion press waited with baited breath to see whether she would fill a gap left vacant since Princess Diana's death 14 years earlier. That of a royal fashion icon.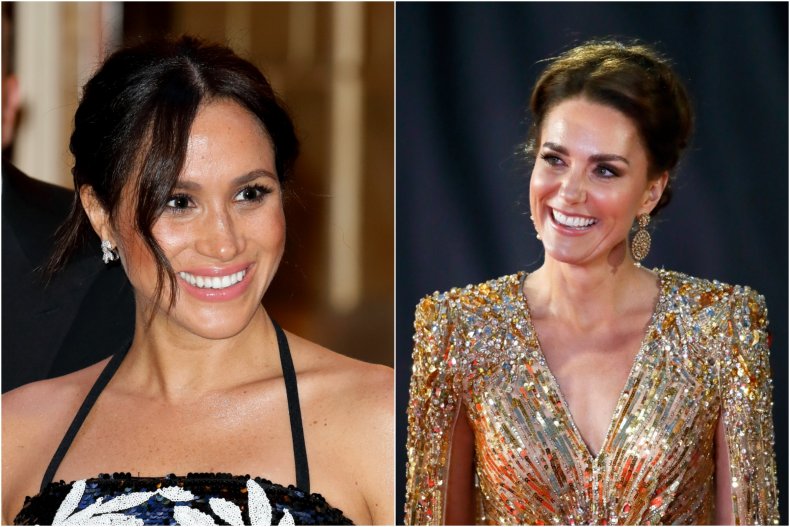 Kate trod carefully in the early years of her marriage in an attempt to remain stylistically neutral. As she developed a confidence in her royal duties however, a greater appreciation for her clothing became apparent.
Today, Kate reserves her most powerful fashion statements for her evening wear. From awards ceremonies to film premieres, Kate is sure to dazzle through good times and bad.
Meghan has understood the diplomatic connotations of her wardrobe since her early days in Hollywood and in the fulfillment of her role as U.N. Women's Advocate for Political Participation and Leadership.
For the announcement of her engagement to Prince Harry she wore a conservative white coat but for the official portraits taken at Frogmore House she established her signature style by wearing a dramatic Ralph & Russo evening gown.
Meghan's talent for selecting evening dresses which generate an impact is something she has continued to utilize following her move to California with Prince Harry in 2020.
Here is just a small selection of Meghan and Kate's most dazzling evening dresses:
Movie Premieres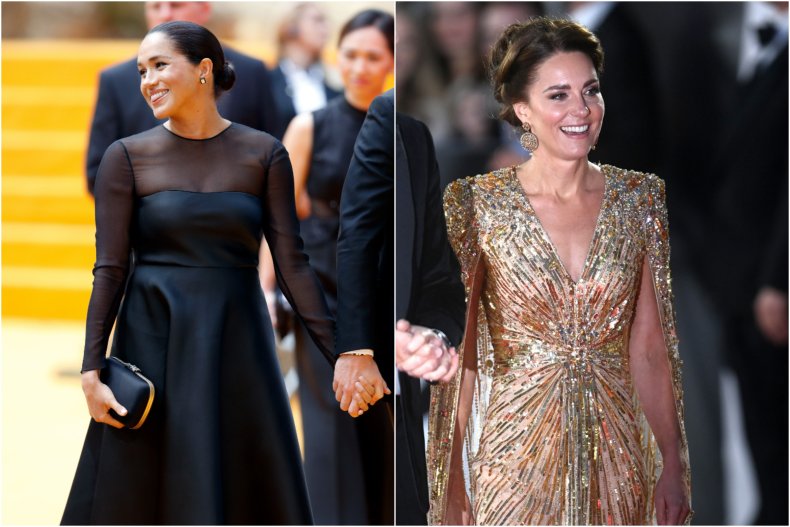 For a Hollywood actress, movie premieres and red carpets come naturally to Meghan, who is well versed in the art of dressing for the camera. In 2019, alongside husband Prince Harry, Meghan attended the premiere of Disney's live-action retelling of The Lion King. She wore, on the yellow carpet, a statement black cocktail length evening dress to meet stars Beyonce and Elton John. Meghan's confidence in her movie star surroundings was noted and her dress celebrated as a stellar success.
Kate may be less associated with the glitz and glamor of a Hollywood premiere but she has proven time and again to be able to adapt her style when called upon. Arguably her most successful style moment in the last decade, the Jenny Packham dress chosen for the royal premiere of the new James Bond film in 2021 created a social media outpouring of admiration.
The Royal Variety Performance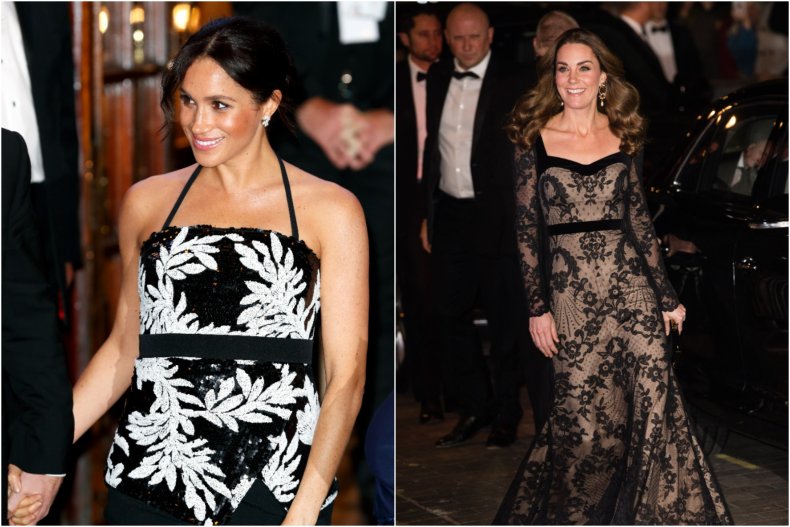 The Royal Variety performance is an annual theatrical celebration of British talent attended by members of the royal family. In 2018 Meghan, with Prince Harry, was the guest of honor and she wore a black and white embroidered outfit by the label Safiyaa. The outfit ensured that she could be seen from the royal box of London's Palladium theatre without detracting from the performers on stage.
Kate has been to the Royal Variety performance on numerous occasions. In 2019 however, she dazzled in a sheer black evening dress with lace detailing by the designer of her wedding dress, Sarah Burton for Alexander McQueen. The elegant free-flowing dress was styled with black accessories and Kate's famous hair loose around her shoulders.
Royal Tours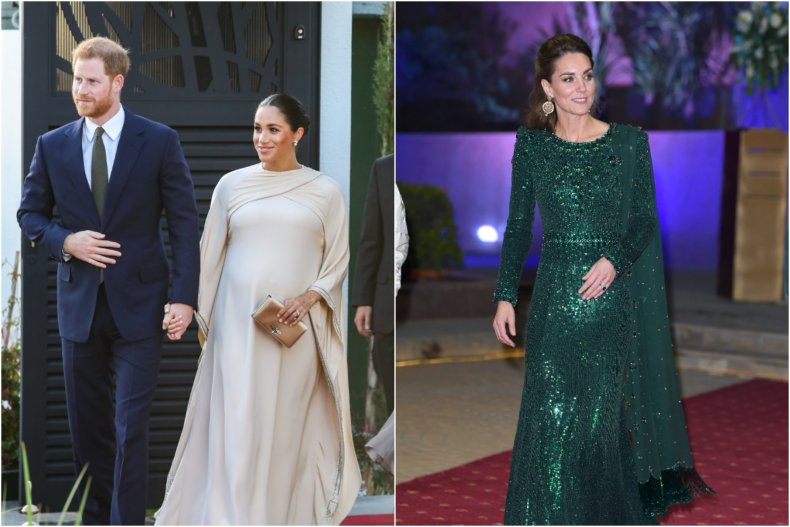 Diplomatic dressing on foreign royal tours is a key consideration for royal women. It is vital to show respect for the customs and traditions of the country hosting the visit. Meghan paid careful consideration to this when visiting Morocco in 2019. To a dinner hosted by the British ambassador, Meghan wore a modest custom evening gown made by Christian Dior in Paris. Seven months pregnant at the time, the Dior design offered equal parts comfort and coverage in the Moroccan heat.
Kate has become well versed in putting together a wardrobe for foreign tours. On a 2019 tour of Pakistan, Kate selected a green sequined evening dress by Jenny Packham. The dress featured a long sari inspired scarf draped over one shoulder as a tribute to the traditions and styles of the local community.
Awards Ceremonies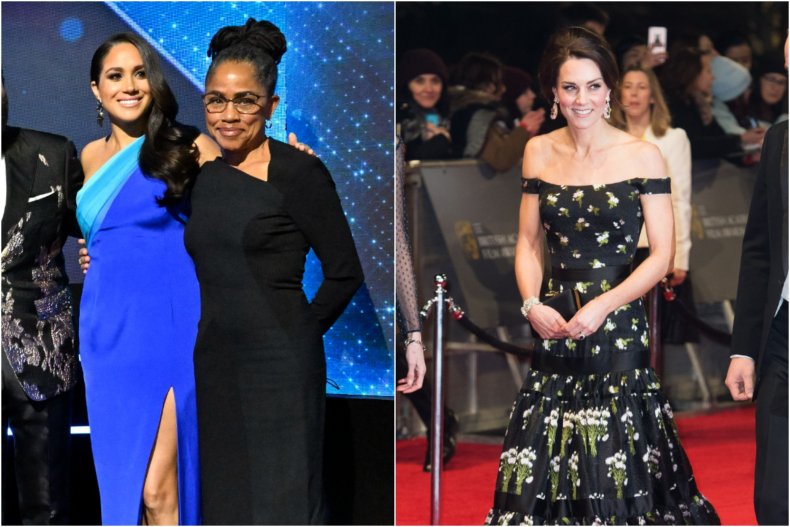 Whether presenting or accepting, awards ceremonies are some of the most visible events at which members of the royal family can be seen. Meghan accepted the President's Award at the NAACP Image Awards in February wearing a custom gown by designer Christopher John Rogers. Meghan initiated the commission and the designer said he placed emphasis on the idea of the dress being a "reveal" as she hadn't been seen in public for a while. The dress was widely praised and links were drawn between its silhouette and that of a dress worn by Princess Diana in 1988.
Kate attended the BAFTA Film Awards in 2017 alongside Prince William wearing a show-stopping off-the-shoulder dress by Sarah Burton for Alexander McQueen. The floral print dress in shades of black, green and white created a dramatic impact as the duchess took her seat for the ceremony among some of the most famous people on the planet.
Gala Spectacular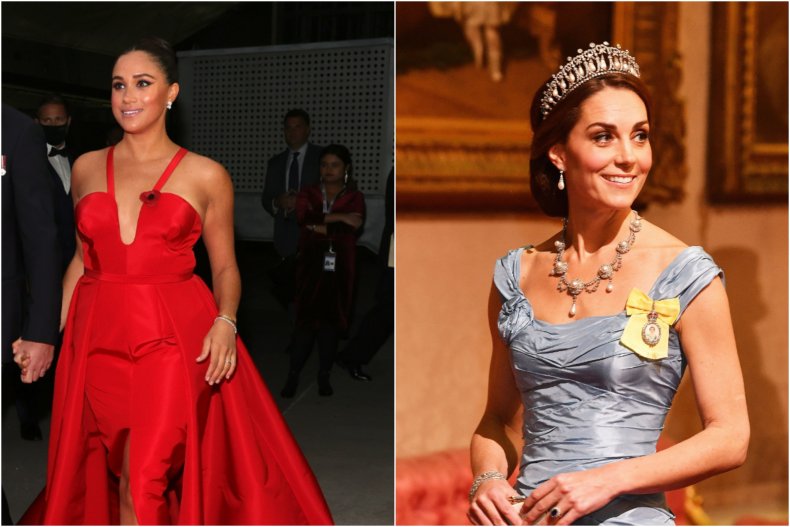 Gala celebrations come in many forms with many different dress codes. For the Salute to Freedom Gala 2021 in New York, Meghan wore a vivid scarlet evening gown by one of her favorite designers, Carolina Herrera. The dress paid tribute to the veterans being honored that night, its color referencing the red poppies associated with remembrance of those who lost their lives during the world wars.
As a future Queen, Kate is required to dress as such when attending official state functions. In 2018, during the official state visit of the King and Queen of the Netherlands, Kate donned Princess Diana's famous pearl tiara and wore a shot-silk evening gown with pleated detailing by Sarah Burton for Alexander McQueen. It is on these grand occasions that the public catch a glimpse of the majestic figure Kate may one day be destined to become.