Meghan Markle Pays Tribute to Diana With Showstopping NAACP Awards Dress
Meghan Markle paid a subtle tribute to Princess Diana this weekend as she joined Prince Harry in accepting the President's Award from the NAACP.
The Duchess of Sussex wore a blue ombre gown with flowing chiffon cape by designer Christopher John Rogers, reminiscent of a Catherine Walker creation worn by Princess Diana on a state visit to Thailand in 1988.
It was her first gala appearance since November 2021, when she attended an awards ceremony for veterans at Intrepid Museum, in New York City.
Meghan's dress was not the only way in which Diana was symbolically present as together with Prince Harry she received the NAACP President's Award on Saturday, February 26.
Meghan also wore her engagement ring which was designed by her husband to include diamonds from his mothers collection.
The duchess described during the couple's engagement interview, in November 2017, how the gesture helped her feel Diana was a part of their relationship.
Diana has proved an inspiration to both Kate Middleton, who wore a Catherine Walker coat on her recent visit to Norway, and Meghan, whose Christopher John Rogers design encapsulates the ease and impact of Diana's signature style.
Speaking to Vogue, Rogers, who has found favor dressing the likes of Michelle Obama and Adele, explained that it was Meghan who reached out to him with the commission herself over email.
"I was immediately struck by her warmth and just her overall demeanor - her sense of ease and confidence within herself," he said. "We quickly touched on this idea of a reveal. She hadn't really stepped out like this in a while."
The dress itself, which consisted of layered silk and organza with a two foot dramatic train, drew attention as she delivered her acceptance speech highlighting important subjects such as US voter protections and the situation in Ukraine.
This use of her wardrobe is another strong link between Meghan and Diana, whose statement dressing sent strong messages.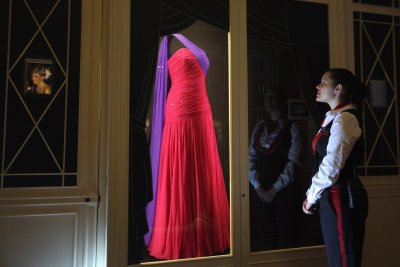 A June 1994 outfit, frequently nicknamed her "revenge dress," was worn by Diana to the Serpantine Gallery, in London, on the evening of her husband's television interview in which he stated he had been unfaithful to her during their marriage.
The Thailand dress that seemingly inspired Meghan was made by Catherine Walker and was included among the designs personally selected by the princess for inclusion in a 1997 Christies Auction.
Meghan's style choices have been widely celebrated with the Giorgio Armani dress that she wore for her 2021 interview with Oprah Winfrey being selected as 'Dress of the Year' by the Fashion Museum Bath in England.
In a statement from the museum manager, Rosemary Harden said "There are moments in history that are all about the dress and Meghan's interview with Oprah was just such an occasion. The softly structured Armani dress with beautiful appliquéd lotus flower motif was part of a carefully curated look, guaranteed to send messages, and to imprint itself in our consciousness time and time again."
Meghan's powerful style choices echo those of Princess Diana in a way that both honors and defines her voice as she has moved away from the royal family.