Princess Diana's Most Memorable Royal Tour Fashions
Princess Diana undertook many royal tours during the course of her marriage to Prince Charles and beyond that, following her divorce.
Diana was a beloved world figure who drew enormous crowds of people who wanted to see her (and what she was wearing) wherever she went.
Much like her daughter-in-law Kate Middleton, Diana had a powerful image, and she used clothing to convey powerful messages when at specific occasions.
Diana befriended many of the designers who created her tour wardrobes, and it is through these dresses and outfits that some of the most lasting images of the former Princess of Wales remain.
Following the recent visit of Kate and Prince William to the Caribbean, Newsweek has rounded up some of Diana's most memorable royal tour fashions.
1984 — Norway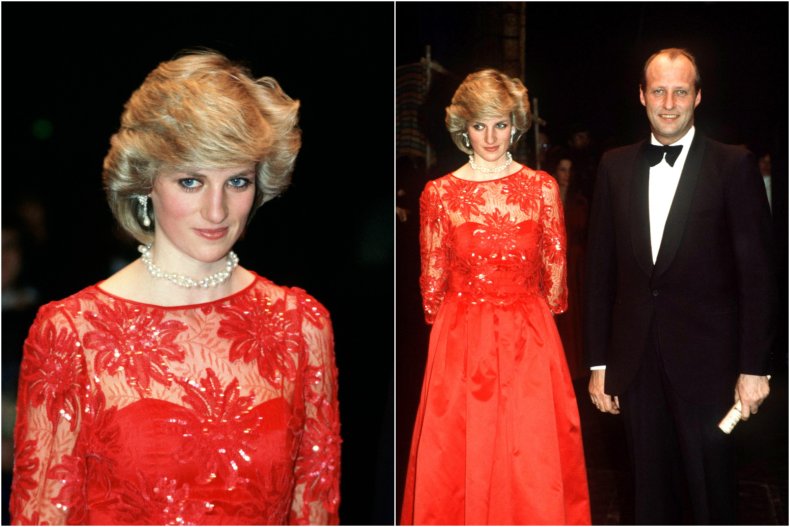 On her first solo tour since getting married Diana traveled to Norway in order to watch a performance given by the London City Ballet, of which she was patron.
Diana was accompanied to the performance by Crown Prince Harold and Crown Princess Sonja (later King and Queen) of Norway and she wore a captivating red evening dress with a beaded and embroidered sheer over bodice and long sleeves.
The dress was created by one of Diana's favorite designers during the early years of her marriage, Jan van Velden.
1985 — Australia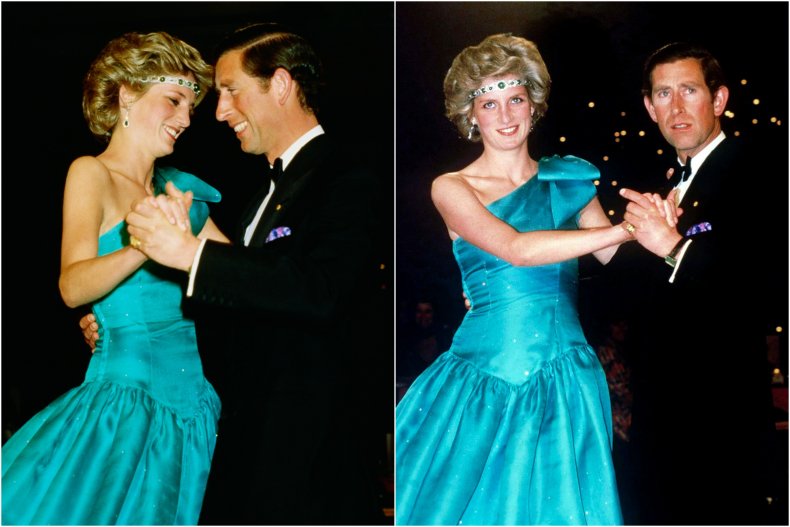 Some of the most enduring images of Charles and Diana during the happier days of their marriage are of the couple dancing on their tours of Australia.
To the Southern Cross dinner dance in Melbourne, Diana wore a Bruce Oldfield designed, deep turquoise silk asymmetric evening gown with large bow detail at one shoulder.
Diana debuted a new way that she wore a necklace given to her by Queen Elizabeth II as a wedding present that evening, wearing the diamond and emerald necklace on a velvet band in the middle of her forehead.
The result sent shockwaves through the fashion press as the industry dubbed the princess "Dynasty Di" in reference to the outlandish fashions of Joan Collins in the T.V series Dynasty.
1985 — Washington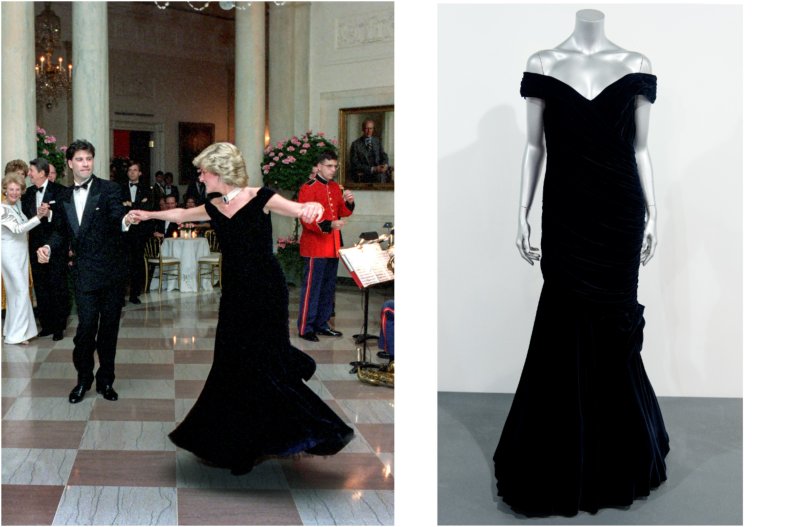 Perhaps one of, if not the, most famous dresses Diana ever wore has become known as the "Travolta dress."
So called because Diana danced with Hollywood actor John Travolta while wearing it at the White House in 1985.
The dress was designed by British couturier Victor Edelstein and was sold by Diana in the 1997 charity auction of her dresses.
In 2019, the Travolta dress was bought by Historic Royal Palaces for $325,317 and put on display at the princess's former home of Kensington Palace.
1989 — Kuwait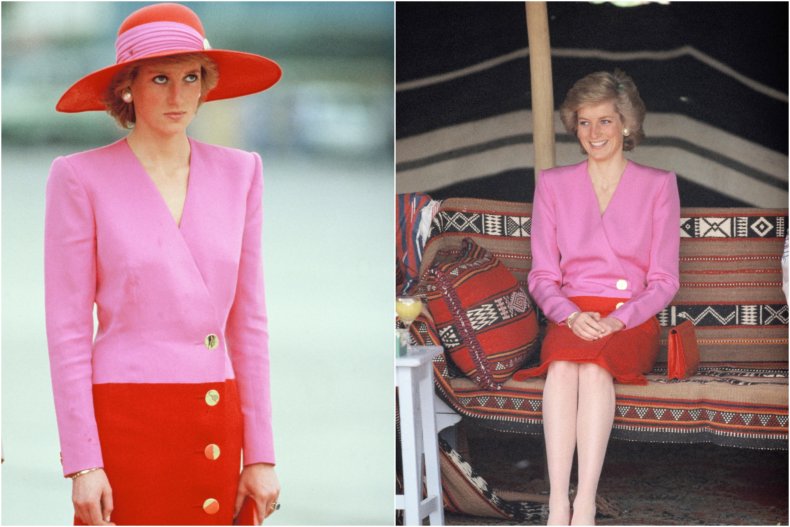 Towards the end of the decade Diana moved away from the fussy over-the-top designs of the 1980s and "Dynasty Di" era, instead developing a chicer streamlined aesthetic that she would carry through to the 1990s.
On a tour of Kuwait in 1989 Diana exhibited a new style of dress developed by her close friend Catherine Walker, known as the "coat dress."
This design in color blocked shocking pink and red was a favorite of the princess, and has become one of her most famous coat dress looks, the style of which is still worn today by Kate Middleton.
1989 — Hong Kong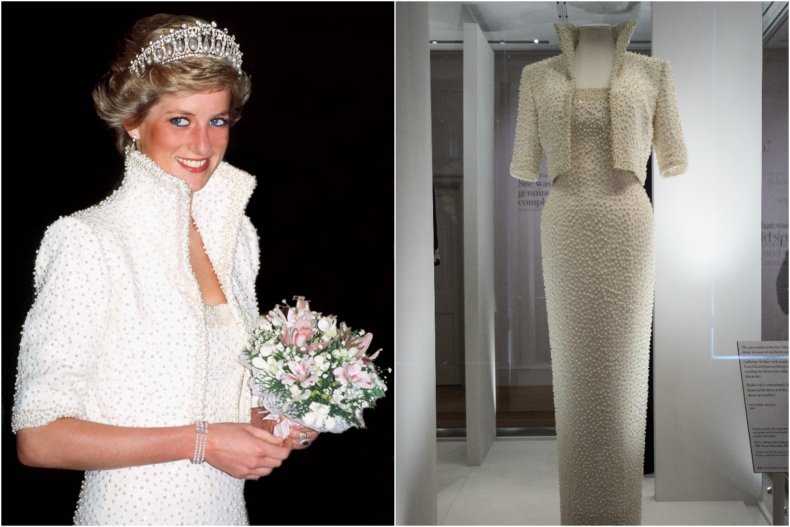 Perhaps one of the most regal dresses in her collection, this design was made for Diana to wear on a visit to Hong Kong in November 1989.
Unable to keep the dress hidden in her closet though, Diana gave the dress its debut at the British Fashion Awards a few weeks before the tour began.
The design achieved its original aim when Diana finally wore it again in Hong Kong and it was celebrated for its referencing of famous oriental pearls.
The dress was dubbed by the press the "Evis Dress" for the high collar on its accompanying bolero jacket. Diana included the dress in her 1997 charity auction where it was bought by the Victoria & Albert Museum in London.
1991 — Toronto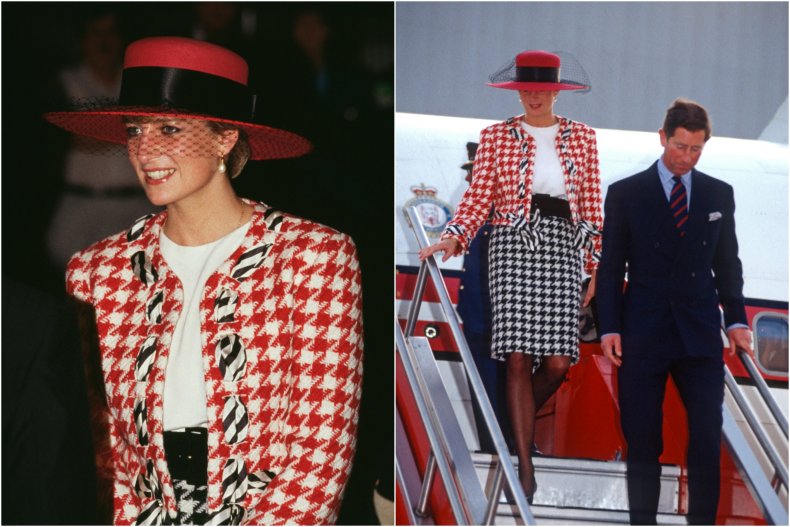 If the 1980s were all about over the top excess, the 1990s were concerned with a refined sense of conspicuous consumption. This is evident through the style changes that Diana made as she transitioned between decades.
On a visit to Toronto, Canada in 1991 Diana wore a striking black, white and red coordinating suit in an enlarged houndstooth design.
The suit was made by Italian fashion house Moschino—known for its youthful irreverent referencing of classic designs. The suit is best remembered for being worn as Diana greeted her sons William and Harry with an enormous hug onboard the Royal Yacht Britannia following her tour.
1992 — India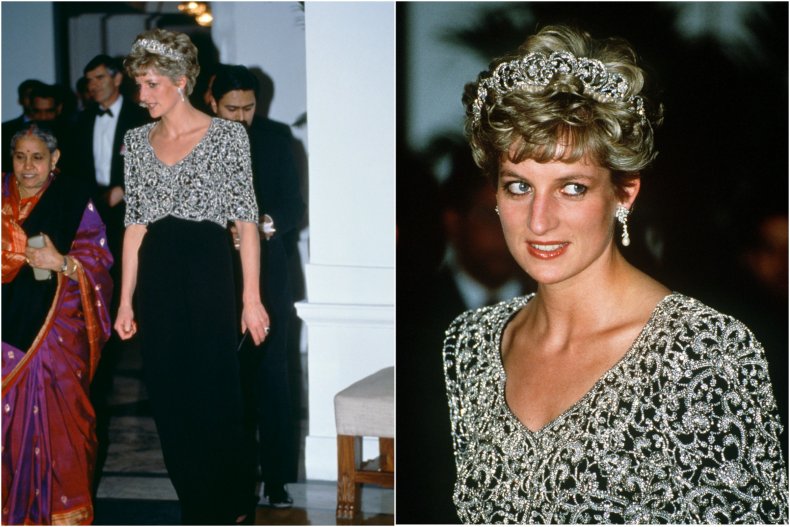 Catherine Walker designed this stand-out dress for Diana to wear on her 1992 tour of India. The designer was inspired by traditional Indian crafts and design techniques as she drew up sketches and the final product incorporated these themes as well as paying reference to one of Diana's most sentimental jewels.
Silver bead embroidery work on the top of the dress echoed the floral swags of the princess' family tiara loaned to her by her father for his lifetime.
The dress wowed at a state dinner given by the President of India, Ramaswamy Venkataraman, and was celebrated at home and around the fashion world.
1996 — Chicago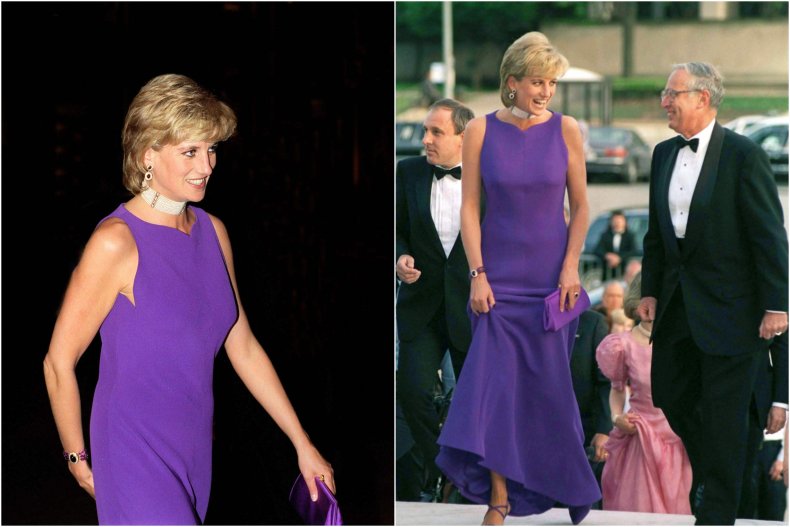 Diana's visit to Chicago in 1996 symbolized a new phase in her life. Following her separation and divorce from Prince Charles, Diana forged a new role for herself as someone with her foot in the two worlds of royalty and celebrity.
She weaponised the attention these brought her by becoming a humanitarian and philanthropist. In Chicago at a gala dinner given at The Field Museum of Natural History, Diana wore a stunning dress by one of her close friends, Gianni Versace.
The vivid purple ensured Diana Stood out, but its lack of any form of embellishment meant that it didn't detract from her star power. Versace was murdered in 1997 just weeks before Diana would herself be killed in a tragic car accident in Paris.
1997 — Angola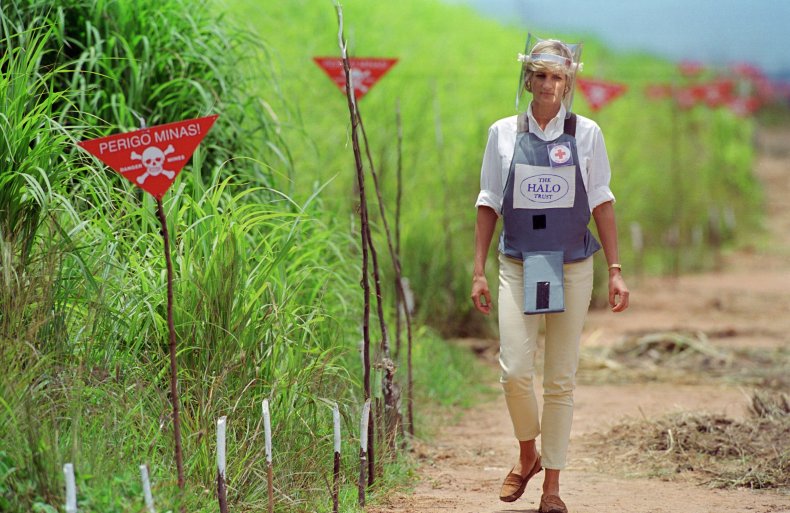 One of the most enduring images of Diana, encapsulating the worthwhile work she was striving to achieve at the time of her death, is the series of photographs taken during her 1997 humanitarian trip to Angola.
During her visit Diana abandoned the usual glamorous wardrobe she took on her royal visits and dressed simply in chinos and plain shirts, thus hoping that the focus would be focused more on the work she was doing than on herself.
Diana's important work with the HALO Trust in Angola to campaign for landmine clearance is being continued today by her son, Harry.