How Meghan Markle and Kate Middleton's Royal Tour Wardrobes Compare
During her eight-day tour of the Caribbean with Prince William, Kate Middleton debuted a royal wardrobe that both followed tradition and—in its own way—modernized it.
The template for dressing on modern royal tours was set by Queen Elizabeth II in the 1950s and has been followed by royal women ever since. When Kate Middleton embarked on her first foreign tour as a member of the royal family in 2011, she dutifully followed the standard set by those that came before her. Now, with over a decade of royal service under her belt, Kate is beginning to relax the grip of precedent and tradition, allowing her to be a little more individual with her taste.
When Meghan Markle went on her first royal tour to the South Pacific Islands in 2018 following her marriage that same year, she did not seem to find herself bound by the same level of strict expectations Kate had when it came to her dress.
Meghan set a precedent that she would not follow the same traditions as other royal brides when she bought much of her wardrobe from Paris fashion houses such as Givenchy (who made her wedding dress) and Christian Dior.
As a foreign-born princess this allowed Meghan the freedom not to be bound by Queen Victoria's strict edict of royals only wearing British designs. For her working wardrobe Meghan also patronized global fashion brands, including American-based house Carolina Herrera and British/Canadian designer Erdem.
Though Meghan only undertook two long-haul official tours during her time as a full-time working member of the royal family before stepping down in 2020, during these she demonstrated her ability, much in the same way as Kate, to present herself as an independent individual.
Throughout their lives as working members of the royal family both Kate and Meghan have debuted some of the most celebrated modern royal tour fashions, proving that the similarities between the sisters-in-law don't end with their taste in husbands:
Making a Good First Impression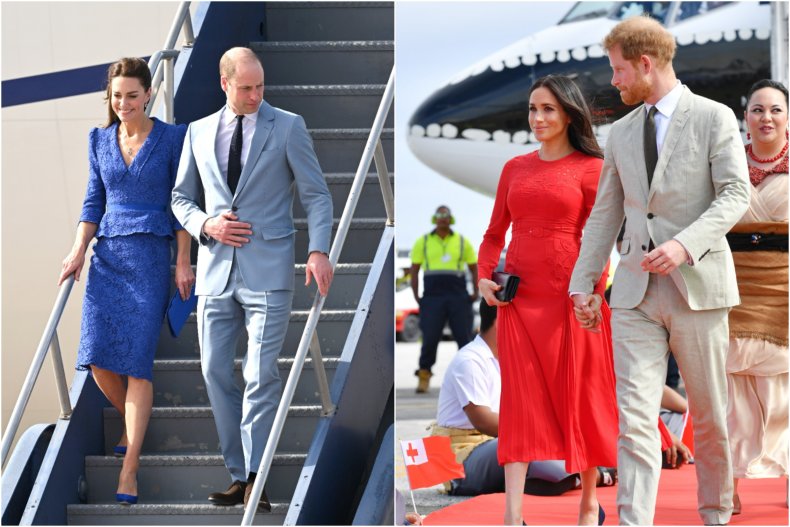 Both Kate and Meghan know that first impressions count, especially on a royal tour. When Kate arrived on the first stop of the recent Caribbean tour in Belize she landed as news of an anti-colonialist protest being staged at the site of a proposed engagement the following day. This protest led to the visit to a cocoa farm being canceled and news that the tour had already begun on shaky grounds. Amidst the wave of reporting on the protest Kate struck a powerful note as she stepped off the plane at Philip S. W Goldson International Airport wearing a blue Jenny Packham lace suit in the colors of Belize's flag. This diplomatic style of dressing has become a firm favorite of Kate's and she replicated it at each stop of the tour.
Meghan Markle has followed Kate's established tradition of wearing colors associated with her host nation's flag when she landed in Tonga as part of her South Pacific tour with Prince Harry in 2018. For the occasion Meghan wore a red dress by Self Portrait which had been altered from its original full-length form to a mid-length day dress with lace applique and belted detail.
A Question of Sport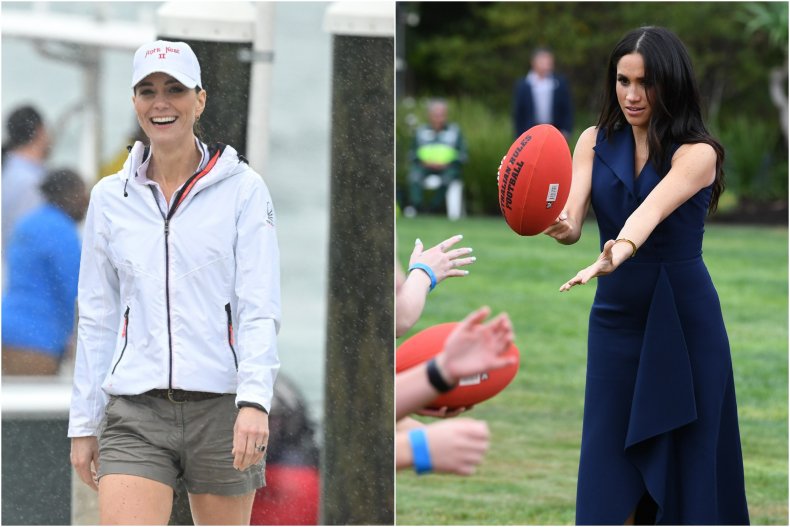 It is a well-known fact that Kate loves sports and on foreign tours there is usually an event or meeting factored into the schedule where she can get involved. During the last stop of her recent tour in the Bahamas William and Kate took part in a traditional sloop race, which their sailing knowledge to the test. Though William won the race Kate appeared in good spirits, wearing a relaxed sporting outfit of a crew neck polo shirt, shorts and trainers.
Though less known for her sporting activities, Meghan has also shown her skills during a royal tour. During a reception in Melbourne on her 2018 visit to Australia Meghan was given the opportunity to learn about Aussie rules football. Never one to sit on the sidelines she gamely joined in the fun. The duchess was less prepared for a full game however, wearing a blue asymmetrical Dion Lee dress and heels.
The Royal Walkabout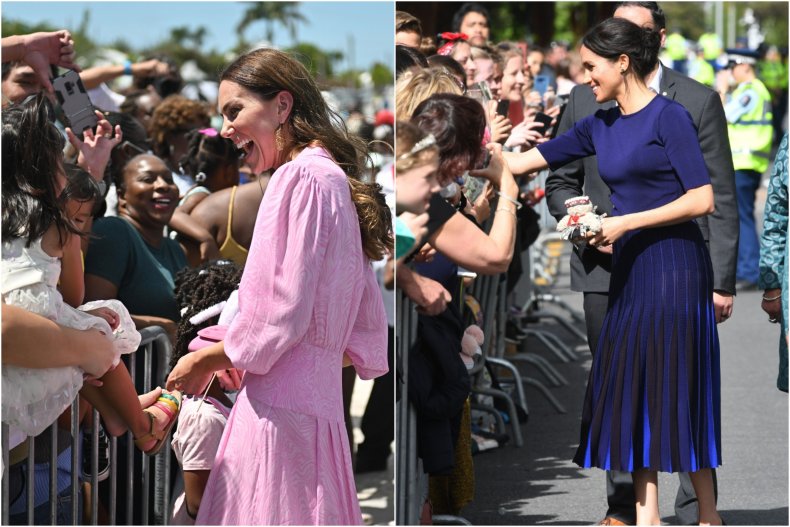 The walkabout is an important part of royal life for Meghan and Kate, who have mastered the art of meeting and greeting during the course of their public roles.
Following Queen Elizabeth II's mantra that she must "be seen to be believed," both sisters-in-law have learned to dress so that they are instantly recognizable in a crowd. During a walkabout in the Bahamas Kate wore a bold pink dress by U.K brand RIXO to meet well-wishers.
Meghan has been known to favor more muted or neutral tones when meeting the public with beige and blues among her go-to colors. On the last day of her New Zealand tour Meghan opted to wear a blue top and skirt by Givenchy on a walkabout to meet local children.
Evening Reception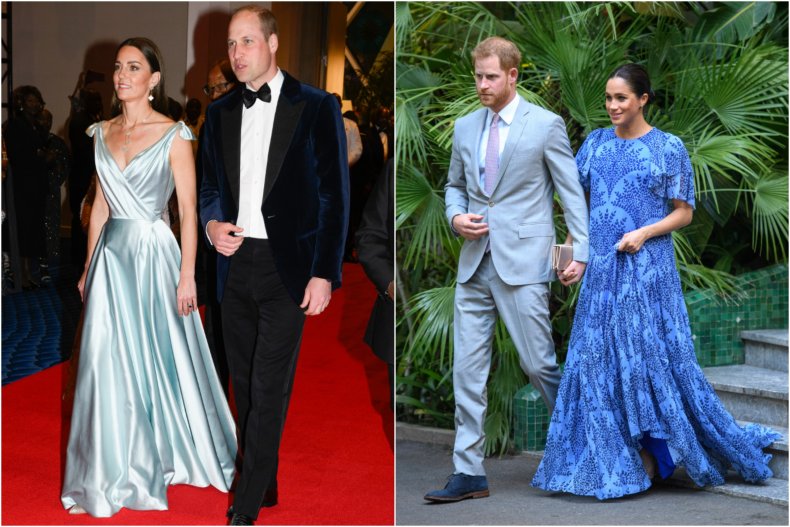 Usually as part of a foreign tour the host nation will hold a gala reception or dinner for the visiting royals. To show a proper mark of respect for this honor the members of the royal family put on their best show with the female royals exuding fairytale princess glamor. At a reception held in the Bahamas, Kate evoked the aesthetic memory of Grace Kelly in a slip-shoulder silk gown of ice blue by British Designer Phillipa Lepley. Meghan has used the American-born Kelly as a reference point on tour, when she wore a flowing katan-like evening gown designed by Carolina Herrera to a dinner hosted by the King of Morocco in 2019.
Wet Weather Wardrobes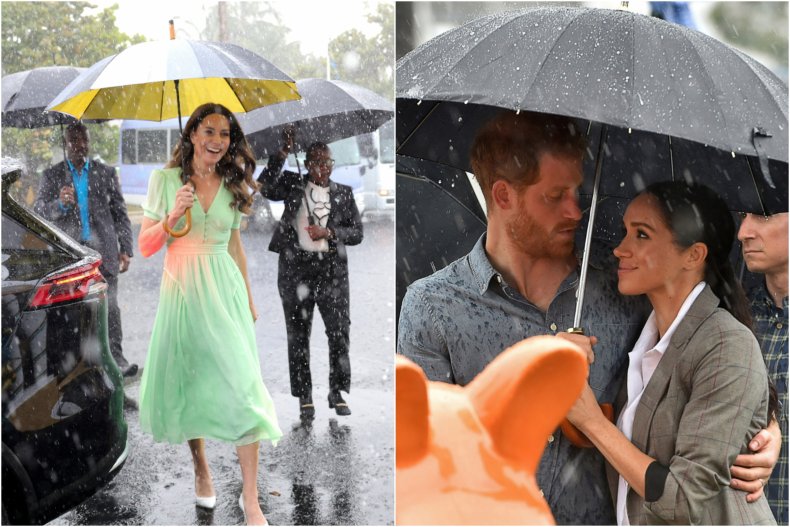 Though royal tours and wardrobes can be planned to the last detail, the weather can always prove a difficulty. On a visit to watch aboriginal dancing at Dubbo, Australia, Meghan and Harry were met with showers during the walkabout portion of their visit. Luckily Meghan, who took the whole thing in good humor, was dressed for the occasion in a smart checked blazer from the fashion line of her friend Serena Williams and black jeans.
Kate, on the other hand, was not so lucky during a visit to a primary school in the Bahamas, which saw her light Self Portrait summer dress drenched and her high heels flooded. Like Meghan though, Kate has learned to laugh in these situations and a swiftly provided umbrella saved the day.