Meghan Markle's Favorite Designer Is a Perfect Fit for a Hollywood Princess
In its 70th year, the house of Givenchy can boast to have dressed some of the world's most glamorous women, from Audrey Hepburn to the Duchess of Windsor. In recent years though, the label has become synonymous with another style leader, helping to fashion the image of a fiercely modern princess, Meghan Markle.
When it was announced on May 19, 2018, as Meghan was making her way to St George's Chapel at Windsor Castle, that her wedding dress had been designed by a French fashion house, it raised eyebrows among the fashion press and royal watchers.
It was assumed that as a bride Meghan would stick to tradition and patronize a British designer for this important commission. The bride's choice however, perfectly blended her own independent approach to marrying into the royal family as well as conforming—in some way—to the expectations placed upon her.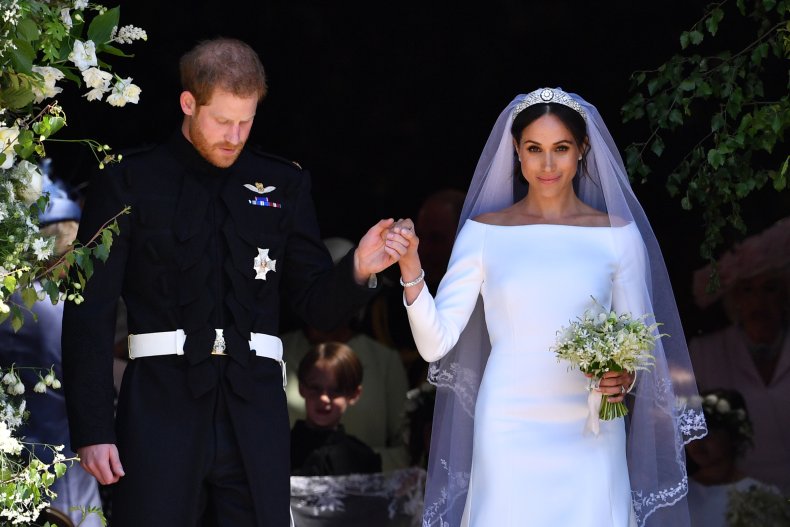 Meghan's choosing the house of Givenchy to make her wedding dress, and after that much of her wardrobe as a working member of the British royal family, was upon close inspection a fitting one. The artistic director of Givenchy at the time of the wedding was (and remains) Clare Waight Keller, a British-born designer—thus ticking off the royal expectation of princesses acting as patriotic walking billboards, and the house itself has close associations with Hollywood owing its rise to meteoric fame to one of the industry's most glamorous stars.
Meghan's Givenchy looks have come to define her royal image: strong, sleek and fiercely independent, even at the cost of going against tradition and earning criticism for the high estimated cost of each outfit. These characteristics are typical of the house which was founded in 1952, the year that Queen Elizabeth II came to the throne, by a young man with a keen eye for all things aesthetic, Hubert de Givenchy (1927-2018).
Givenchy the man came from a privileged background and was raised by his mother and grandmother following the early death of his father. As a teenager he moved to Paris and trained in the traditional practices of 1940s Parisian haute couture. After time spent honing his skills at the large fashion houses of Jacques Fath and Elsa Schiaparelli, Givenchy finally opened his own house and launched his first collection of modern designs.
It was only a year after opening that Hollywood came knocking at Givenchy's door. Though he had seen considerable success from his first collections, the designer was still largely unknown outside of Paris—that was until Audrey Hepburn entered his salon.
At first, meeting the young star was a shock to Givenchy who, when told that the actress "Miss Hepburn" would be coming to see him, expected to greet Katharine Hepburn instead.
The designer later told author Dana Thomas: "I was told that 'Miss Hepburn' was coming to look for clothes for her new movie, Sabrina. Since I loved Katharine Hepburn's style and look, I thought this was fantastic. But when the door of my studio opened, there stood a young woman, very slim, very tall, with doe eyes and short hair and wearing a pair of narrow pants, a little T-shirt, slippers and a gondolier's hat with red ribbon that read 'Venezia.'"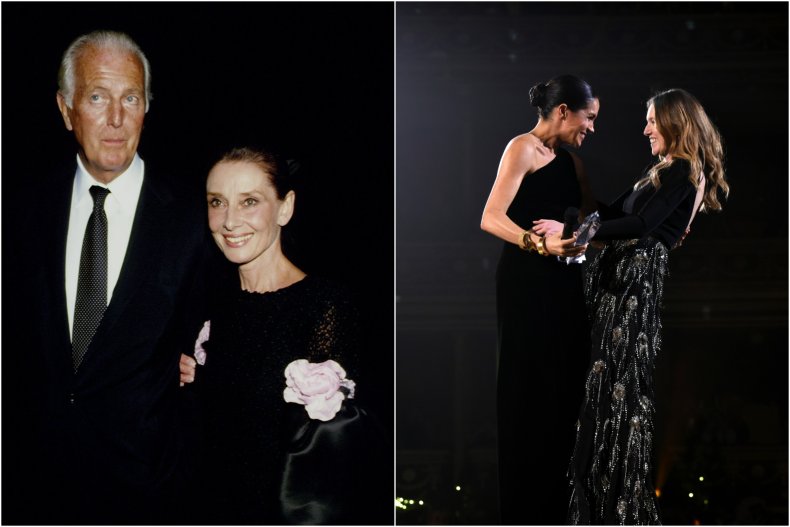 What followed was a meeting that began one of the most enduring fashion friendships ever known. Hepburn adored Givenchy's designs and the man himself.
Later in her life the star called the designer her "brother" and said of wearing a Givenchy creation: "His clothes are the only ones in which I feel myself. He is more than a designer, he is a creator of personality."
Givenchy's designs for Hepburn have gone down in history as some of the most glamorous ever captured on screen, including the iconic little black dress worn as Holly Golightly in the 1961 movie Breakfast at Tiffany's.
The key comfort for Hepburn in Givenchy's designs was the security they gave her. She once said: "Givenchy's creations always gave me a sense of security and confidence... Givenchy's outfits gave me 'protection' against strange situations and people."
It is perhaps fitting then that when the time came for Meghan, another American actress, to choose a designer for a dress that would be worn in the strange situation of a royal wedding, she should look to the source of Hepburn's "confidence."
Over the course of her time spent as a working member of the royal family Meghan debuted a succession of show stopping outfits from Givenchy. Apart from her wedding dress, Meghan entrusted the design of her first Royal Ascot outfit to the house with the resulting clean white shirt style dress staying true to the brand's founding aesthetic.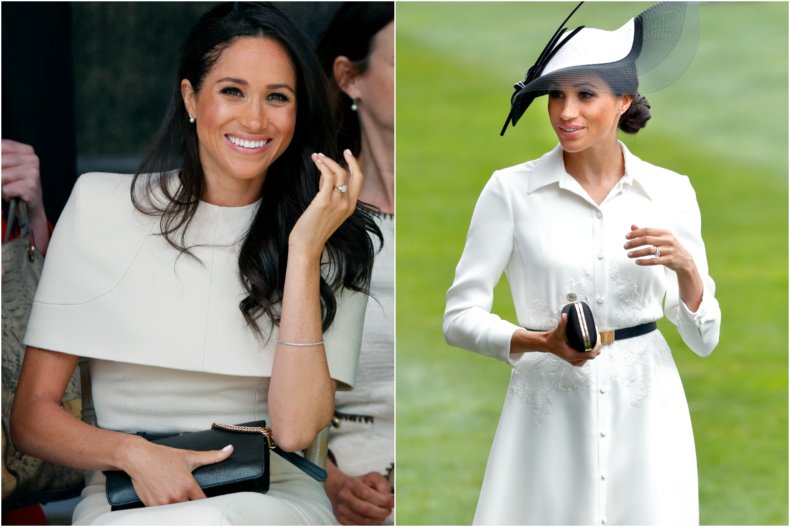 Other Givenchy highlights of Meghan's include the outfit worn during a rare solo engagement with the queen in 2018 and also an asymmetric evening gown worn to present Waight Keller with a designer of the year award at the British fashion awards.
Like Hepburn before her, Meghan has found in Givenchy a source of elegant confidence and the resulting wardrobe, which has been collaboratively curated by both client and designer, has helped Meghan to define her image as a modern-day royal with a unique and independent vision.