Kate Middleton continued her trend of rewearing statement pieces from her wardrobe instead of buying new outfits during a visit to the Disasters Emergency Committee's (DEC) London headquarters on Thursday.
The visit was made by Kate alongside husband, Prince William, to acknowledge the nearly $400 million (£306 million) raised by the committee's Ukraine Humanitarian Appeal to help families affected by the country's war with Russia.
William and Kate have an established relationship with the DEC, having visited the organization's humanitarian aid preparations at the Ukrainian Cultural Centre in London last month. It was also reported that the Cambridges made a private donation to the Ukraine appeal following the escalation of hostilities with Russia.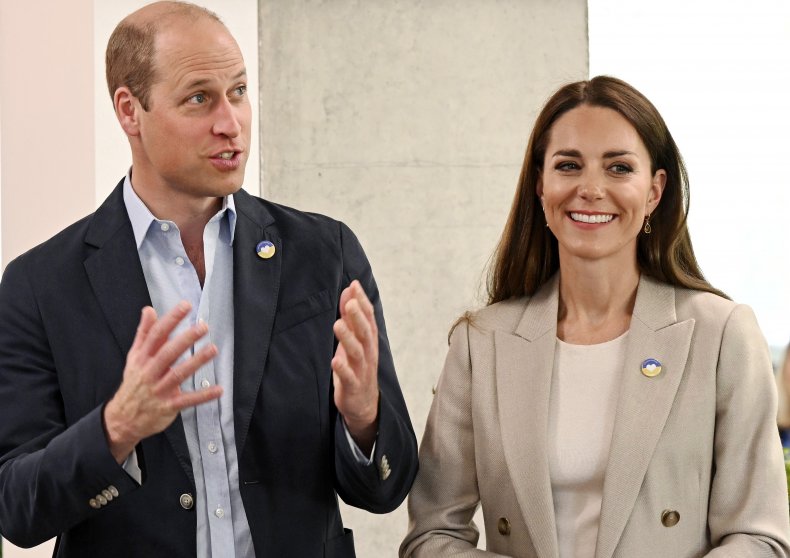 Queen Elizabeth II also made a "generous" donation to the appeal, the DEC confirmed in a tweet, which read: "Many thanks to Her Majesty The Queen for continuing to support the Disaster Emergency Committee and for making a generous donation to the DEC Ukraine Humanitarian Appeal."
Kate appeared at the London headquarters on Thursday wearing a structured beige blazer by British high street brand Reiss. This the duchess paired with a plain white undershirt and black slimline cropped trousers.
Kate, unusually, didn't pair a handbag with this look and wore a pair of black leather high heel pumps to complete the ensemble.
A special nod was made to the occasion in the form of a small button pinned to the lapel of the duchess's jacket featuring the colors of the Ukrainian flag with a white heart overlaid on top. Prince William also wore a matching button pinned to his navy blazer.
This is not the first humanitarian event outing for Kate's Reiss blazer. The duchess debuted it in September last year on a visit to Royal Air Force base Brize Norton to learn about the RAF's humanitarian mission to evacuate people from Afghanistan. On that occasion she paired the blazer with navy pants and a white blouse by the brand Jane Atelier (formerly Goat Fashion).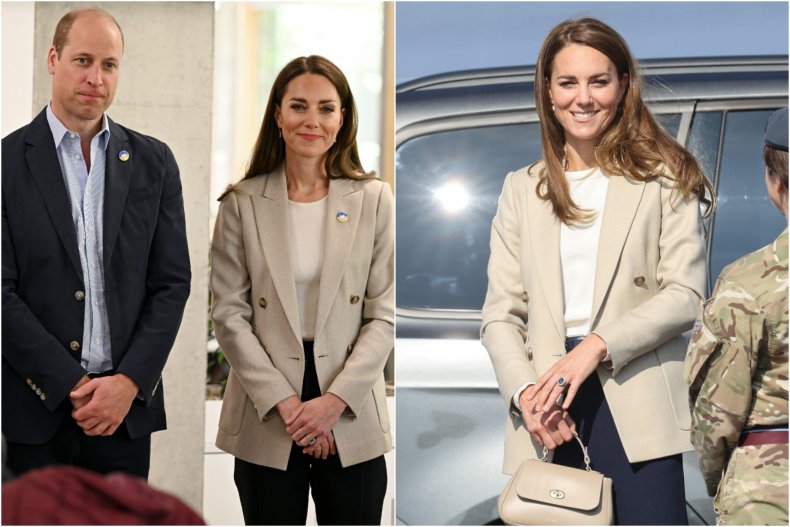 Kate has long been known for reviving outfits—sometimes bringing things back over a decade later. Last month, while in Belize, it was revealed that a striking coral colored blazer worn by the duchess had been bought by her second hand over two decades ago.
It appears that she has doubled down on her efforts to rewear items in 2022.
Last week, for the annual royal Easter Sunday service at St George's Chapel, Kate re-wore a pale blue coat dress by Emilia Wickstead, a designer she and sister-in-law Meghan Markle both favor.
In February 2022, Kate again re-wore a tried and trusted gray dress with a high contrasting collar and belt buckle detail by Catherine Walker & Co. The duchess owns many pieces from Walker & Co, a label patronized by Princess Diana, who commissioned more outfits from the company than from any other of her other designers.
The visit to the DEC London headquarters marked an important engagement for William and Kate as it is the first time the pair have been seen in public since Prince Harry and Meghan Markle paid under the radar visit to the U.K last week to visit the queen ahead of her 96th birthday.
William also finds himself in the spotlight following an interview given by Harry to NBC News' Today show during the Invictus Games in which he avoided giving an answer as to whether he missed his brother and his father, Prince Charles.
"Do you miss your brother and your dad?" Hoda Kotb asked the prince during the course of their interview.
"At the moment, I'm here focused on these guys [Invictus Games competitors] and these families and giving everything I can, 120% to them to make sure that they have the experience of a lifetime. That's my focus here," he said.
"And when I leave here, I go back, and my focus is my family, who I miss massively. Of course I do. They're two little people."
During the course of their visit to the DEC London headquarters, William and Kate heard from Saleh Saeed about the efforts the organization is making to aid the estimated 5 million people who have fled Ukraine in the wake of the ongoing war with Russia.
Speaking via video link to Ukraine, William and Kate heard how DEC distributed funds have helped charities on the ground in Kyiv, such as Save the Children.
Rachael Cummings, Health Lead for Save the Children in Ukraine said: "What the DEC funds have meant is that we've been able to significantly scale up our existing work in the country. We're building our response to providing mobile health units, trauma kits, pharmaceuticals, medical equipment, nutrition support and safe drinking water to respond to this crisis. We're particularly concerned about the devastating effect on children and these funds mean that we can ensure that children receive high quality care and support now, and in the months ahead."