Kate Middleton's Favorite Vintage Jacket Makes Royal Tour Appearance
Kate Middleton surprised followers of royal fashion on Tuesday as she left the country of Belize to embark on the second stop of her Caribbean tour with Prince William. The royal appeared at Belize's Philip S. W Goldson International Airport wearing a stunning red Yves Saint Laurent jacket which Kate has had in her wardrobe for over 20 years.
As the duchess made her way to the U.K. government's plane, RAF Voyager, on Tuesday, royal reporters traveling with the Caribbean tour were told of the striking outfit's provenance. The jacket by Yves Saint Laurent was purchased by Kate when she was a student at university.
Known for her sustainability when it comes to her wardrobe, often rewearing pieces a decade apart, Kate's Yves Saint Laurent jacket was presumably sourced in Scotland during her course of study at the University of St. Andrews. It was at the university that Kate first met and began dating William.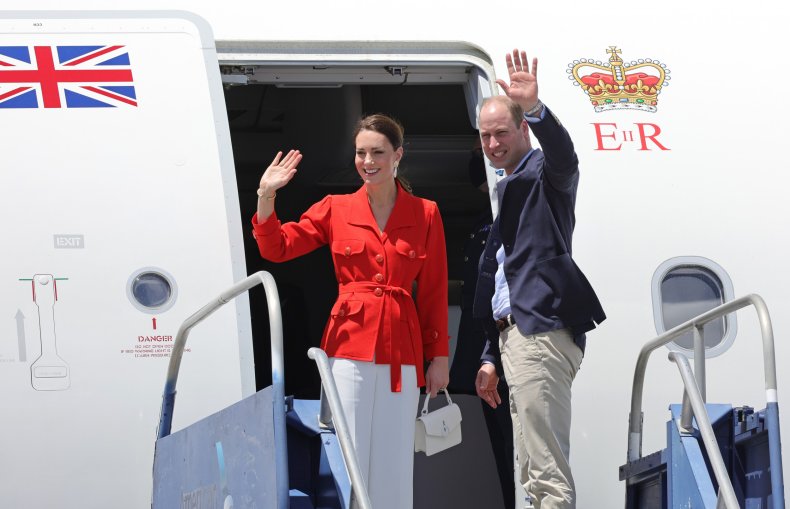 The duchess paired the 1940s line box jacket—thought to date from the 1980s—with a pair of white flared trousers, white and gold Aquazzura high heels and a small white handbag from British brand Mulberry.
Though Kate is known for her sustainable mindset when it comes to clothing, it is rare to see her buy and wear vintage pieces. This comes into contrast with the ideal that was followed by royal women during Princess Diana's lifetime that part of their purpose of going on tours was to act as a billboard for British fashion.
Kate, however, has blended her wardrobe on this tour with brand new show-stopping outfits such as the glittering topaz pink dress worn to the final evening reception in Belize, and vintage pieces including the YSL jacket.
The jacket has not been the only example of vintage worn by Kate so far on this ongoing tour. When she visited Trench Town in Jamaica, the birthplace of reggae music, Kate wore a printed vintage sundress thought to date to the 1950s.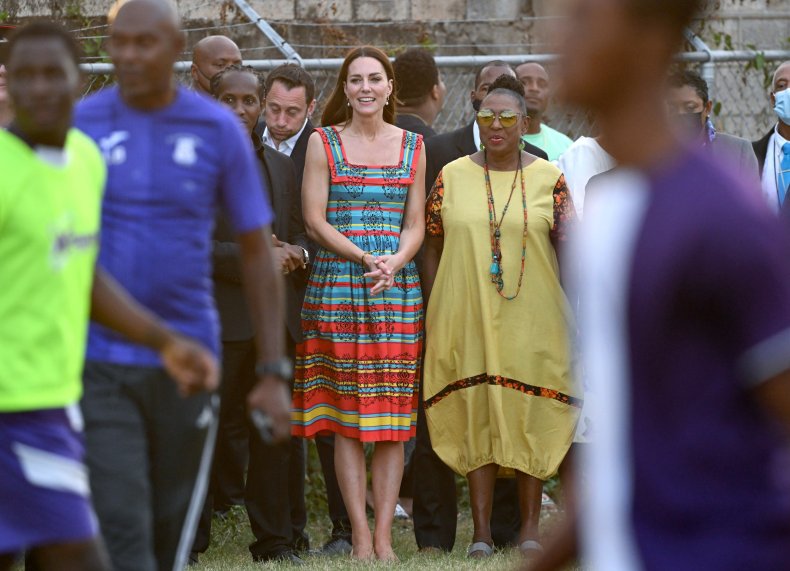 The Daily Mail reported that the coral and turquoise printed dress had been bought from British vintage retailer Willow Hilson Vintage after matching the design to one sold recently on their website. The listing by the retailer shows that Kate has had the dress slightly altered to make it more appropriate for a royal tour. The original design had spaghetti straps and came with an accompanying shawl made from the same textile as the dress. It would appear that Kate has had material from the shawl incorporated into the neckline of the dress creating two wider bands of shoulder straps.
Royal tours present unique wardrobe demands for royal women and though Kate may have over a decade of practice, not one visit can be treated like another. During this tour, where the couple will visit initiatives relating to William's environmental awards The Earthshot Prize, it is therefore appropriate for Kate to show that she is thinking environmentally about what she wears.
The Cambridge's Caribbean tour began with a three day visit to Belize before moving onto Jamaica and is scheduled to end in the Bahamas on Saturday. The tour, planned to celebrate Queen Elizabeth II's Platinum Jubilee, has so far come across anti-colonialist protests in both Belize and Jamaica, though the royal couple has received a warm welcome from both nations.