Kate Middleton Strides Onto Royal Tour in Meghan Markle's Favorite Footwear
Kate Middleton made a dazzling debut in Jamaica on Tuesday, wearing a sunshine yellow dress by British brand Roksanda and a pair of towering high heels from Meghan Markle's favorite shoe designers.
Kate teamed her elegant dress with a pair of Aquazzura's 'Cece' 105 pumps which feature a four-inch heel, white pointed toe box and gold accent cutouts.
The Florence-based luxury footwear company is one of Meghan's go-to designers with the duchess owning multiple pairs in the same style across a range of colors and materials.
Meghan walked into her role on the royal world stage in a pair of Aquazzura criss-cross nude suede heels worn for her engagement photocall with Prince Harry at Kensington Palace in 2017. Since then she has worn various designs from the brand for public engagements.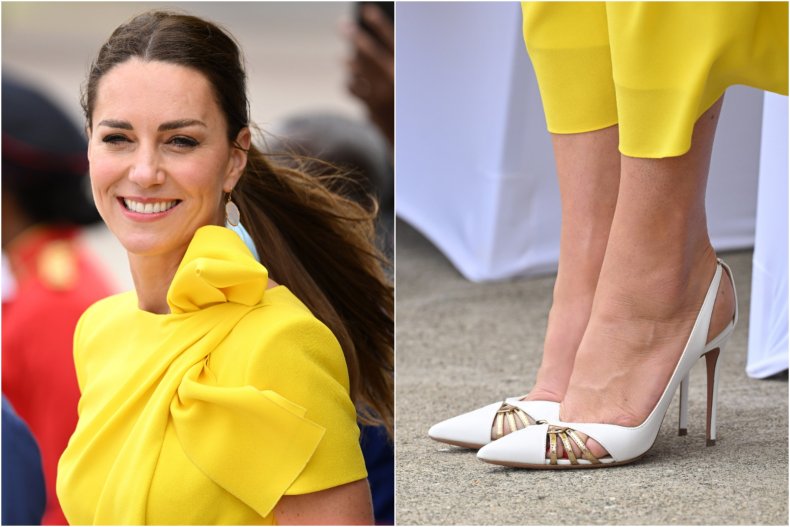 Most recently Meghan wore a pair of Aquazzura's 'celeste' crystal embellished leather sandals with a custom Christopher John Rogers evening dress to the NAACP Image Awards in February.
This is not the first time that Kate has looked to Meghan's go-to shoe brand for inspiration. At a reception for G7 leaders in 2021, Kate wore a pair of Meghan's favorite style Aquazurra heels.
This style has become synonymous with Meghan, the royal having worn them on multiple occasions in different colorways and even having a flat version worn to a baseball game.
Kate's usual one-stop-shop for her event footwear is British brand Jimmy Choo. She is known to favor the 'Romy' classic pump, owning it, like Meghan, in multiple variations.
For her Caribbean tour with Prince William, Kate has debuted a range of new shoe styles including a metallic Jimmy Choo sandal worn on the last night of her visit to Belize and a pair of Superga sneakers worn on a trip to see ancient Mayan ruins.
The duchess landed in Jamaica on Tuesday amidst a growing protest in the town of Kingston regarding the monarchy's role in the slave trade and a call for reparations to be paid to their descendants on the island.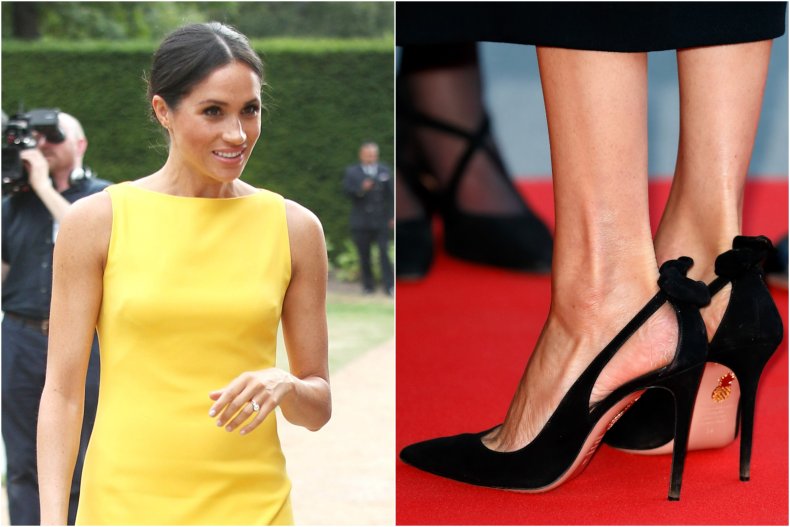 This protest follows a wave of discontent felt by islanders over accusations of racism made by Meghan Markle against an unnamed member of the royal family in her 2021 interview with Oprah Winfrey.
Despite a statement released by Buckingham Palace in the wake of the broadcast stating that it was taking the accusations "very seriously," prominent Jamaican lawyer Bert Samuels told Newsweek: "The Jamaicans are very hurt by the treatment of an African American woman in that family...That's a strong issue and that's a fresh wound."
William and Kate are due to spend three days in Jamaica during which time they will learn about the island's response to COVID-19 and attend an official reception hosted by the Governor General.
The couple will then leave Jamaica on Thursday to move onto the final leg of their tour in the Bahamas.
Kate's fashions are being closely watched on her tour as she undertakes visits with increasing cultural and political importance.
Recently, Kate has learned to pay tributes through her clothes to her host nation, which is widely positively received. Whether or not there is any intention or symbolism in Kate's wearing a brand so closely tied to Meghan, it is a reminder of the parallels between the two royals as they move onto new phases in their working royal lives and the roles their wardrobes play in them.