Kate Middleton's Jewel Tone Glamor on Final Day of Belize Tour
Kate Middleton dazzled on the last night of her three-day visit to Belize with Prince William, marking Queen Elizabeth II's platinum jubilee celebrations.
To the Monday evening reception hosted by the Governor General of Belize at Cahal Pech, the site of ancient Mayan ruins, Kate wore a glittering evening gown by brand The Vampire's Wife in a topaz pink jewel tone, which caught the light as night fell on the ancient site.
Kate has worn The Vampire's Wife designs before on royal tours—she wore a sparkling cocktail length dress to an evening reception on her visit to Ireland in 2020 with Prince William.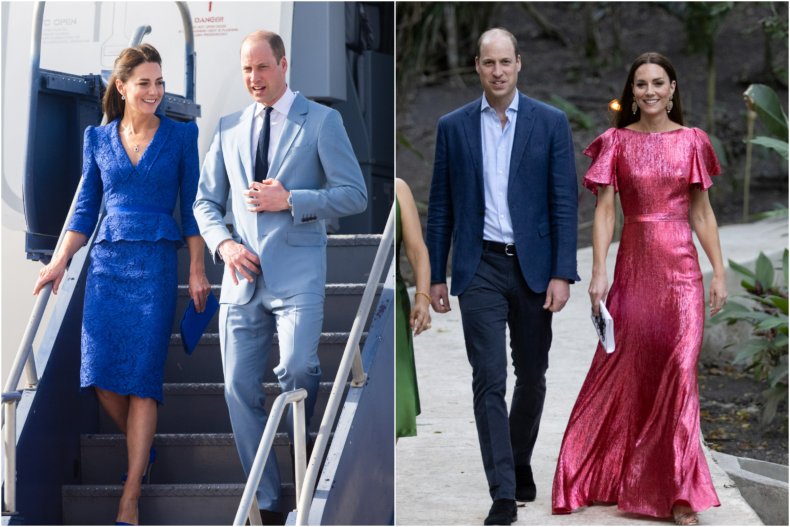 The duchess has an eye for a sparkle, as has been evident in a range of her recent evening wear choices. To the royal premier of the latest James Bond film No Time To Die in 2021 Kate caused a stir in a bejeweled Jenny Packham gold dress with a long dramatic cape.
The choice for the Belize dinner was more practical, and Kate paired her dress with a statement white embroidered clutch bag, large drop earrings and a pair of silver Jimmy Choo sandals.
British luxury footwear designer Jimmy Choo is known to be Kate's favorite shoe brand and she has many pairs of the same trusted style in multiple colorways.
At the reception, William gave a speech in which he thanked his hosts. He said: "Catherine and I have been deeply touched by the warm welcome Belizeans have given us. We only wish we could have stayed longer. Now we know why Belize is so lovingly referred to as 'The Jewel.' We hope to return again soon, and to show our children this wonderful country. They are rather jealous that they are not here with us now!"
The Caribbean tour started in Belize and will move onto Jamaica on Tuesday before making a final visit to the Bahamas on Thursday.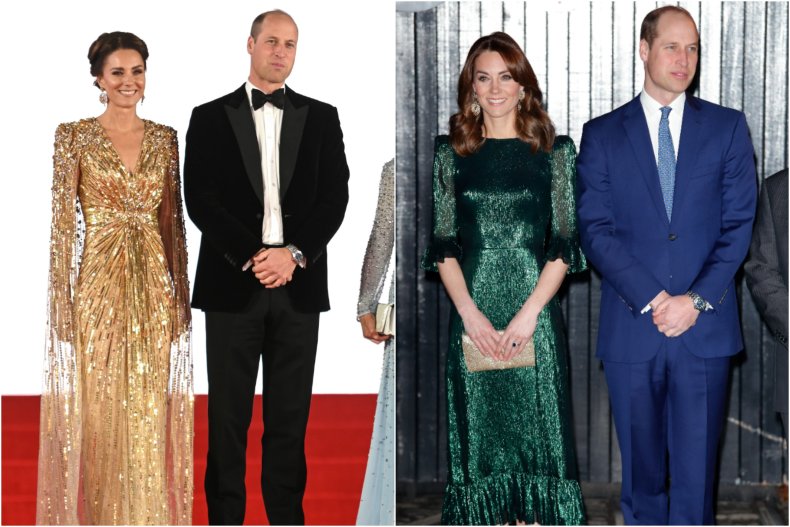 Kate chose a conservative Jenny Packham blue lace suit with matching accessories to begin the tour as the royal couple landed amidst a protest staged by Belizean locals in Indian Creek.
The community took issue with the royal visitors' planned landing site of a helicopter on the second day of the tour. Quick rearrangements were made and the royal's visit was moved to another location.
After this protest, the first of the tour with another planned on their arrival in Jamaica at the British High Commission, Kate relaxed her dress code and wore a printed summer dress by the brand Tory Burch for a visit to a cocoa producer.
The third day of the visit (before the final dinner hosted by the Governor General) saw William and Kate visit Caracol, Belize's largest Mayan archaeological site. As they toured the site, Kate wore a relaxed outfit of green cargo pants and white cotton t-shirt. Both William and Kate accessorized their outfits with stylish sunglasses.
Kate's royal tour wardrobes attract a lot of attention and she is aware of the symbolism and emotion that can be attached to what she wears.
On the tour of Belize, Kate paid tribute to her host nation by wearing a shade of blue reminiscent of Belize's flag, or it could have also been a reference to the beautiful blue waters the country's coastline is famous for.
As the royal tour advances to its second and third legs, royal watchers will have many more opportunities to study what Kate wore, and just how it contributes to the overall success of her visits.