Kate Middleton Upholds Easter Tradition of Rewearing Past Outfits to Church
Kate Middleton upheld her own tradition of rewearing statement pieces from her wardrobe for the annual Easter Sunday church service at St. George's Chapel, Windsor Castle this weekend.
The service was noted for the absence of Queen Elizabeth II who, it was announced last week, was "not expected to attend." The monarch, who will turn 96 on Thursday, has reduced her number of public appearances in the wake of recent health scares and increased mobility issues. The last appearance the queen made in public was for the service of thanksgiving for Prince Philip—held at Westminster Abbey—which saw her face criticism for being accompanied by Prince Andrew.
The Easter Sunday service at St. George's Chapel, Windsor is a long held royal family tradition and is a favorite among royal watchers for the opportunity it affords to see extended members of the royal family all gathered together. It also provides followers a chance to see a formal royal fashion parade as the family walk together to the service from the castle.
The Duchess of Cambridge has attended each year's service since 2017, before that having been on public or private visits elsewhere. Since this first appearance, Kate has used the occasion as an opportunity to rewear pieces from her existing wardrobe instead of debuting an entirely new outfit.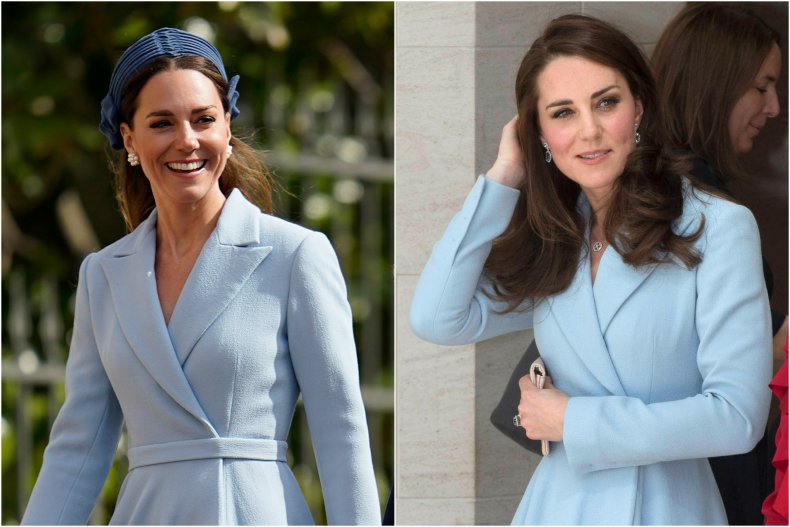 To this year's service, the duchess wore a blue coat dress not seen since 2017, designed by a favorite designer of both Kate and sister-in-law Meghan Markle, Emilia Wickstead.
Kate first wore the coat dress on a visit to the Grand Duchy of Luxembourg in 2017. For the 2022 outing though, the look was updated with a blue pleated headdress made by milliner Jane Taylor, which was first worn by the duchess in 2019.
Kate is well known for her practical rewearing of clothing from her wardrobe, sometimes more than a decade apart. On her recent tour of the Caribbean, the duchess wore a vintage Yves Saint Laurent jacket which was revealed to have been in her wardrobe since she was a student.
The motivation for rewearing clothing appeals to more than just the duchess' sense of economy. Together with Prince William, Kate is known to have a keen interest in the environment and rewearing pre-existing clothing, either commissioned by herself in the past or purchased through vintage resellers, helps to cut down on her personal carbon footprint.
Prince William recently appeared on the Climate of Change podcast with Cate Blanchett and said that he had "a lot of hope" regarding the environmental future of the planet following his meeting with Earthshot prize finalists, including a visit made to a coral reef project with Kate on the couple's recent Caribbean tour.
On the tour Kate wore more pieces of vintage clothing consecutively than on any other program of engagements. One of the retailers of her vintage buys, Willow Hilson, told Vogue: "I think she's really trying to be an advocate for reusing and being [more] sustainable. There are still so many people who would never wear second-hand—she can encourage people to be a bit more savvy with their fashion and look for older pieces."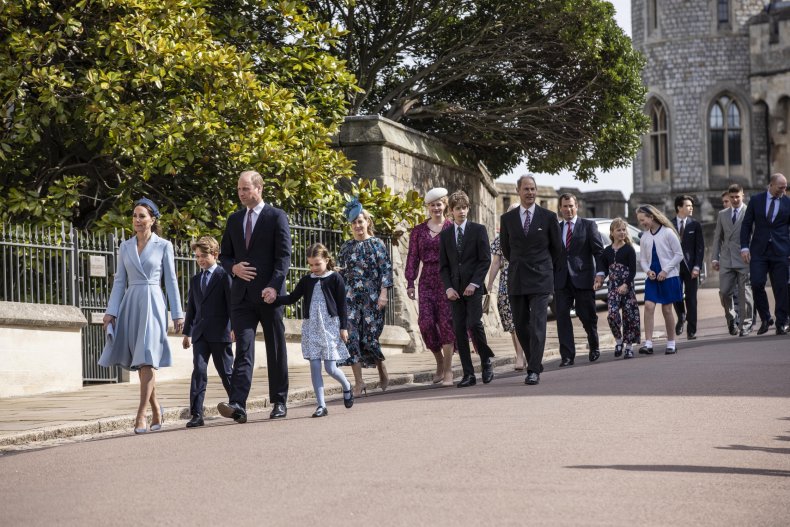 William and Kate led members of the royal family with their children Prince George, 8, and Princess Charlotte, 6, for the Easter Sunday church service at St. George's Chapel this weekend, acting as the most senior members of the family in attendance. Also there were the queen's youngest son Prince Edward and his wife Sophie, Countess of Wessex, as well as Princess Anne's showjumper daughter Zara Tindall and the queen's niece—Princess Margaret's daughter—Lady Sarah Chatto and her family.
Prince Harry attended the service annually as a child and most recently in 2019. This year's service followed the private visit of the prince with Meghan Markle to the queen last week as the couple made their way to the Netherlands for the Invictus Games.