Queen Elizabeth II Faces Down Royal Storm That's Partly of Her Own Making
Queen Elizabeth II's memorial service for Prince Philip was plunged into scandal when she let Prince Andrew play a starring role—just days after Prince William and Kate Middleton's tour was hit by crisis.
The Duke of York recently settled a sexual abuse lawsuit brought by Jeffrey Epstein victim Virginia Giuffre, who accused him of raping her when she was 17 in the early 2000s. He denied wrongdoing.
However, he walked his mother into Westminster Abbey on March 29 for her biggest public appearance since a health scare torched her schedule in October and during a year that was supposed to be a celebration of her Platinum Jubilee.
Andrew's appearance had been expected, two separate sources told Newsweek prior to the event, because Philip was his father and a son has the right to grieve.
However, the leading role the disgraced prince played, offering his elderly mother an arm in case she needed support, was a surprise.
Prince Andrew as 'The Stain'
The front pages made grim reading for the royals not only due to the condemnation of the decision, but also because anonymous briefings to some of Britain's biggest news outlets paint a picture of royal divisions.
The Daily Mail front page headline read: "Royals 'dismay' at Andrew role in Philip service." The Daily Mirror ran with: "The Pain... & the stain."
A strapline on the front of the Daily Express read: "Her Majesty's public display of forgiveness by allowing Andrew to escort her at Prince Philip's memorial causes tensions."
Many contain anonymous briefings from sources, some of which Newsweek is yet to verify, but the picture painted is not one of unity.
And Newsweek understands there was push-back against Andrew's role from senior royals, including Prince Charles.
Criticism of Prince Andrew's role in Philip's memorial was rife in Britain, if there was any debate it was over who was to blame, the Queen or Andrew himself.
Robert Jobson, author of William At 40: The Making of a Modern Monarch, told Newsweek: "People are getting guidance on a narrative that's very simplistic.
"They're suggesting that the Queen was bullied by this disgraceful evil Prince Andrew into making her do what she did. He didn't do that.
"He was asked to do it. And he said he would serve what he was asked to do. He didn't put himself forward, the Queen wanted him to do it."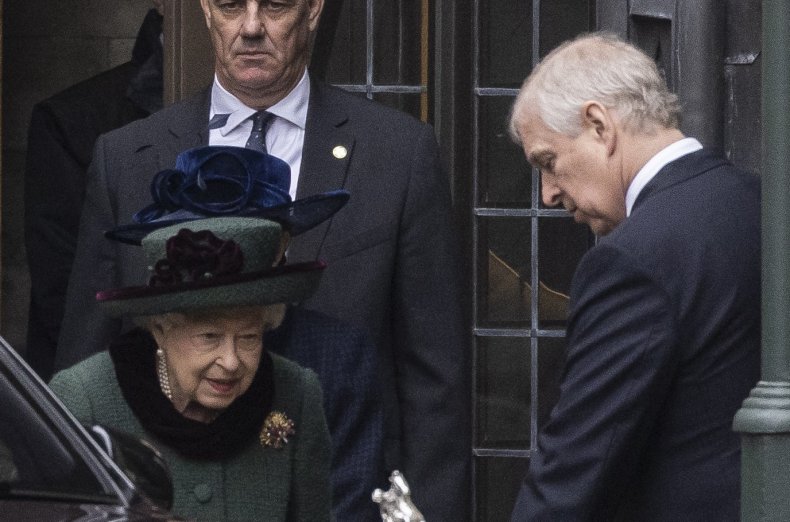 Prince William and Kate Middleton's Difficult Tour
And it all came just two days after William and Kate flew back from a tour of the Caribbean in which two out of three destinations expressed a desire to scrap the monarchy and there were protests in the third.
The visit to Jamaica, Belize and The Bahamas ended on a philosophical note for William, who released a rare public statement acknowledging he may never be head of the Commonwealth.
Acknowledging republican movements, a statement on the Twitter account he shares with Kate said: "In Belize, Jamaica and The Bahamas, that future is for the people to decide upon.
"But we have thoroughly enjoyed spending time with communities in all three countries understanding more about the issues that matter most to them."
William added: "Catherine and I are committed to service. For us that's not telling people what to do. It is about serving and supporting them in whatever way they think best, by using the platform we are lucky to have."
Britain's newspapers were again full of anonymous source quotes pointing to a new era in which William would do things his way, ditching the royal family's famous "never explain, never complain" policy.
Peter Hunt, a former BBC royal correspondent, wrote on Twitter: "It goes without saying that this briefing will have irritated Prince Charles.
"It's focus on Prince William's reign may encourage fresh calls to skip a generation when the time comes—which will further irritate Charles."
Jobson said: "I did think that by saying he's going to have half the staff that he was suggesting that Prince Charles was somewhat hampered, maybe Prince William should wait until he is the Prince of Wales to know what the score is."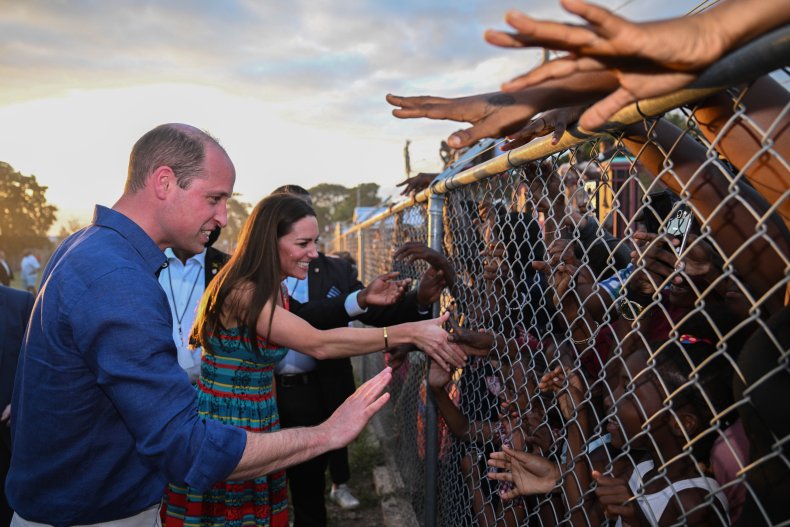 The Future of the Monarchy
And it follows a cover story in People magazine in September proclaiming Prince William the new leader of the monarchy.
The article, by acclaimed historian Robert Lacey, author of Battle of Brothers, may ordinarily not have raised eyebrows except that Prince William then gave an exclusive interview and pictures to the magazine a few weeks later.
The move suggested he was, at the very least, not angry about the magazine's suggestion.
Any hint that William might be pushing towards poll position took a dent, however, at the arrival of Elizabeth's Platinum Jubilee year in February.
The Queen used a rare public message on the eve of the 70th anniversary of her accession to definitively answer several long debated questions about the future of the Monarchy after she is gone.
The 95-year-old head of state expressed a desire for Camilla, the Duchess of Cornwall and William's step mother, to be given the title Queen Consort when Charles was king in a victory for the Prince of Wales.
The previous palace policy was that she should be Princess Consort out of respect for William and Harry's mother Princess Diana.
However, the Queen also expressed in stark terms that Charles would be her successor, ruling out a much-debated skip straight to William, and that she would also not step aside early for her son.
The reign of King William, in other words, was pushed further down the tunnel.
That public message makes the briefings in British newspapers at the end of a tour in which William and Kate were accused of colonialism all the more striking.
If William and Kate had felt under pressure coming home from an overseas jaunt defined by awkward photo ops and a tense discussion with Jamaica's prime minister about "independence," it did not take long for the news agenda to move on.
For more royal news and commentary check out Newsweek's The Royal Report podcast: