Ten Times The Royals Wore Their Sunday Best on Easter
Traditionally on each Easter Sunday a special church service is attended by members of the royal family who are invited to Windsor Castle by Queen Elizabeth II.
Over the past two years, owing to the COVID-19 pandemic, the service has not taken place in the form that it usually would. Though it has not been announced whether the royal family will attend a service this year, especially given the queen's recent mobility and health issues, past years have afforded an opportunity for those present to dust off their Sunday best in a respectful yet fashionable way for the special occasion.
Here Newsweek looks at ten time the royals wore some truly memorable Easter fashions:
Princess Diana, Easter 1987
Never one to disappoint the sartorially-minded onlooker, Princess Diana wore some of her most memorable daytime looks for the Easter Sunday service at St George's Chapel. In 1987 she even included Prince William in the fun.
For her appearance at the service Diana wore an elegant pale blue coat with white piping and statement buttons by her friend and favorite designer, Catherine Walker. To match her, Diana dressed four-year-old William in a coat of the same color with white piping and a peter pan collar.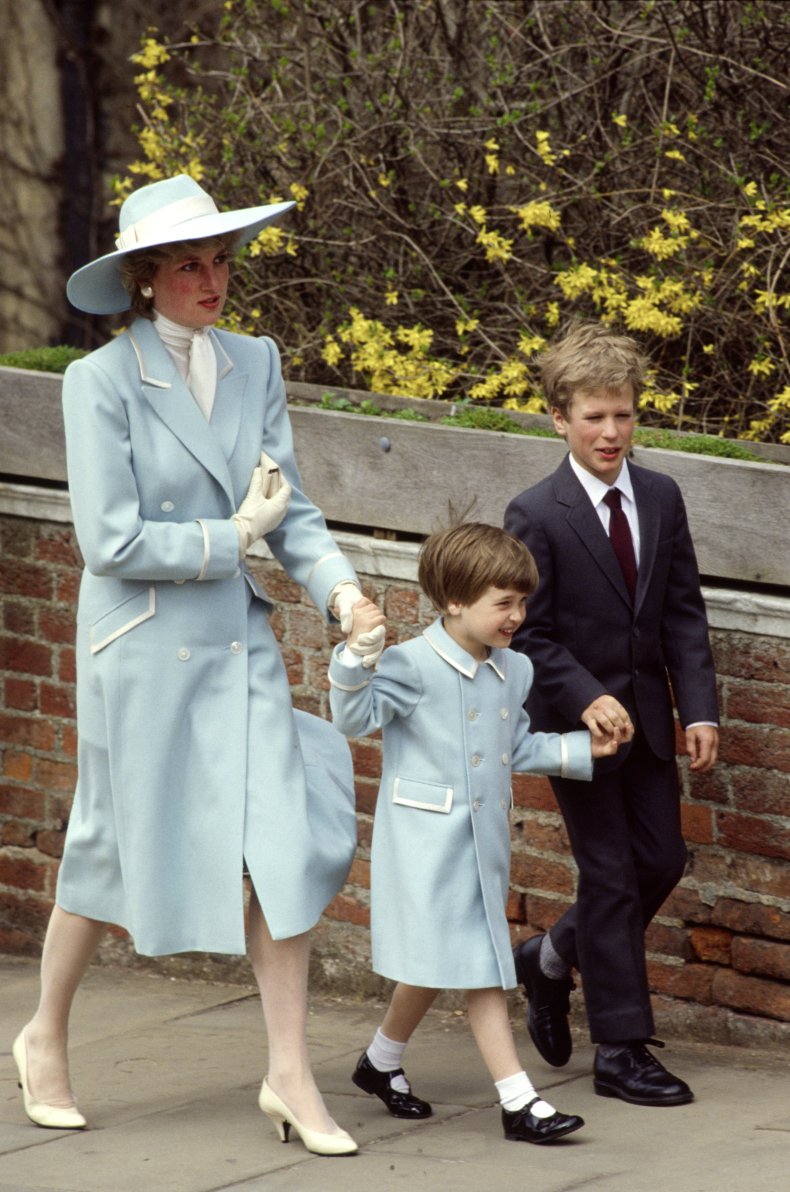 Princess Diana, Easter 1991
Easter 1991 saw Diana wear one of her most trusted styles, the coat dress. In that year her outfit was designed by Catherine Walker in a pink and white checked pattern with large statement gold and pearl buttons. To accompany the outfit the princess wore a large brimmed matching hat with a delicate fringe of veilling.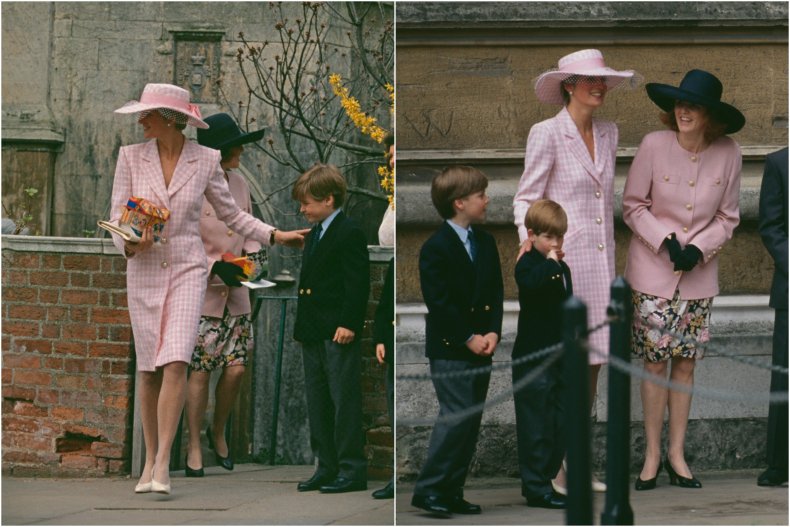 Queen Mother, Easter 1992
The Queen Mother often appeared at royal events in important jewelry and imposing embellished dresses. For the Easter Sunday service at St George's Chapel in 1992 though, the nonagenarian appeared in a vibrant red coat under which highlights of her floral patterned day dress could be seen. The Queen Mother was rarely seen during the day without a hat and this year she matched her coat with one of her favored wide-style designs. Prince William was photographed this year touchingly assisting his great-grandmother up the chapel steps to her car.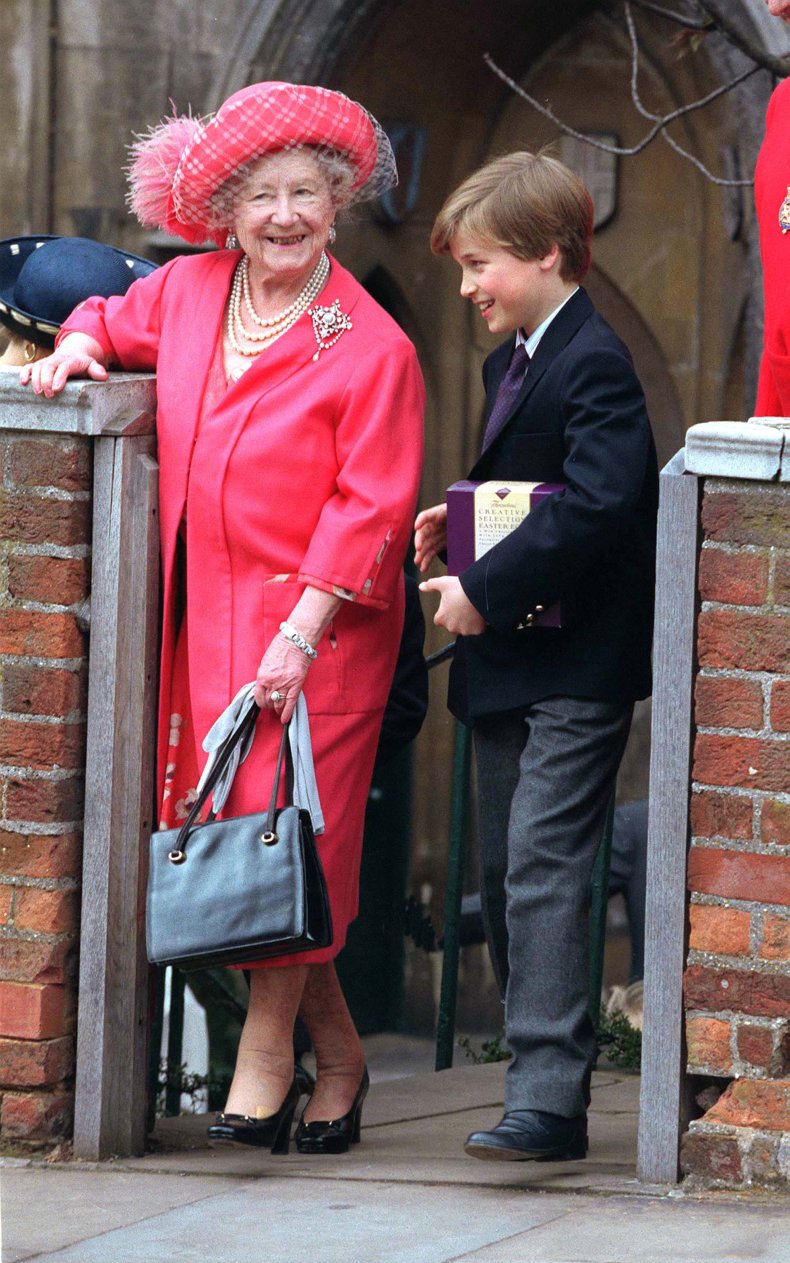 Princess Diana, Easter 1992
Princess Diana attended the Easter Sunday service in 1992 wearing a flattering longline blazer in primrose yellow over a matching pleated skirt with contrasting navy hem. The princess wore a matching hat with yellow piping and was seen laughing with her two sons, William and Harry, following the service.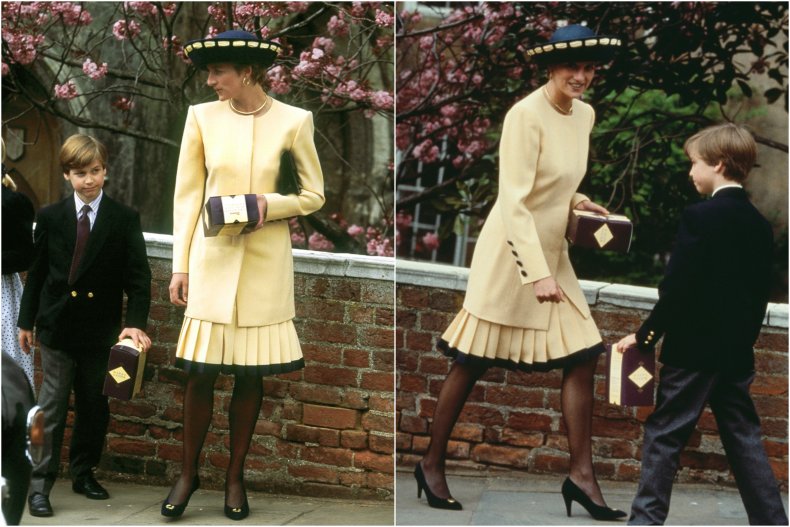 Sophie Wessex, Easter 2012
Sophie, Countess of Wessex is married to the queen's youngest son Prince Edward. The queen is very close to her daughter-in-law who lives close by to Windsor Castle and she is often included in events such as the Easter Sunday celebrations. In 2012 Sophie wore a shocking pink outfit with asymmetric pleated detailing along the front. She paired the ensemble with a large matching hat and appeared alongside her daughter, Lady Louise Windsor, who was a bridesmaid at Prince William and Kate Middleton's wedding in 2011.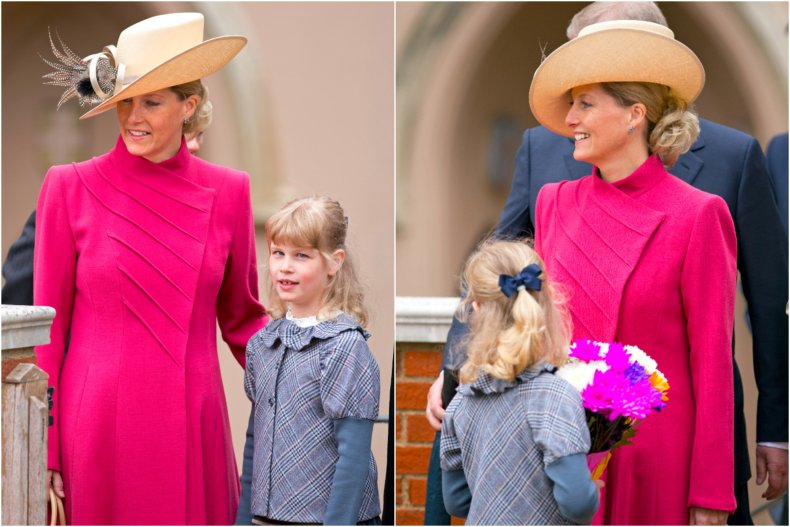 Princess Anne, Easter 2015
Princess Anne, the queen's only daughter, often attends the Easter Sunday service with her mother and is known for her interesting fashion choices—sometimes wearing dresses and coats decades apart. To the Easter service in 2015 the princess wore an elegant boucle tweed coat with a matching dress and statement diamond brooch.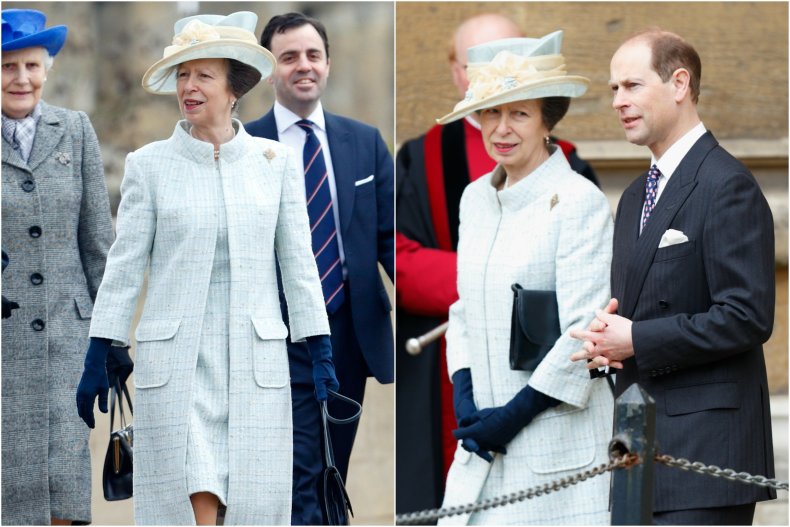 Kate Middleton, Easter 2017
Kate Middleton did not start attending the Easter Sunday services until 2017. Before then she had either been on foreign visits or private engagements. For her first year at the Windsor service the duchess wore a chic Catherine Walker coat dress, which can be viewed as a subtle yet touching tribute to Princess Diana, and a pillbox style hat in a matching shade of cream with a champagne silk border.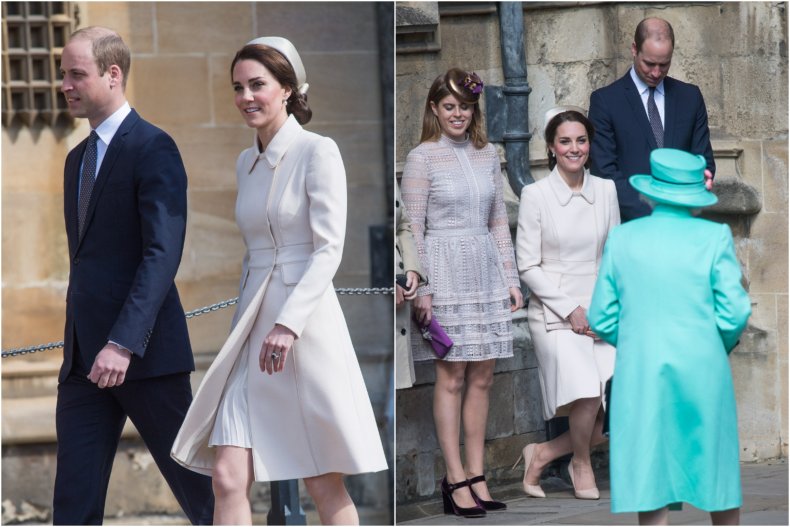 Queen Elizabeth II, Easter 2018
The queen is the standout star of the Easter Sunday celebrations at Windsor Castle and has adapted her style of dressing over her 70-year reign to ensure that whether she is in a crowd of 10 or 10,000 she is instantly recognizable.
For the 2018 service the monarch wore a purple coat with contrasting printed floral dress beneath in the same vein as the Queen Mother. Pinned to her coat the queen wore an antique diamond and pearl brooch, which she began wearing in the earliest years of her reign in the 1950s.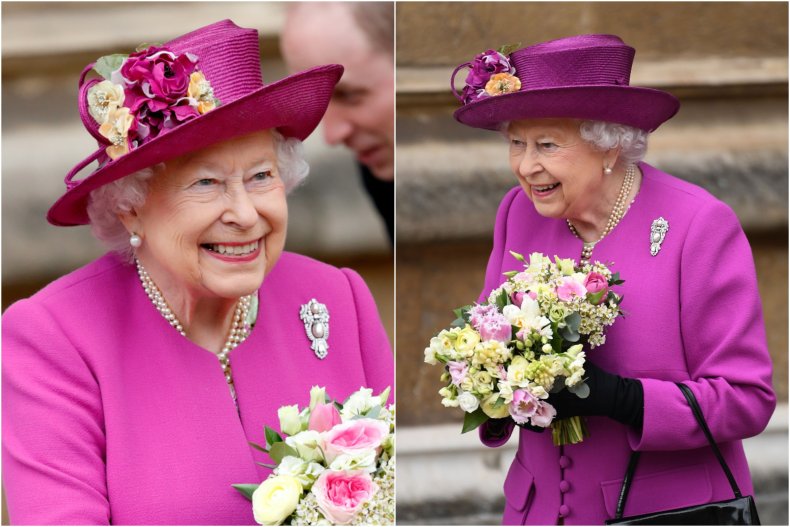 Queen Elizabeth II, Easter 2019
To her most recent Sunday service appearance the queen wore a blue silk coat with a shocking pink dress. The monarch also wore an important brooch from her collection made in the form of a basket of flowers. She was given this brooch by her father when she gave birth to Prince Charles and she has worn it regularly since.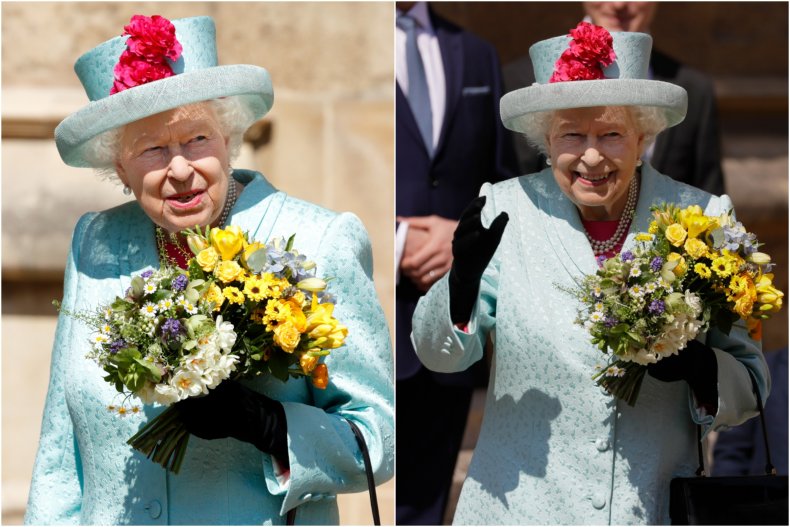 Kate Middleton, Easter 2019
To the 2019 Easter Sunday service Kate Middleton re-wore an outfit she had debuted at another Easter service in New Zealand in 2014. The dove gray coat dress was made by the designers of her wedding dress, Alexander McQueen, and the duchess paired it with a hat by Jane Taylor. In another nod to her wedding, Kate also wore the earrings which had been a present to her from her parents and which she wore on her big day in 2011.