Prince William Guests on Rival Podcast Platform to Harry and Meghan
Prince William has appeared as a guest on Cate Blanchett's new podcast Climate of Change which is hosted by Amazon's audio streaming platform, Audible. The platform is a rival of the streaming giant Spotify, which signed a multi-million dollar podcasting deal with Prince Harry and Meghan Markle in 2020.
William's guest appearance on Blanchett's show, co-hosted by eco-entrepreneur Danny Kennedy, comes weeks after Meghan announced that her podcast Archetypes would debut on Spotify this summer.
Both Blanchett and Kennedy are involved with William's Earthshot prize, which was launched by William in 2020. It is the most prestigious environmental prize in the world, aiming to incentivize and fund impactful change in relation to climate change and other planet-damaging human activities.
Speaking to Blanchett, William opened up about where his environmental passions stem from. "I think watching a lot of documentaries particularly David Attenborough—I think at a young age that really piqued my interest," he explained.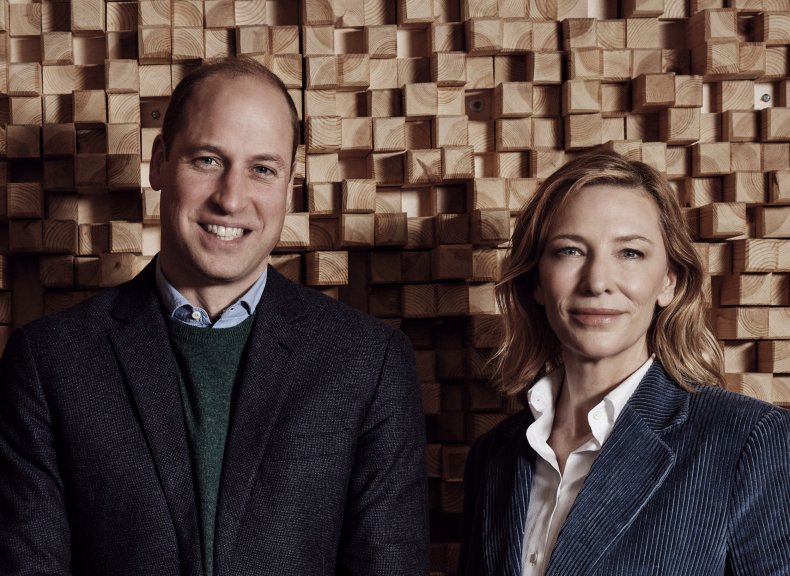 He also paid tribute to his grandfather, Prince Philip, whose memorial service he attended at Westminster Abbey in March. "My grandfather and my father both having a deep passion and interest in this area for many years has piqued my interest and curiosity," he said.
"Growing up I was surrounded by this adventure and this idea of exploring and of being out in the garden. I used to spend hours climbing trees, digging ditches and hiding in dens and all sorts around the garden. I used to love being out in the wild and the wet.
"The big moment for me that I look back on now as sort of a turning point was when I had some time off after school and before university when I went off in my gap year to Kenya and I spent some serious time 'in country' understanding from the experts out there quite what the challenges were. Meeting local people, seeing how they lived with the wildlife and you start to learn a bit about that."
William's discussion of his background in conservation and environmentalism led to his highlighting the work of Earthshot prize 2021 winners and finalists. These included Vidyut Mohan—who has developed technologies to reduce air pollution in India—and the team behind Living Seawalls, an initiative to introduce wildlife-friendly habitats along man-made marine boundaries.
On the latter, William suggests that they could be introduced worldwide. "Why couldn't you put living sea walls all up and down the Sydney Harbor?" he told Australian-born Blanchett and Kennedy, or "the Thames here, why not do it in the Thames. It's really easy to do, it's not a sore on the eye, it's underwater, it's there, it'll do a fantastic job and the science behind it is simple but effective."
Looking ahead the prince also made reference of his intention to host the 2022 Earthshot prize awards in the United States—the country which his brother Harry and sister-in-law Meghan have made their permanent home since stepping down as full-time working members of the royal family.
"It's all channeling and building up towards the end of this year," William told Blanchett and Kennedy. "It's going to be in the U.S.—we haven't quite decided where it goes."
At the end of the podcast Blanchett noted that the prince seemed "incredibly hopeful" about the future. He responded: "To coin Christiana Figueres' phrase, 'stubborn optimist' I think is sort of where I'm feeling quite like I'm at, at the moment. She's given me a lot of hope that this can happen."
The prince guest stars in the second episode the Climate of Change podcast, which states it aim is to explore "eco-anxiety and optimism" in the face of the global environmental crisis.
Meghan's first solo podcast, Archetypes, is scheduled to be released through Spotify this summer and will focus on the labels that are applied to women in modern-day society.