Prince William stepped outside his normally safe public routine to promote his flagship project—echoing the style of Prince Harry and Meghan Markle.
The Duke and Duchess of Sussex sparked criticism during their time as working royals as well as after they quit but also drew significant attention.
As Newsweek revealed, Harry and Meghan generated more mentions in a single day in September than William and Kate did all month.
Now Prince William and the royals appear to be stepping on more controversial terrain in an effort to stake their names to the climate change debate.
The Duke of Cambridge is hoping to encourage solutions to climate change with his annual Earthshot Prize, nicknamed the eco Oscars.
And with it, he has dipped his toe into the kind of symbolic posturing that often earned the Sussexes accusations they are "woke" or hypocritical.
William told the audience on Sunday: "For too long, we haven't done enough to protect the planet for your future. But Earthshot is for you. In the next 10 years, we are going to act. Keep learning, keep demanding change, and don't give up hope."
The Earthshot Prize Awards
The Earthshot Prize Awards event Sunday had a green carpet instead of a red carpet, plant-based canapés and paperless script editing.
Guests were told not to fly in for the event, meaning fewer international names posing for arrival pictures and a subtle dig, perhaps, at Prince Harry's use of private jets.
Coldplay's performance was also powered by electricity from 60 cyclists.
Guests local enough to be there in person were also told not to buy new outfits for the awards and instead focus on recycled or upcycled clothing.
Prince William's own green velvet jacket was one he wore to a charity gala in 2019 only this time paired with a black polo neck jumper creating a look it is difficult to imagine older generations of the royal family ever pursuing.
Kate Middleton re-used an Alexander McQueen gown she first wore on a visit to Los Angeles in 2011.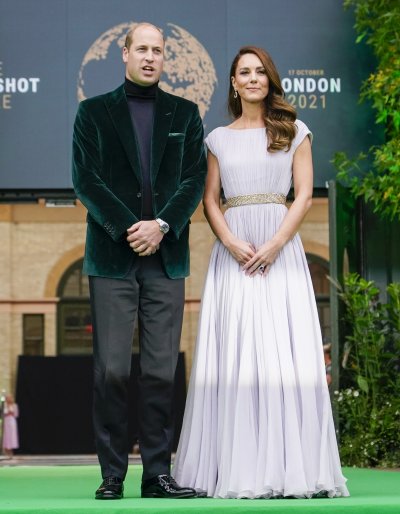 However, the event's eco credentials do not appear to have earned it the kind of criticism Meghan received when she chose not to include her own image on her British Vogue magazine "Forces for Change" cover.
Editor Edward Enninful said at the time, in 2019, that the duchess feared looking "boastful," earning allegations she believed she was better than Kate, who had been on the magazine's cover in June 2016.
Nor did it earn the references to "Wokestock" Meghan and Harry received in The Daily Mail after appearing at Global Citizen Live in New York in September.
Jeff Bezos and Space Tourism
Prince William criticized space tourism calling on tycoons like Jeff Bezos and Elon Musk to focus on saving the planet instead.
The move sparked a counterattack from Star Trek actor William Shatner, who had only landed from a sub-orbital flight on Bezos' Blue Origin rocket hours earlier.
Shatner told the BBC: "We need some of the world's greatest brains and minds fixed on trying to repair this planet, not trying to find the next place to go and live.
"I think that ultimately is what sold it for me—that really is quite crucial to be focusing on this [planet] rather than giving up and heading out into space to try and think of solutions for the future."
Shatner told Entertainment Tonight: "The Prince is missing the point. The point is these are the baby steps to show people [that] it's very practical. You can send somebody like me up into space."
While the argument did not reach the fever pitch Harry and Meghan achieved with their pre-election dispute with Donald Trump, it was significantly more criticism than the future king ordinarily courts.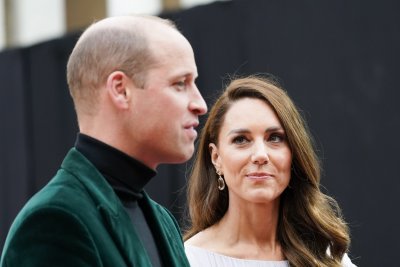 Queen Elizabeth II and Political Neutrality
The queen's political neutrality is among the royal family's most closely guarded treasures but she took a rare step towards political controversy when she appeared to express irritation at the rate of progress on climate change.
As she opened the Welsh Parliament last week, she was filmed appearing to tell guests: "It's very irritating when they talk but they don't do."
U.K. Transport Secretary Grant Shapps was drawn into commenting to Sky News, saying: "Comments made in private should stay private."