Kate Middleton Pays Tribute to Ukraine in Blue as She Backs Relief Effort
Kate Middleton paid a touching tribute to the Ukrainian flag during a visit with Prince William to a charity helping war refugees on Wednesday.
During the visit to London's Ukrainian Cultural Centre, Kate wore a blue Alexander McQueen sweater in a color similar to the blue of the Ukrainian flag. William and Kate also both wore pins showing the yellow and blue of the Ukrainian flag overlaid with a white heart.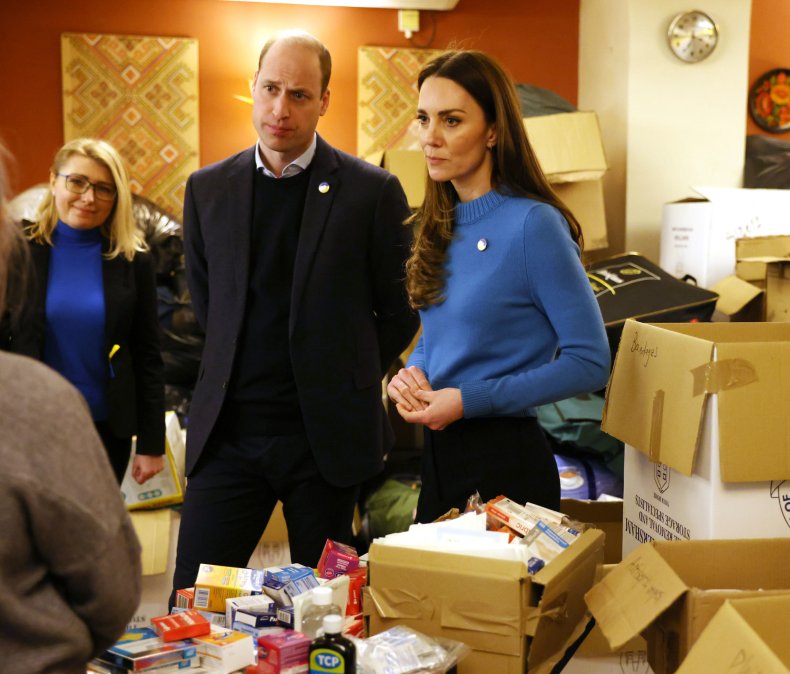 The royal couple attended the center to recognize the tireless efforts of volunteers who are processing and packing donations to be sent to help displaced Ukrainians across Europe. William and Kate were shown around the center by Ukraine's ambassador to the U.K, Vadym Prystaiko, and his wife Inna, who made an impassioned speech at Clarence House on Tuesday.
Invited by Camilla, Duchess of Cornwall, to speak at an International Women's Day reception, Inna Prystaiko said:
"Today there are no smiles and no peace, just horror and sorrow in the eyes of every Ukrainian woman, mother and wife.'
During their visit, William and Kate spoke with Saleh Saeed, CEO of the Disasters Emergency Committee (DEC), whose Ukraine Humanitarian Appeal was given a "generous" donation by Queen Elizabeth II last week.
The couple also spoke about their three children and how they were choosing their words "carefully" when explaining to Prince George, 8, Princess Charlotte, 6, and Prince Louis, 3, the situation in Ukraine.
As a gift for the assembled volunteers Kate and William brought homemade brownies and granola bars from Kensington Palace, according to The Daily Mail.
Members of the royal family have become increasingly vocal about Russia's invasion of Ukraine. The first royal voice of support came from Prince Harry and Meghan Markle who published a statement through their charitable foundation Archewell which read:
"Prince Harry and Meghan, The Duke and Duchess of Sussex and all of us at Archewell stand with the people of Ukraine against this breach of international and humanitarian law and encourage the global community and its leaders to do the same."
This announcement was initially met with ridicule, the hypocrisy of which was highlighted when two days later William and Kate released a statement via Twitter that received a wave of online praise. It read:
"In October 2020 we had the privilege to meet President Zelensky and the First Lady to learn of their hope and optimism for Ukraine's future. Today we stand with the President and all of Ukraine's people as they bravely fight for that future. W & C"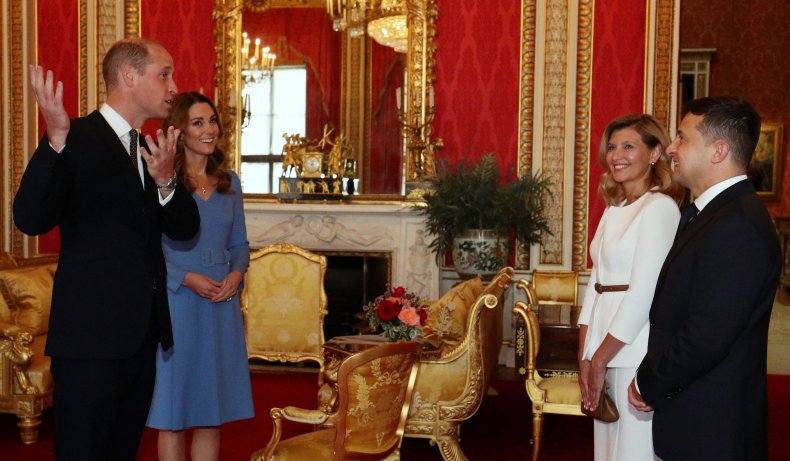 President Zelensky responded to the Cambridges' message in his own tweet offering his gratitude that "at this crucial time, when Ukraine is courageously opposing Russia's invasion, they stand by our country and support our brave citizens. Good will triumph."
Prince Charles and his wife Camilla too have spoken out against Russian aggression and in support of the Ukrainian people.
In a tribute, not unlike Kate's carefully selected sweater color, Queen Elizabeth II was conspicuously photographed, on Monday, with the prime minister of Canada, Justin Trudeau, in front of a large display of yellow and blue flowers.
A post to William and Kate's official Instagram account following their visit on Wednesday read:
"Over the past two weeks, communities and organizations here in the U.K have come together to provide vital support to Ukrainians here in Britain and across Europe. The Ukrainian Cultural Centre in London has become one of many hubs organizing donations, material aid and supporting Ukrainians living locally. The work volunteers here are doing to ensure help gets to where it is needed is inspiring."