Kate Middleton Meeting Chihuahua During Walkabout Has Fans Laughing
Kate Middleton's meeting with a 10-year-old chihuahua named Casper during a royal engagement on Tuesday has delighted social media fans with a clip of the encounter going viral on TikTok.
The royal came face-to-face with the pampered pooch, who was sitting patiently in a stroller, during a visit to Kirkgate Market in Leeds. The new Princess of Wales was undertaking a series of engagements to promote the launch of her new early year's campaign "Shaping Us," which aims to raise awareness of the importance of childhood development.
A video of Kate and Casper was posted by the leedsplussocial TikTok account shortly after her visit and has been viewed over 200,000 times in less than 24 hours.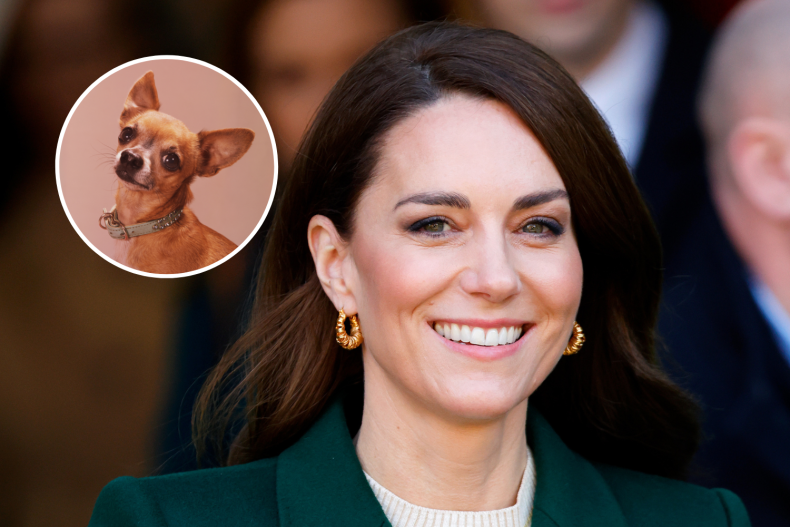 Fans of the royal have commented on the comedic nature of the clip, during which Kate stops when she sees the small dog in its stroller, asking: "Who's this?"
"Casper, you are very sweet," the future queen commented when told their name, adding: "That's the way to live, isn't it? Being pushed around."
"Casper like yup everyone is here to see me obviously," joked one user on seeing the clip.
"Me sat here thinking "Please don't attack the Princess Casper!" Chi chi's are fiesty little things!" said another TikTok commenter, with a further one adding:
"Casper and Kate are as lovely as each other."
After visiting the market and speaking with members of the public and stallholders, Kate made her way to her second engagement, speaking with research students and faculty members of the childhood studies program at the University of Leeds.
Kate's interaction with Casper the chihuahua is not the first time she has displayed a fondness for animals during public engagements.
During a 2021 tour of Northern Ireland, the princess visited the Ulster University Magee Campus in Londonderry, where representatives of a local mobile petting zoo had brought along a collection of their animals.
While chatting to the operators with Prince William, Kate asked if she could hold the large tarantula spider they had brought, to the amusement of her husband.
"Please can I hold the tarantula?" she was filmed asking before William encouraged her, "go on then!"
"Believe it or not she's called Charlotte," the assistant told the royal whose daughter shares the same name. Kate replied "Oh, is it? Well, there you go!"
The Wales couple has a fondness for more domestic animals, having had two black cocker spaniel dogs as family pets with their children.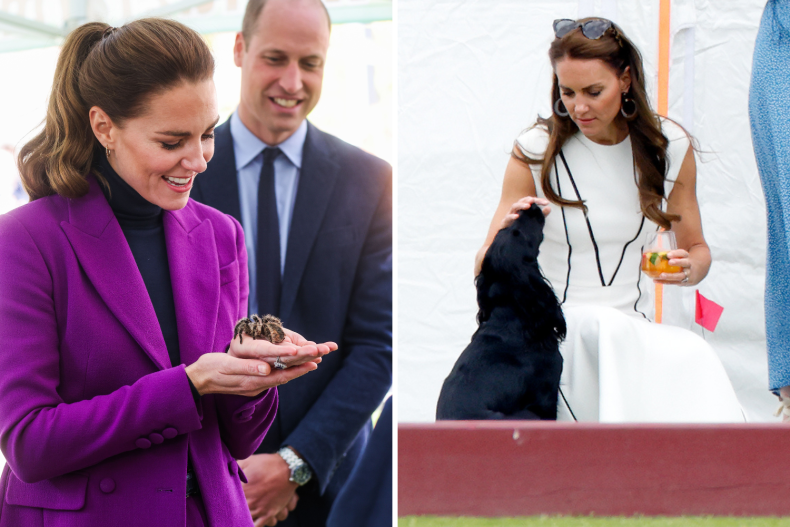 The couple acquired the first of their dogs from Kate's brother James Middleton who is a breeder. They named the male puppy Lupo, and he was a core member of their family until his death in 2020, accompanying them to polo matches and posing for official portraits. In November 2020, the couple posted to their official Instagram the tribute:
"Very sadly last weekend our dear dog, Lupo, passed away. He has been at the heart of our family for the past nine years and we will miss him so much. - W & C"
In 2021, it was revealed that the couple had taken on a new puppy from another litter bred by Kate's brother.
The name of the new addition to the family, Orla, wasn't revealed until May 2022 when the dog was photographed with Princess Charlotte for her official 7th birthday portrait, taken by Kate.
James Crawford-Smith is Newsweek's royal reporter based in London. You can find him on Twitter at @jrcrawfordsmith and read his stories on Newsweek's The Royals Facebook page.
Do you have a question about King Charles III, William and Kate, Meghan and Harry, or their family that you would like our experienced royal correspondents to answer? Email royals@newsweek.com. We'd love to hear from you.