Prince William, Kate Middleton's Rugby Rivalry Caught on Video 
Prince William and Kate Middleton weathered a potentially awkward royal engagement this weekend as they attended an important rugby match supporting opposing teams.
The royal couple watched the Rugby Football Union Six Nations match between England and Wales on Saturday at Cardiff's Principality Stadium in their capacities as patrons of the national teams. William has been patron of the Welsh Rugby Union since 2007 and Kate the patron of the England's Rugby Football Union (RFU) since 2022.
The princess took up the role after it had been surrendered by Prince Harry as part of his stepping down as a working royal in 2021 and move to the U.S. with Meghan Markle. Harry had been patron of the RFU for five years, before which Queen Elizabeth II had fulfilled the role for 67 years.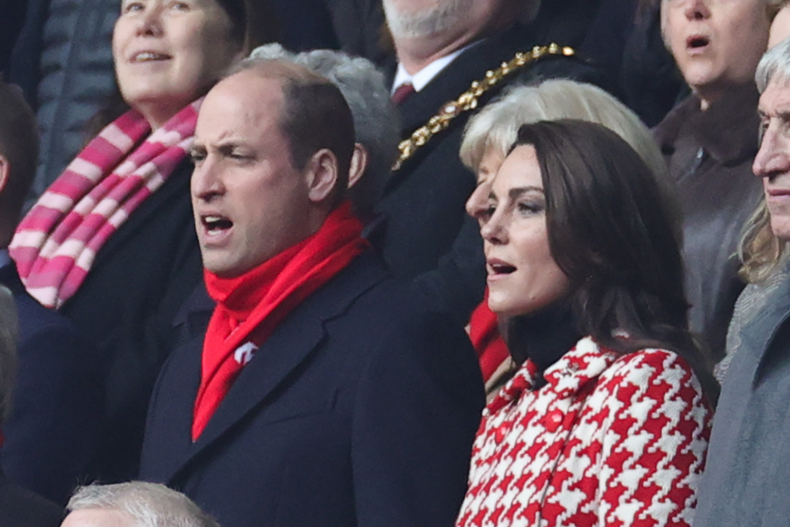 Jokingly referencing the fact that he and the highly competitive Kate were at the event supporting different teams, William told a group, per The Daily Telegraph, that whoever won it could make for an awkward journey back to their home in Windsor.
"It's going to be a tense car journey home for whoever wins," he said. "If we win today my wife won't speak to me. It will be a tense evening."
William and Kate's attendance at the game also marked their first appearance there under their new titles of Prince and Princess of Wales, which were bestowed upon them by King Charles III in September.
One of the new king's first acts as sovereign following the death of Queen Elizabeth was to give his son the title which he had held for 64 years. Kate became the first Princess of Wales to use the title since Princess Diana's death.
As Wales' new prince and princess, William and Kate were filmed singing both the English "God Save The King" and Welsh "Hen Wlad Fy Nhadau" national anthems.
Compilation videos of the couple singing quickly circulated on social media, with one viral example reaching over 230,000 views on TikTok, after posting by the account royal_secrets24.
Captioned "The Prince and Princess of Wales sing both Wales and England's national anthems this afternoon," the clip has received over 16,000 likes and a number of comments praising the couple.
"These two are special. As time goes on they gain more and more respect from people," wrote one user.
"Crazy how they are technically on opposing sides. Kate is the RFU patron & William the Welsh patron," commented another, with a further posting: "Duty and class."
Before the game, the royal couple met with injured players and people supported by the Welsh Rugby Charitable Trust, of which William is also patron.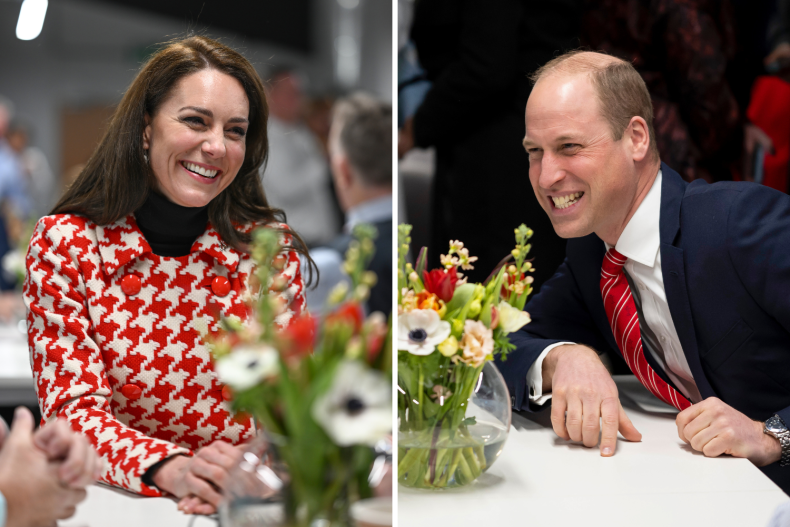 For the event Kate won praise for her choice of fashion, a coat featuring an oversized red and white houndstooth print. Red and white are the colors of both the England and Welsh rugby teams, a decision William told a group at the event was "diplomatic."
In the end, England won the match 20 to 10 over Wales, with the royals posting about the event and meeting members of the Welsh Rugby Charitable Trust via their official Twitter account, reading:
"Back in Cardiff for @WelshRugbyUnion vs @EnglandRugby.
🏉Fantastic to meet the Welsh Rugby Charitable Trust, stadium staff and all the volunteers that make the game what it is. Thank you for having us @SixNationsRugby!"
James Crawford-Smith is Newsweek's royal reporter based in London. You can find him on Twitter at @jrcrawfordsmith and read his stories on Newsweek's The Royals Facebook page.
Do you have a question about King Charles III, William and Kate, Meghan and Harry or their family that you would like our experienced royal correspondents to answer? Email royals@newsweek.com. We'd love to hear from you.