Kate Middleton Channels Princess Diana for Jubilee Trooping the Colour
Kate Middleton has channeled Princess Diana's timeless fashion for the Platinum Jubilee Trooping the Colour parade in London.
The event marking Queen Elizabeth II's 70th year on the throne has been staged in the presence of members of the royal family including Prince Charles, Prince William, Prince Harry and Meghan Markle.
Kate wore a white coat dress modeled along the line of a gentleman's suit jacket with a cross over lapel and wide dish style hat with contrasting band.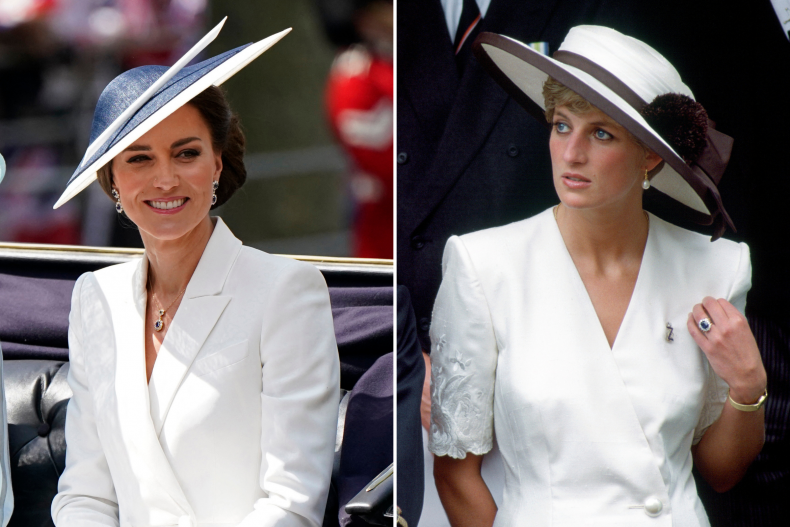 The duchess has worn this coat dress once before at a reception for G7 leaders in 2021 and is reported to have been made by the creators of her wedding dress, Alexander McQueen.
The coat dress has become a fashion staple in Kate's wardrobe, with the royal owning scores in varying textiles and silhouettes accumulated over her 11-year marriage.
The overall look can be closely compared to an outfit worn by Diana in 1991 to watch a parade of military personnel who had served in the Gulf War.
The princess's coat dress, also in white, featured a similar cross over closure and a large white dish style hat with a contrasting brim.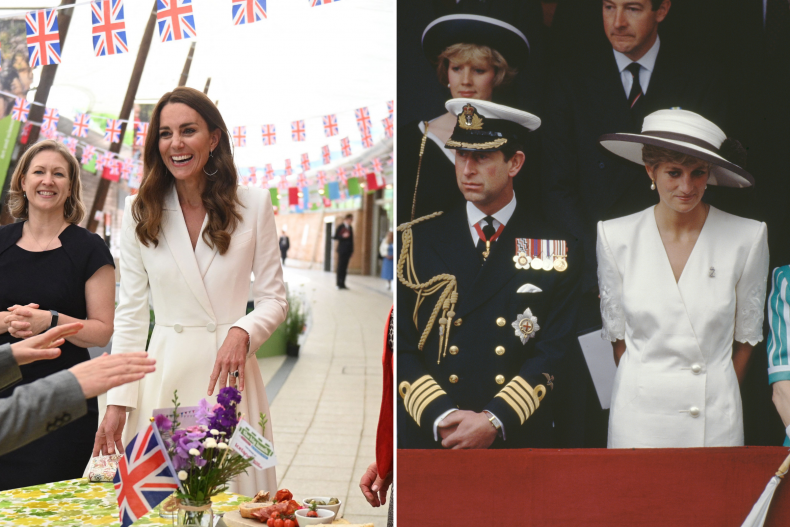 Kate appeared at the parade with her three children, Prince George, 8, Princess Charlotte, 7, and Prince Louis, 4.
The decision to re-wear a piece from her established wardrobe follows a trend that Kate has followed closely this year, not debuting many new outfits since her royal tour of the Caribbean in March.
Notable events that she has re-worn pieces to so far this year are the Easter Sunday service at St. George's Chapel Windsor, the Anzac Day service at Westminster Abbey and a Garden Party hosted at Buckingham Palace on behalf of the queen in May.
Kate's choice of hat for the event is also worthy of note for its closeness in aesthetic to one famously worn by Diana on a visit to Dubai in 1989. The wide brimmed hat with blue peak and white brim with feather quill detailing was made for the princess by her favored milliner Philip Somerville.
Somerville is credited with moving Diana away from the small hats of the 1980s to wider, more elegant models of the 1990s.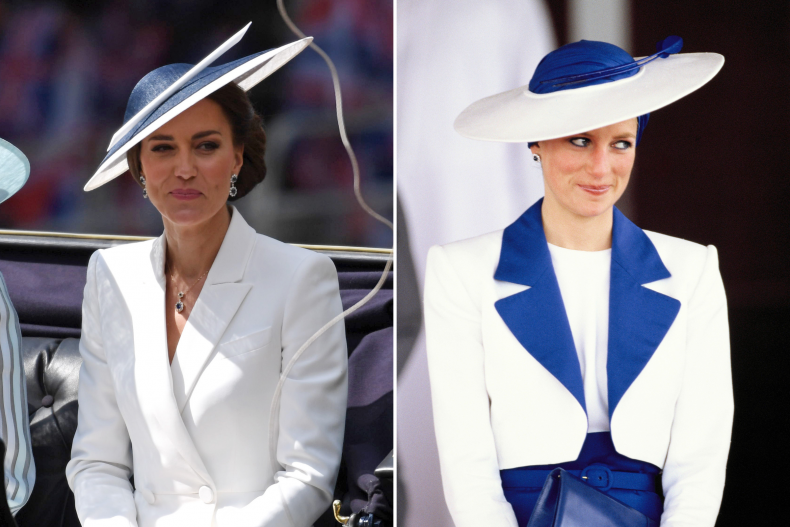 Kate has honored Diana's famous fashion sense in various ways over the course of her married life, with one of the main examples of this coming in the form of her dedicated patronage of designer Catherine Walker & Co.
Walker is credited with having designed more dresses for Diana in her lifetime than any other couturier and though she herself died in 2010, the fashion house baring her name is run by Walker's husband, Said Cyrus.
Kate's ensemble for Trooping the Colour bore one other close link to her mother-in-law in the jewelry that was chosen to accompany it.
Kate wore a suite of diamond and sapphire jewels including a pair of earrings and necklace pendant that are reported to have been made from pieces left to Prince William when his mother died in 1997.
Kate has worn the pieces on numerous occasions and they match the large sapphire and diamond engagement ring that had been worn by Diana throughout her married life and which was given to Kate by William in 2010.
The Trooping the Colour event marked the start of the four day weekend of central celebrations for the queen's Platinum Jubilee which will also include a beacon lighting ceremony, a pop concert in front of Buckingham Palace and service of thanksgiving at St. Paul's Cathedral.
Though the events have been planned with the queen's attendance in mind, a series of health scares last fall and what the palace have called "episodic mobility problems" may see her asking members of her family to deputize at various points in her stead.
It was announced on Wednesday that the queen would not witness the Trooping the Colour parade itself for the first time in her 70 year reign, but would instead take a salute from troops from the balcony of Buckingham Palace.
Update 06/02/22, 6:51 a.m. ET: This article was updated with additional information and images.