Kate Middleton Used Secret Phrase to Calm Prince Louis' Jubilee Antics—Book
Prince Louis became one of the undisputed stars of Queen Elizabeth II's Platinum Jubilee celebrations last June, but in order to control his cheeky behavior, Kate Middleton deployed a secret phrase that the royal children know not to challenge, a new book has claimed.
Louis, who will turn five in April, sparked a parenting debate on Twitter last year after he was seen growing restless during the three-hour-long Platinum Jubilee pageant outside Buckingham Palace. The young royal was photographed covering his mother's mouth with his hand in an apparent loss of temper and moved from seat to seat to be entertained by his family members.
Tom Quinn, a prolific royal biographer, referenced the incident—and how Kate handled it—in his new book Gilded Youth about the upbringing of royal children.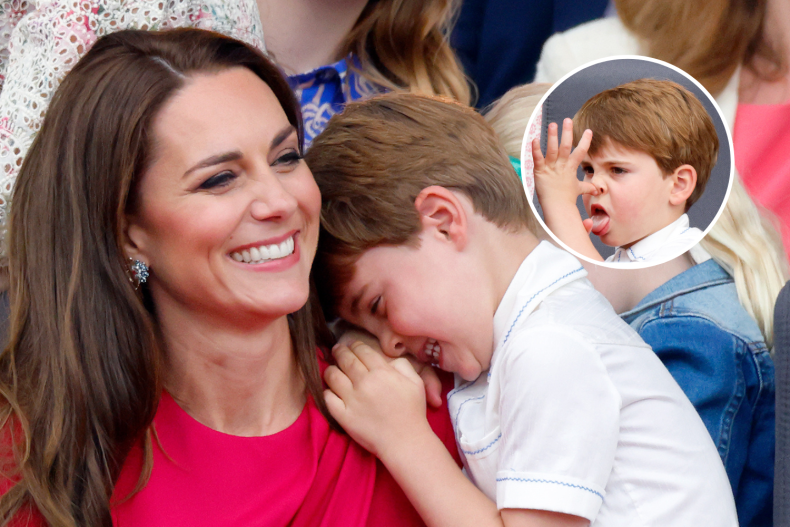 "When they misbehave in public, every detail is noted by the press," Quinn writes about Louis and his siblings, Prince George, 9, and Princess Charlotte, 7. "This can bring both praise and blame and it is easy to imagine the difficulties involved in trying to live in the glare of this level of scrutiny."
"When Prince Louis misbehaved at the late Queen's Platinum Jubilee, for example, by sticking his tongue out at his mother and then putting his hand over her mouth," he continued, "Kate's reaction was praised by teams of expert commentators."
The key, Quinn said, was the princess' deployment of a special phrase known well to the Wales children.
"She apparently used a secret code to calm the children as she does on occasions—she simply says, 'Let's take a break.'"
Citing a former staffer, he explained: "the children know these few words carry far more weight than we might imagine."
"It's been drummed into the children that when Mummy says, 'Let's take a break,' she actually means, 'This is very serious and if you don't stop mucking about and embarrassing me, there will be consequences when we get back to the palace,'" the staffer told Quinn.
"That's why it works. If Kate says there will be consequences, then there really
will be. She is good at boundaries and not nearly such a pushover as she might look."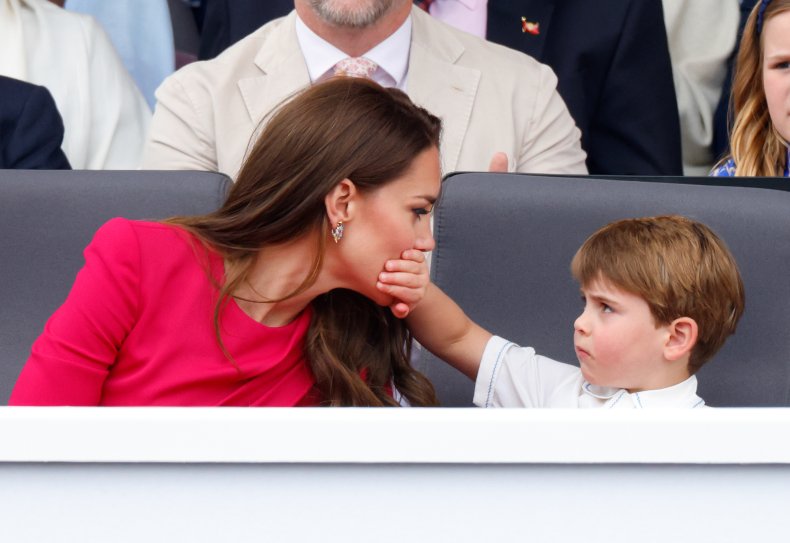 Louis' jubilee antics sparked a debate over Kate's parenting on Twitter with a number of prominent voices defending the royal, including Supernanny Jo Frost and royal relation, former England rugby captain Mike Tindall.
William and Kate appeared to address the debate at the end of the celebrations authoring a rare joint tweet thanking members of the public for turning out to support Queen Elizabeth.
"Thank you to everyone who turned out to show their gratitude to The Queen and her inspiring 70 years of leadership. From the crowds on the Mall to communities hosting street parties up and down the country, we hope you had a weekend to remember," it read, before adding: "We all had an incredible time, especially Louis... W & C."
Since the jubilee, Louis has become a firm favorite among royal watchers with compilations of his funniest and light-hearted moments going viral on social media platforms such as TikTok.
Last Christmas, the prince again was the standout star of the day's proceedings at King Charles' Sandringham Estate where he took part in his first post-church service walkabout. One moment caught on camera and widely shared saw the little prince running towards his sister, Charlotte, with a bouquet of flowers a well-wisher had given him.
The prince started a new school last September, Lambrook near Windsor Castle, which he attends with both Charlotte and George.
Newsweek reached out to Kensington Palace for comment.
Gilded Youth: An Intimate History of Growing Up in the Royal Family by Tom Quinn is published in Britain by Backbite Publishing from February 28.
James Crawford-Smith is Newsweek's royal reporter based in London. You can find him on Twitter at @jrcrawfordsmith and read his stories on Newsweek's The Royals Facebook page.
Do you have a question about King Charles III, William and Kate, Meghan and Harry, or their family that you would like our experienced royal correspondents to answer? Email royals@newsweek.com. We'd love to hear from you.